Amsterdam may seem like the land of wine and beer... but the city sure knows how to turn out a killer cocktail, too. In fact, mixed drinks are becoming so common, we couldn't possibly list all the places you can score a merely decent one, so we'll have to settle for simply the very best...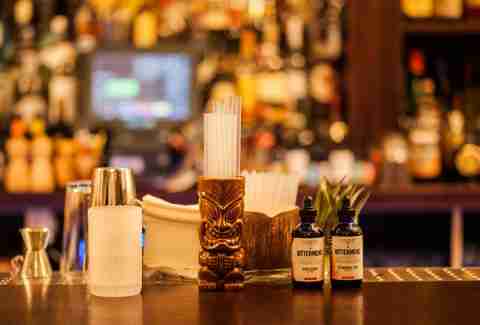 Nieuwezijds Kolk
What you're getting: An Old Fashioned
You'll find perhaps the best-balanced (without wimping out on the burn) selection of Old Fashioneds in the city down a picturesque mini alleyway between the Spuistraat and Singel. This drink den of brick and dark wood beams supporting crystal chandeliers not only boasts one of the best spirits menus in the city, but also some of the kookiest bartenders to ever don bow ties.
Haarlemmerbuurt
What you're getting: The Vesper Martini
If you want your cocktails served in style without any of the red rope nonsense, Vesper is your girl. Despite sitting between the Jordaan and one of the city's busiest shopping streets, there's usually room for one more at this glass-walled bar just off the main drag. Meaning you can actually talk to the bartenders. (If they offer to go off menu, say yes.)
Oudeschans
What you're getting: The Walking Dead
Hiding in Plain Sight has dug its boozy burrow in the quietest neighborhood in the city center, luring its dedicated following into a small, but cushy, bi-level party. Here, cocktails like the Walking Dead (served in a burning crystal skull) and more alcoholic alchemy (made with specially infused house syrups) are always served with a side of water and savory olives. Watch out for its special meals and events.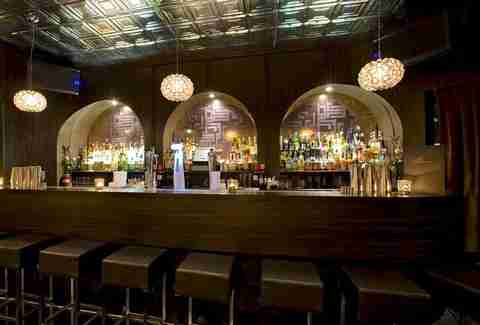 Rembrandtplein
What you're getting: Whatever the bartender recommends
The secret of the city's first and most legendary speakeasy has long since been hacked. The reservation number is right on its now-public website and, though there's no sign, the Reguliersdwarsstraat house number (at the Rembrandtplein end of the street) is right in the name. Still, if you can plan ahead, nothing beats this spot for the feeling of swanky exclusivity, right down to the changing themed cocktail menu. (Currently: pulp sci-fi.) Can't get in? (Or don't have time to wait before your film?) Feijoa, the city's oldest cocktail bar, is on the corner and will serve anyone who can fit inside.
De Pijp
What you're getting: A punch bowl
Amsterdam's other speakeasy, located through the "freezer" door of one of our favorite burger joints, may not be much of a secret anymore. But that doesn't mean it's easy to get in. You'll need a password, which you can only get by knowing someone. Or perhaps by calling and asking really nicely. It's worth trying at least once for a glimpse at the super-swank interior (and secret beyond-burgers menu). Best tip: plan a party, where they'll throw in a bowl of €200 punch for the promise your friends will come in and shell out.
Leidseplein
What you're getting: Depends on your personality...
NJOY is also easy to miss (though not deliberately), hidden in the heaps of tourist-trapping refuse surrounding it. The cave-like interior offers a refuge from the chaos outside, where you can pick your poison according to your personality: the menu's got something for the Dreamer, Alchemist, Connoisseur, Sparkling Star, Tycoon, Accomplice, Seductive... or Untouchable Virgin.
De Pijp
What you're getting: A Champagne cocktail
The Okura hotel's (literally) top bar takes its name from its floor number. Despite the height, the limited windows mean a slightly less spectacular view than you'll get at the Centraal Station-adjacent SkyLounge, but you'll feel like you're getting more for your money anyway. Not that the Champagne cocktails come cheap at this blue-lit bar -- this is the Okura we're talking about.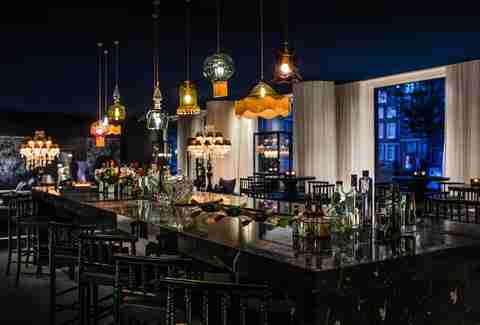 Canal Belt
What you're getting: The New York Sour
The dark and decadently textured interior of the Andaz comes courtesy of Dutch design company Moooi, more importantly though, there's a cocktail menu to match; a historic tour of libations inspired by pre-, during, and post-Prohibition classics. Tip: every day 6-8pm is Aperitivo, when the cocktails come with equally stimulating bites from the bar menu.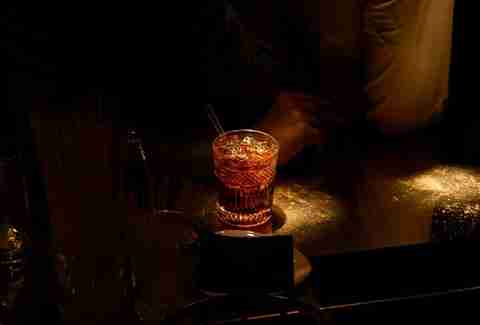 Dam Square
What you're getting: Miss Moneypenny
This is the kind of clubby cocktail lounge where you're best off shelling out for a table to guarantee your spot inside. (Though you'll probably spend most of the night on the dance floor.) This '70s-style Tiki "living room" is also the most literally underground venue on the list, tucked away under the supperclub (and sharing an entrance). If you don't get bottles, the house-made cocktails are good (this is Vesper's little sister)... but are almost beside the point here.
De Pijp
What you're getting: Le Buddhist
Great for a dim sum dinner with a crowd of your own choosing. No greasy dumplings here, but fresh, flavorful food that perfectly balances the equally worthy and inventive cocktails. Try Le Buddhist (absinthe with condensed milk, lemon, and seltzer water) if you're feeling Zen enough to take it on. Bonus: the light Asian-style interior sure is purdy.
Reguliersdwarsstraat
What you're getting: A margarita 
With Dvars out of commission due to a fire, this is officially the best places on the Reguliersdwarsstraat to score cocktails. And it's known for one type of liquid drug in particular: tequila. (Though it also makes a mean Pornstar Martini.) Make it a party (of 4-5 people) with the Mexican Firing Squad Pinata punch bowl, where lime and grenadine make the tequila go down smooth. Oh, and there're burgers.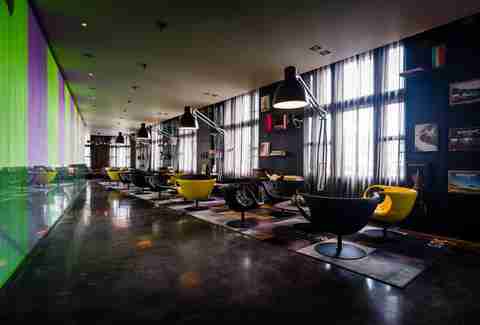 Centraal Station
What you're getting: A gin & tonic
Winning the war for the most creative use of hotel lobby space is (not unexpectedly) the art'otel amsterdam. The dark, cushy interior offers several places to sip the cocktail concoctions (with a special emphasis on G&Ts and five types of rum & Coke), from the lounge to the library. Hungry? Try out the Med-style small sharing plates. Keep an eye on the "happenings" to get in on the space's many activities, from cocktail workshops to networking events to Pilates. Then explore the on-site art gallery.
Jordaan
What you're getting: The Hoff
Amsterdam's first crowd-sourced bar captures the time travel trick most of these bars are going after better than the rest -- right down to the lack of Internet/mobile access. Considered by many to be the manliest bar on the cocktail scene, thanks to its extra whiskey and beer menus and brown cafe interior, Bar Oldenhof isn't the easiest to access -- you're not getting in unless there's a seat for you. And reservations are not an option. If there's room, however, you can park your butt for a fireside chat or enjoy a cigar upstairs while quaffing your cocktail of choice, like house special The Hoff.