The 8 coolest bars in Amsterdam
It's well known that the Dutch like to get a little intoxicated once and a while, but they also like to drink alcohol (!), and they have some pretty spectacular spots around the city to do it in. Whether you're into some Belgian brews, craft cocktails, wine flights, or straight-up delicious jenever (it's like gin's somewhat more awesome granddaddy), these are the eight best places to grab a cold one in Amsterdam.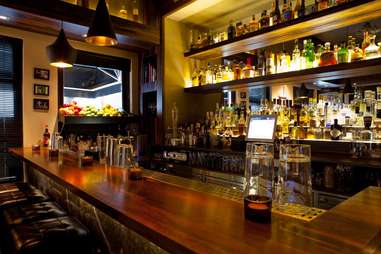 Vesper Bar
Why You Absolutely Need To Go There: Because James Bond would literally drink here
The 007 nod is no coincidence in this spiffed-up, award-winning, nonetheless relatively unpretentious cocktail kingdom -- the bar's signature is the eponymous Vesper martini, which is followed up w/ further deliciousness like the Smoke 'em John (Johnny Walker Gold/ Cherry Heering), and the rum-made Exceptionally Old Fashioned. Despite a relaxed door policy (no lists, glass walls, a visible entry just one block from the busy Haarlemmerstraat shopping street), Vesper somehow usually manages to avoid overcrowding, too.
The Tara
Why You Absolutely Need To Go There: It's got three bars. Three!
The Tara's seven rooms, trio of bars, and two sidewalk terraces are spacious enough to host two rival gangs without a fight breaking out. The only downside is the prices are sometimes slightly oversized as well. Technically a British pub, the décor is a game of "choose your own adventure", with vibes ranging from medieval to mod, with a highly coveted gold sofa area in the middle.
Café Belgique
Why You Absolutely Need To Go There: Because 50+ Belgian beers can't be wrong
The tiny, dark interior is bedecked in bottles and beer placards, and offers the intimate embrace of claustrophobia so inherent to the tightly packed city -- they even somehow manage to squeeze regular live bands into the two-tables-and-a-bar space. It's super-central, and by nightfall, locals of all stripes are squeezed in elbow-to-elbow, quaffing Kwaks (served in long-necked bulb glasses with cool wooden holders), cherry-flavored Kriek, or something from the huge 50-strong list of Belgian bottles that back up the eight-plus rotating drafts.
Brouwerij 't IJ
Why You Absolutely Need To Go There: It's a micro brewery in a freaking windmill, dude
OK, let's get it out of the way: this is perhaps the most beloved micro in the city, and only 50% of the reason is its location in an awesome old-school windmill (the only one in the city center). The beer itself also warrants the trek out to the eastern edge of tourist territory. Don't worry if you miss the 8p closing time, either: you'll find their brews at in-the-know bars all around the city. Fun fact: While "IJ" refers to the body of water behind Centraal Station, it's pronounced like the Dutch word for egg ("ei"), hence the proliferation of beer-name puns like IJ Wit ("egg" white) and Pas IJ (Easter "egg"). The more you know!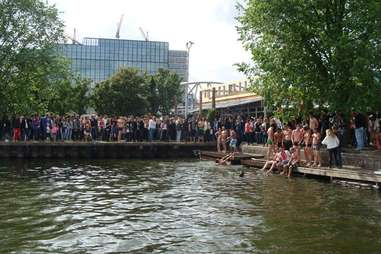 Hanneke's Boom
Why You Absolutely Need To Go There: It's over 300yrs old
Hanneke's Boom claims a heritage dating back to 1662, but really came into in existence in 2011. Quieter in the cooler months, this glorified shack on an island next to Centraal Station explodes in popularity when the sun comes out, for after-work drinks, to watch soccer games and live gigs, or to just watch the boats float past the ridiculously sweet Oosterdok backdrop.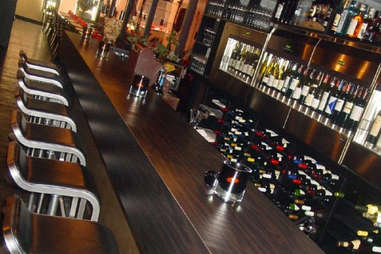 Bubbles & Wines
Why You Absolutely Need To Go There: They have futuristic wine dispensers
Dominated by a long sleek bar, this low-lit drink den off a central Amsterdam alleyway has a sleek, ultra-luxe atmosphere, matched by next-level bar snacks like cheese and caviar, and a beyond-solid vino menu. The more than 50 wines by the glass (poured from Enomatic dispensers that use compressed noble gasses to keep the grape juice fresh) change frequently, but cover territory from most of the world's popular wine regions. Just do your math before springing for one of the tempting tasting flights -- it's often cheaper to freestyle your order.
De Ooievaar Proeflokaal
Why You Absolutely Need To Go There: They have a self-brewed liquor called "Bridal Tears"
Despite its Centraal Station-adjacent location, this small-but-perfectly-formed tasting room's patrons are overwhelmingly local. Found across the old town from the 18th-century distillery whose wares it sells (A. v. Wees), you'll find whistle wetters including not only jenevers by the dozen, but also a colorful collection of more flavor-rich 17th-century "medicines" -- special liquors so-called because the Protestants frowned on drinking -- with awesome names like Parrot Soup (with a nutty flavor), Bitter Suffering's Comfort (not bitter at all!), Bride's Tears (with gold and silver leaf suspended), and Forget Me Not (which is tough to promise after a few of these).
Café 't Smalle
Why You Absolutely Need To Go There: It's basically a small version of Amsterdam
(including like, three types of Heineken), the kitchen dishes out classic café fare, like fried snacks and Dutch pancakes, and the place has some serious cred as a wine bar, too. Snatch a seat here in the summer to watch the local festivals roll by, and if you can't claim a terrace table, try your luck at nearby Spanjer en van Twist, which has an equally excellent canal-grazing deck of its own.
Sign up here for our daily Amsterdam email and be the first to get all the food/drink/fun in town.