Amsterdam's 13 best beer bars for every situation
Being sandwiched between Belgium and Germany, it would be sort of weird (not to mention a total waste) if the Dutch didn't get passionate about every decent monk's favorite beverage. But with this much to choose from, where to begin your own beer quest? Well, we're here to take you on a gloriously sudsy tour of the 13 best beer bars for every situation...
When you want 500 choices
Delirium Cafe Amsterdam (address and info)
Oosterdok
Amsterdam has nabbed the second outpost of the planet's greatest beer bar, Delirium -- of Brussels and the Guinness Book of World Records fame (for the largest selection of beer in the world) -- finally making the Amsterdam Passenger Terminal a place worth going. The bar recently launched with 500 beers (for reals), w/ 20 of them on tap at any given moment. And, if its big brother Brussels bar is any indication, that list is only going to grow.
When you want a beer with a photo opp
Brouwerij 't IJ (address and info)
Plantage
Although we've written about it before, it'd be a lame beer bar list without Brouwerij 't IJ. Huge terrace, delicious home brews, and it's in (and around) a damn windmill. Shame about the 8pm closing time, though.
When you wanna go full Dutch
Proeflokaal Arendsnest (address and info)
Canal Belt
From beer to whiskey to jenever, the menu is all Dutch all the time in Proeflokaal Arendsnest ("Eagle Nest Tasting Room"), but they still manage to get 30 taps and more than 100 bottle varieties in there. Wanna show a little local love? Sip (it's not really a chug kinda place) the widest select of Amsterdam-made barley-based beverages found in town.
When you miss Berlin
Café Brecht (address and info)
Weteringschans
If your beer tastes run a little more Easterly (as in Germany), Café Brecht's got you covered w/ bottles like Berliner, Schlenkerla, and Augustiner. Step inside the stripped-down living room for your taste of Berlin away from Berlin.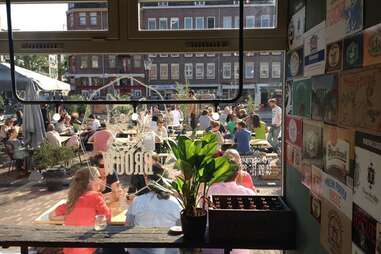 When you want some meat with that beer
Bar Brouw (address and info)
Oud-West
Flying Dog, Anchor, and a ton of other tasty bottles can be enjoyed on their own... but at Bar Brouw's two locations, they're really meant to decadently wash down the meaty menu of pulled pork, juicy ribs, big burgers, smoky sausages, crispy wings (served with a genuinely spicy sauce, kinda rare for Amsterdam's non-halal food scene), and more. There's whiskey, too!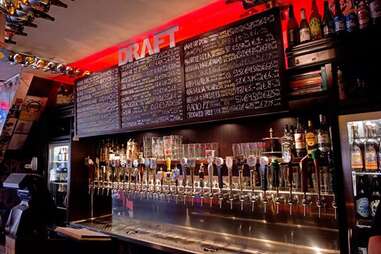 When you want to drink your way across the Western world
BeerTemple (address and info)
Dam
The only religion served up in the lively black box known as the BeerTemple is, well, beer. It's supposed to be "American" (60+ bottles), but the 30 beers on tap offer a constantly changing international education in sudsy awesomeness. Many of the (other) best brews actually come from countries like Scotland (BrewDog) and Denmark (Mikkeller).
When you want to tap your own
Bierfabriek (address and info)
Nes
We'll be honest: the beer made at the massive Bierfabriek ("Beer Factory") and its sister-site isn't the best local hops pop (the food is better), but it is the only place you can draw it yourself from a draft located right from the middle of your own damn table. (You'll need to reserve this in advance, though.) And the giant central kettles are so shiny...
When you want to discover what gezellig means...
Café Gollem (address and info)
Spui
It means "cozy", but in a social kind of way! Usually with alcohol involved. And Amsterdam's original Belgian beer bar (since 1974) Café Gollem is where you are guaranteed to find it. Get there early to nab a spot at the bar, and then clear your schedule -- the rest of your night is going to be dedicated to the 200+ beer menu (14 on tap) and random conversations with people you never thought you'd end up talking to.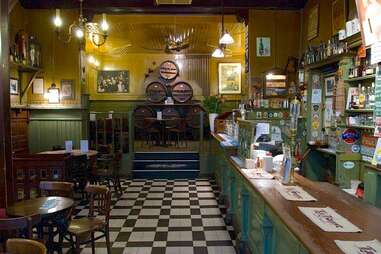 When you want to see locals and tourists mix
Bierproeflokaal In De Wildeman (address and info)
Nieuwezijds Kolk
Although its Nieuwezijds Kolk location means many a tourist will land here, In de Wildeman is equally popular with locals in the know. Why? Because it's a great looking spot, set in a former distillery no less, with a great selection of beers (17 taps, an over 200 bottles, plus ciders), and they don't play any music, meaning you can actually talk about how great it all is, too.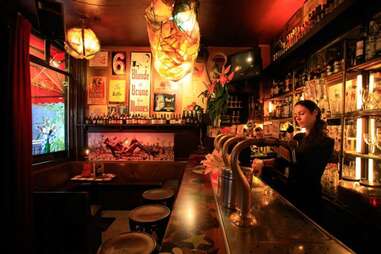 When you want to take in some street art with your beer
Cafe Belgique (address and info)
Dam
Café Belgique courts street artists (most notably The London Police, who did their logo) with prime wall space inside and out. Contemplate the results over your (new) favorite Belgian beer. When in doubt, take a Kwak just for the bulbous glass in its wooden stand. Warning: this place (from our Great Eight) is also pretty, er, cozy, though they do manage to squeeze bands in there regularly.
When you wanna feel good about drinking, not just because of it
Proeflokaal De Prael (address and info)
Red Light District
Not only are the retro-styled lounges in this place super-relaxing, and the homemade beers super-lekker (it means "tasty", learn it!), but all the time and cash you spend at Proeflokaal De Prael supports a business focused on local production, ethical practices, and giving people who struggle with mental health a second chance.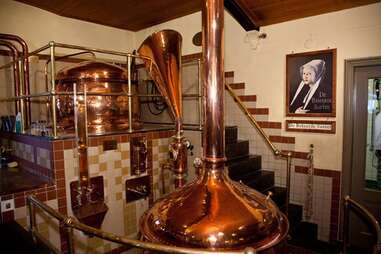 When you're jonesing for some holy history
Proeflokaal de Bekeerde Suster (address and info)
Nieuwmarkt
The name de Bekeerde Suster ("The Converted Nun") refers to the "saved" former prostitutes who used to mix up some hop-based godliness here way back in the medieval day. Now the vast space is two parts restaurant, one part bar, and all parts delicious.
When you want something new and local
Butcher's Tears (address and info)
Oud-Zuid
For five hours on five days of each week (Wed-Sun, 4-9pm), you can throw back new Amsterdam-brewed beers at Butcher's Tears. Check out "Far Out" (a super saison), "Misery King" (a triple-hopped amber ale), and half a dozen more. However, the cafeteria-style tasting room and connected terrace in the Oud-Zuid won't limit you to just that: Dutch cider, imported wine, Swedish-style coffee, and even foreign beers are on the menu too.
Have more local love to give? We can't wait to see what one of the city's other hottest new breweries does with its crowdfunding collection for the soon-to-come Oedipus Brewpub.