Amsterdam is an old town, and it's got a lot of very old bars. They're called "brown cafés", and many of them have been avoiding fires, bulldozers, and teetotalers since the 1600s (unlike these newfangled spots!). Only, apparently the city was drinking too much to keep good notes on who's exactly been around the longest, and thus pretty much all of them lay claim to the title, so we ruthlessly scrutinized the top 10 claims to try and get to the truth...
Claim #1: De Druif
License granted: 1631
According to the city archives, "The Grape" got its liquor license in 1631. It's definitely been around longer, though, because the Dutch naval hero Piet Hein wrote multiple times that it was his favorite place to party -- but he died in 1629. It also looks super old, with casks lining the wooden walls, gas chandeliers lighting a long carpet-covered table, and thankfully, no tourists in sight. Still, since it's just outside the medieval center (the building dates from 1585), it's probably not the oldest.
Legitimacy rating: A solid 8ish (out of 10)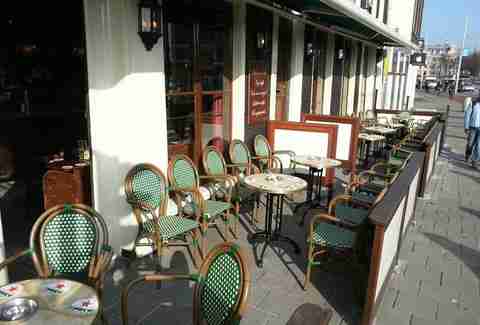 Claim #2: Café Karpershoek
License granted: 1606
If you stumble out of Centraal Station looking for a bar, there's a good chance Café "Carp's Corner" is the first one you'll find. You can sip jenever and spit chewing tobacco on the traditionally sand-covered floors... just like the sailors coming from the old city harbor (now CS) did 400yrs ago. The café definitely has the oldest liquor license in the city... but bureaucracy being what it is, that doesn't necessarily mean it's been around the longest.
Legitimacy rating: Super good. We're looking at a 9 here, folks.
Claim #3: In 't Aepjen
License granted: 1990
No one seems to be able to find a license for In 't Aepjen ("In the Monkeys") from before it re-opened in 1990, but the building dates back to 1519, or possibly 1475 (it's one of only two wooden buildings left in the city center). And why was it called that? Because in the early days, you could literally PAY IN MONKEYS, which sailors coming back from, say, Indonesia often had more of than money.
But, sadly monkeys lead to both impish mischief and fleas, and sailors who stayed here were known to wake up itchy. So the Dutch expression was spawned: "to stay with the monkeys" -- which means: "to take what looks like a good deal... only to have it bite you in the ass". The owners eventually gave the animals to a collector in the east of the city, whose animal garden later became Artis Zoo. The bar's décor now is full of monkey-themed details, plus a staircase leading to nowhere.
Legitimacy rating: 9.5
Claim #4: Proeflokaal de Ooievaar
License granted: 1782
Right across the street from In 't Aepjen, this tiny tasting room (named after a stork) now hawks their own beer and the heady liquors of the A. v. Wees distillery, founded in 1782 -- but the bar is way older than that. After the Protestants took over the town in the 16th century, they forbade drunken boozery for a while -- so the Dutch labeled their hooch "medicine" and drank it anyway. This was one of the local "pharmacies".
Legitimacy rating: Eh, 7
Claim #5: In de Olofspoort
License granted: 1988
Just around the corner, this bar gets its name from the old city gates that once stood here. If you believe the legend that Amsterdam was founded by a lost sailor and his seasick dog (riiiight), this is where it happened. The gates were demolished in 1618 so the city's most famous architect (Hendrick de Keyser) could magic up this building, originally a bakery. Now it's jenever central, with take-out service and a bottle club to boot. Extra credit: the back of the bar, connected later, was already constructed in 1602 and used to be a brewery.
Legitimacy rating: 6
Claim #6: The Eagle
License granted: Sometime after 1965, but its beginnings are a bit hazy due to the nature of the bar.
Unlike the rest of the list, this is no idyllic brown café. It's one of Amsterdam's oldest and most famous men-only leather clubs, complete with a well-equipped "blackroom". The façade of the building is from 1900, so no one included it on the list of the city's oldest until renovations in 2010 revealed the main structure dates from 1495. But, it began as a house, not a bar.
Legitimacy rating: 8
Claim #7: Café Papeneiland
License granted: 1642
The "Pope's Island" started as a refuge for the city's many "illegal" Catholics (there's even a hidden tunnel on-site), so it may have existed for quite a while before it got its license. The Jordaan neighborhood wasn't begun until 1612, but there are records from around 1600 of an undertaker slinging booze to his clients at this location. Hmmm. The cozy (read: small) interior is a snapshot of the Golden Age: the looming dark wood broken up by brilliant Delft Blue tiles and XL windows looking out on the Brouwersgracht canal, everyone's fave postcard pic.
Legitimacy rating: 7.5
Claim #8: Café Chris
License granted: 1624
The first liquor license in the Jordaan was granted to this beer bar in 1624, when it was built for the laborers working on the nearby Westertoren. Now it's best known for its funny little toilet, which is crammed into a closet fitted under some stairs, leaving the water tank and flusher outside the bathroom door... much to the delight of tipsy pranksters sitting nearby.
Legitimacy rating: 7
Claim #9: Café Brandon
License granted: 1626
While Brandon was definitely one of the first to get its license, it doesn't show up in sailors' tales like some of the others on this list, meaning that, whether or not it's the oldest, it at least wasn't the most legendary. Now it's popular with pool players.
Legitimacy rating: 6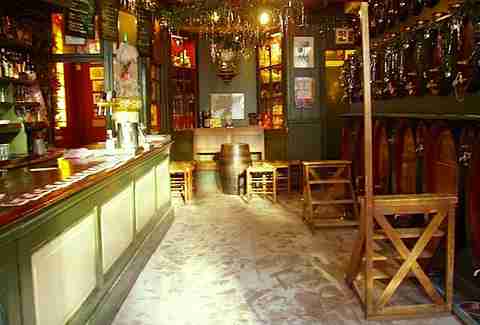 Claim #10: De Drie Fleschjes
License granted: 1650
The sand-strewn, barrel-lined "Three Bottles" on the pretty medieval alley behind the New Church has been offering tipples for the tasting since at least 1650, when it was a favorite with the mayor and other suits from the nearby Town Hall (now the Royal Palace). The menu still focuses on jenever and traditional Dutch liqueurs (including about a dozen flavors of Bols) and offers its regulars access to their own locked and labeled barrels.
Legitimacy rating: Meh, 5 at best