11 boozed-up frozen beverages to get you through Summer
Frozen Jack & Coke Slush, Victory Sandwich Bar
This brutally addictive mixture of JD and Coke is the one that started the boozed-up slushie boom in ATL, and, until you've tried it, you don't know Jack about frozen cocktails.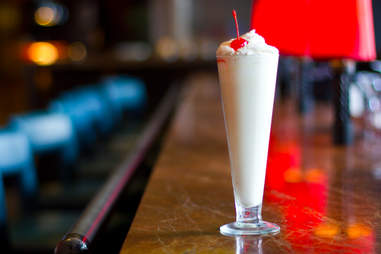 Adult Milkshake, Del Frisco's Grille
We all scream for this proprietary concoction of Nocello walnut liqueur, creme de cacao chocolate liqueur, and vanilla ice cream that's blended up creamy smooth.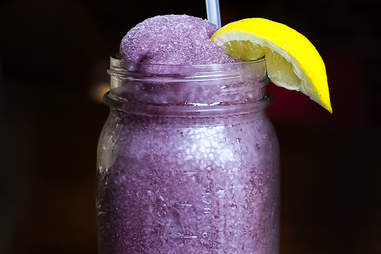 Spiked Slushies, D.B.A. Barbecue
The VaHi barbecue joint's selection of spiked Icees ranges from simple, like this grape number, to the more extreme offerings like the Whynatte white Russian, and blueberry moonshine lemonade.
Booty Shake, Grindhouse Killer Burgers
A rousing homage to the ATL strip club scene, this aptly named 'tail is a mixture of peach liqueur, Jack Daniel's Honey & vanilla ice cream, the last of which is apparently sourced exclusively from home improvement shows, and the occasional cable re-run of Cool As Ice.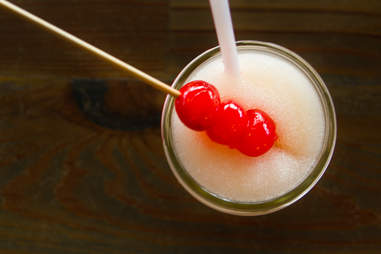 Hemingway Daquiri, Seven Lamps
Head mixtress Arianne Fielder uses this Buckhead cocktailery's slushie maker to... um, make countless frozen boozy options, but none are better than this rum-heavy daquiri w/ maraschino liqueur, grapefruit & lime.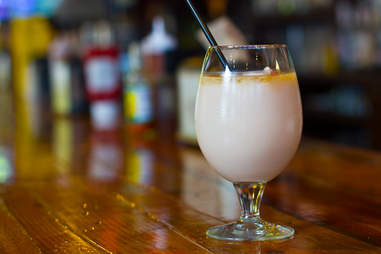 Bushwacker, Moe's Original Bar B Que
One of these Wendy's Frosty-like mixtures of vanilla ice cream with rum, coffee & chocolate liqueurs over crushed ice will do some damage, but two Bushwackers will do like the old WWE tag team, and lay you flat on your back.
Seasonal Slushie, The Family Dog
The VaHi watering hole takes a farm-to-table approach to drinking (but seriously discourages drinking on the way from one to the other, obviously), as evidenced by this locally sourced mixture of Cathead vodka and whatever seasonal fruits are available.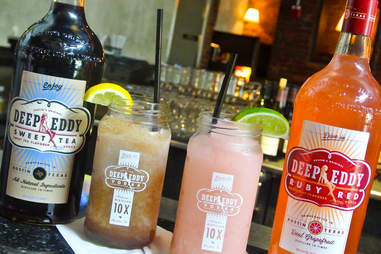 Deep Eddy Vodka Slushies, STATS
If saying these Deep Eddy Arnold Palmers w/ sweet tea vodka, or Salty Dogs w/ ruby-red grapefruit are wayyyy below par sounds like an insult, you've probably had one too many of the aforementioned Deep Eddy Arnold Palmers w/ sweet tea vodka, or Salty Dogs w/ ruby-red grapefruit.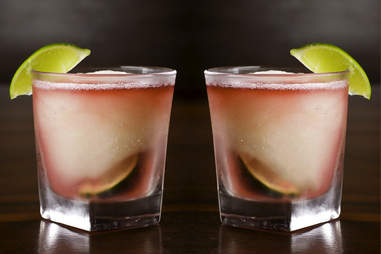 Mambo Taxi, Mi Cocina
Helpfully, this frozen margarita/sangria combo is at least partly named for what you should take home after having a few of 'em.
Frozen Slushies, Chick-a-Biddy
Only an actually biddy would object to you taking down a few of this chicken shack's fresh frozen mint julep and watermelon-basil margarita slushies.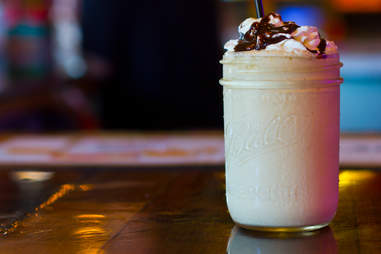 Bourbon Milkshake, Bone Lick BBQ
Drinking one of these thick, bourbon, chocolate, peanut butter & ice cream mixtures forced us to endure the most difficult of all the hardships we faced finding these 11 sweet frozen cocktails for you: not making a joke about their name. Having to show restraint totally sucked (!), but the bourbon shake was amazing.