12 Female Bartenders in Atlanta You Need to Know
Tomas Espinoza
Where to find her: GRAIN (address and info)
Specialty: Boozy bourbon cocktails and fizzy gin drinks.
What she's doing when she's not working: "Stalking other Atlanta bartenders, traveling, putting my cats in embarrassing costumes."
Her favorite thing about Atlanta: "The melting pot vibe. I love being able to drive in any direction for 10 minutes and feeling like I'm in a totally different city."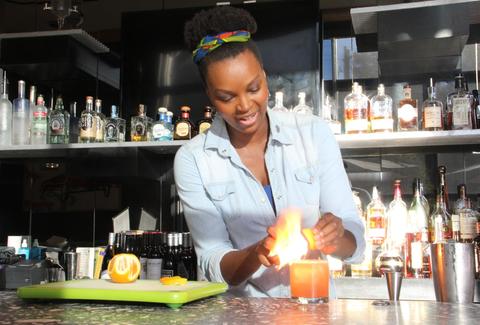 Keyatta Mincey
Where to find her: Serpas True Food (address and info)
Specialty: "Seasonal cocktails and infusions. My favorite cocktail is new to our fall menu: the "Autumn Harvest." It includes dashes of Angostura bitters, simple syrup, lemon, pear liqueur, St. Elizabeth allspice dram and Old 4th Distillery vodka, garnished with a flamed orange peel. Tastes like fall."
What she's doing when she's not working: "I'm a producer of film and TV. I love telling good stories through film; there is nothing like it!"
Her favorite thing about Atlanta: "There is something here for everyone, but it's really not known information. You have to know somebody that knows somebody. Our underground scene is amazing."

Jess Crisler
Where to find her: Little Trouble (address and info)
Specialty: "I have a serious love for gin, so when people tell me they hate gin, I love being able to introduce them to the spirit in a way that makes them see it in a totally different way. One of my favorites is a drink I came across about a year ago. It's called a Tailspin, and it combines gin, green chartreuse, sweet vermouth, and Campari in a deliciously boozy and herbal cocktail."
What she's doing when she's not working: "When I'm not relaxing with a good book, I try to spend my free time with friends checking out other food and drink spots in Atlanta."
Her favorite thing about Atlanta: "I love that Atlanta is currently fostering a really great up-and-coming cultural and art scene, including the film industry, music, visual art, and the food and cocktail scene. There's always something new to discover."
Where to find her: Cypress Street Plate & Pint (address and info)
Speciality: "I drink a fair share of fruity style cocktails (Apple martinis, bring 'em on!). Yes, I said it :). However, for a good night on the town, I love to make a classic Negroni with a bit of a twist. Add a dash of lemon juice and muddled blueberries."
What she's doing when she's not working: "I am a travel/photographer junkie. If I'm not on the road, I volunteer at Children's Healthcare of Atlanta -- an amazing nonprofit hospital that brings out the inner child in all who work there."
Her favorite thing about Atlanta: "I am a native to Atlanta, and I'm still here! Centrally located around a wide array of terrain from the mountains to the beach... you can't beat calling a place like that home."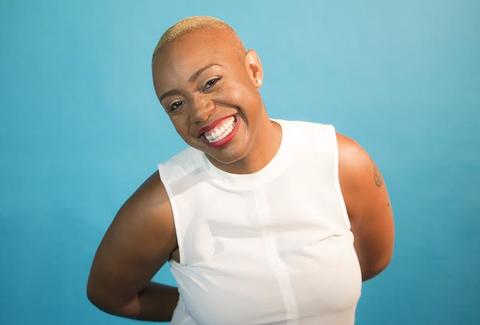 Tiffanie "The Drinking Coach" Barriere
Where to find her: One Flew South (address and info)
Specialty: "Boozy and pretty is my style. Here's a good one: Bombay gin, yellow chartreuse, strawberry shrub, lemon juice, topped with Orpheus Atalanta brew. Shake all without the beer, double strain over fresh ice and top with beer. Garnished with a huge basil leaf."
What she's doing when she's not working: "I love long walks to other bars! Music keeps me balanced. I love to cook, I enjoy reading about history, and I recently got into making pottery."
Her favorite thing about Atlanta: "This city loves to eat! Atlanta doesn't have to worry about starving ever! There's a bar, restaurant, bakery, farm, marketplace or festival on every corner. Niche-y, click-y eaters."

Shai Santana
Where to find her: The Anchor Bar & Tattoo Studio (address and info)
Specialty: "The Swashbuckler: Hendrick's gin, elderflower liqueur, fresh lemon juice, and simple syrup."
What she's doing when she's not working: "I love to eat and drink! I paint in my spare time... Anything to keep the creative juices flowing."
Her favorite thing about Atlanta: "Sweet southern nights and shiny southern stars."
Where to find her: Park Tavern (address and info)
Her Specialty: "The Good Afternoon. Two parts Absolut Pear, one part St. Germain. Top with soda and a splash of lemonade. Squeeze two fresh lemons, SHAKE IT, and strain over ice."
What she's doing when she's not working: "Music! If I'm not working a show, I'm at a show. I also book shows and manage bands. My current project (and absolute favorite) is People's Blues of Richmond."
Her favorite thing about Atlanta: "It's a big city with a small town attitude -- smiles everywhere and never a dull moment. Great food, great music, and great people, seven nights a week. Let's just say I love it and want to have like, ten thousand of its babies."
Where to find her: Edgewood Speakeasy (address and info)
Specialty: "I love working with bourbons and whiskeys. One of our specialties is the Shuman: bourbon, freshly squeezed OJ, Swedish punsch (our own recipe), and Ting (Jamaican grapefruit soda).
What she's doing when she's not working: "Traveling, cooking, discovering new restaurants, kickboxing, and acting."
Her favorite thing about Atlanta: "I love how much this city is expanding and discovering itself. From Little 5 to Inman Park, each part of the city has its own personality. I am constantly discovering new cool restaurants and fun cocktails all over the city."
Where to find her: Republic Social House (address and info)
Specialty: "I love taking your average drink and making it spicier, from Bloody Marys to jalapeño margaritas. I personally love spicy food and drinks, and the hotter the better, so it's fun when I get to create something that tastes amazing while also setting your mouth on fire."
What she's doing when she's not working: "I have a case of wanderlust and love to get out of the city whenever I can. When I do stay in the city though you can usually find me at a festival -- good music plus the outdoors is a winning combo. If not there, then I'm on a beach somewhere."
Her favorite thing about Atlanta: "I'm one of the rare Atlanta natives, and I absolutely love my home city. It's constantly changing, and​ there are always new places to explore. Every weekend I grab my backpack and set out on foot to go visit my friends, and en route I always find cool new neighborhood bars, eateries and shops popping up all over."
Where to find her: Common Quarter (address and info)
Specialty: "I love concocting shrubs, syrups, and tinctures with fresh seasonal produce (herbs, fruits, spices, vegetables) to create fun cocktails and enhance different spirits."
What she's doing when she's not working: "Studying for my Sommelier certification. I (also) love exploring atlanta, and seeing what my fellow bartenders are whipping up at the moment. I travel whenever possible, too. Good food and drinks are my universal language."
Her favorite thing about Atlanta: "While it's a big city, Atlanta has a small feel. When I'm out, I feel like I always run into someone I know, which makes for a good time wherever I go. The restaurant scene in Atlanta is like an extended family."
Where to find her: Pittypat's Porch (address and info)
Specialty: "I like crafting simple, tasty cocktails, letting the flavors of each ingredient not only work together but stand out. I'm a bourbon drinker, myself. My favorite is a drink we call the "cherry bon bon," a blend of bourbon, cherry brandy, cranberry juice and fresh lime."
What she's doing when she's not working: "Reading or spending time with my significant other, trying out new restaurants throughout Atlanta."
Her favorite thing about Atlanta: "I love the hustle and bustle. There is a certain energy only Atlanta can provide. I've been part of the city since 1999, and I'm constantly looking forward to the city's future!"
Where to find her: Gunshow (address and info)
Her Specialty: "Food centric cocktails like Cheddar Calvados: apple butter, sherry, and sage or pistachio rye, strawberry Campari, and coconut sweet Vermouth, or the Toasted Old Fashioned with bourbon, bitters, burnt sugar syrup, bruleed cinnamon, and flamed orange peel."
What she's doing when she's not working: Running the gamut of Buford Highway, from Plaza Fiesta to Treat Your Feet, or hibernating at home with the latest food magazine/cookbook with my two cats, Sandwich and Lt. Dan.
Her favorite thing about Atlanta: Beside living in the birthplace of Blanche Devereaux, it's the perfect balance of Southern hospitality and quirk. I've never been able to stay away from it for too long.

Sign up here for our daily Atlanta email and be the first to get all the food/drink/fun the ATL has to offer. Mike Jordan drinks, and thinks women are better than men at everything except belching. Start an argument with him about his sexist mentality at @michaelbjordan.
Trending
Stuff You'll Like