Book your slot now to celebrate the second-best holiday after Ballpoint Pen Day -- National Margarita Day -- at The Original El Taco's hands-on 'rita-making coaching session: a step-by-step demo on Feb 20th that'll also let you enjoy small bites, plus your many liquid triumphs and failures.
Recommended Video
Make This Apple Brandy Elderflower Sparkler for Your Next Fancy Party
Previous Venue
Next Venue
Venue Description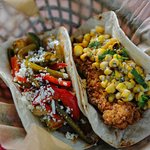 1. The Original El Taco
1186 N Highland Ave NE, Atlanta, GA 30306
We're all very well aware that tacos are not native to Atlanta, or even to Georgia or to the United States at all. However, the culinary masterminds behind The Original El Taco have damn near perfected the beloved handheld, and they're not shy about their accomplishments, either (the restaurant's website boasts "Best Tex-Mex Mexican Restaurant in Atlanta"). Guess what goes best with the best tacos in the city? The best margaritas, of course. They've got those, too.