Craft suds and bacon-infused vodka... in Alpharetta?!
Finally giving you a reason to actually travel OTP, Alpharetta's Hop Alley Brew Pub is helm'd by a former SweetWater brewer who's delivering seasonal proprietary beers, chef-driven tavern fare, and a bevy of vodka and bourbon infusions that range from fruity concoctions, to more off-the-wall bacon and bubblegum options that'll totally make the toll on SR 400 worth it... provided your Cruise Card is current.
HABP will keep you well-hydrated whether the... um, weather calls for a polo or a parka. The current list of brews includes lower ABV hitters like the B.M.C. blonde at 4.1%, or the A Petit saison at 4.6%, and, while neither option is quite as attractive as an actual petite blonde, they're still pretty good to spend the day with.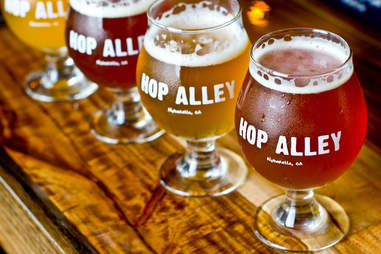 HABP's brew offerings are churned up right behind the bar, so each one goes from tank to glass right before your eyes. And if you're worried about only four of their beers being available...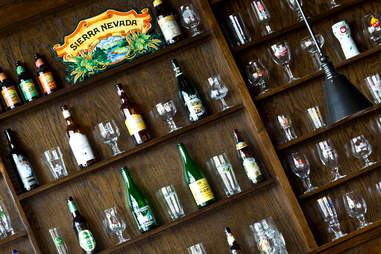 ... they've also got a wall full of bottled selections, and a slew of guest taps pouring brews that aren't theirs.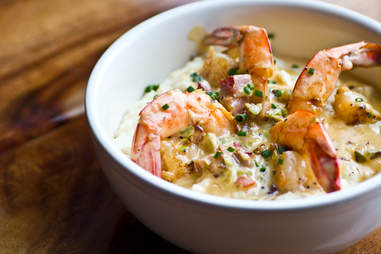 Besides getting you hopped on beer, they're also getting you fed with tons of locally sourced fare like these shrimp & cheese grits w/ a white wine tasso cream sauce.
Heavier bites include this mountain of beer-battered onion rings, and a 50/50 burger that's half certified Angus beef/ half applewood smoked bacon, and stands a way better than 50/50 chance of being totally awesome.
In a strange, but sweet move for a brew pub, Hop Alley is serving cocktails made with bourbon and vodka infusions that include Cherry Starburst, Bubblegum, Lemon-Lime Sour Patch, and Bacon, a few of which clearly go how you usually feel about driving to Alpharetta: too far.