ATL beer experts pick the 10 best Fall beers
Courtesy of SweetWater Brewing Company
During the Summer, you drink great beers to keep you cool, but when it gets cool outside you drink a copious amount of this all-American beverage because it... uh, helps you forget it's not Summer anymore? Nope! It's because these Fall brews were hand-picked by some of Atlanta's preeminent beer experts, and they're freakin' amazing!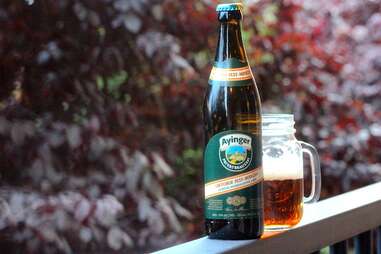 Matt Simpson, @BeerSommelier
Ayinger Brewing's Oktober Fest-Märzen (Märzen/Oktoberfest, 5.8%)
Matt says: "This lager is exemplary for the style. Like drinking liquid bread, it's malt-forward, with just a hint of hop bitterness on the finish. And with a crystal-clear copper color, just gazing at it makes you want to drink several liters. Which, technically, you're supposed to do!"

Sierra Nevada's Celebration (American IPA, 6.8%)
Matt says: "A red IPA to celebrate the oncoming cool weather. This beer has a flavor and aroma that makes many IPAs envious. Craft beer lovers across the country have been looking forward to its yearly release for decades... and, in the past, even traveling across the country just to get some! It's huge, West Coast hop profile (resinous pine, grapefruit, etc.), is balanced by a great earthy, rustic chocolate malt character. Better get it while it's around, because once it's gone, it's gone. And by then, those awesome hops will be too!"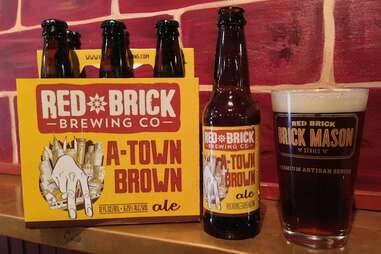 Eric Thornton, (@BeerGeekATL)
Red Brick Brewing Co's A-Town Brown (American Brown Ale, 8.3%)
Eric says: "As the weather gets cooler, I start looking for darker & richer brews. Beers with deeper roast flavors that can stand up to whatever Mother Nature has in store for us. Red Brick Brewing's seasonal release A-Town Brown is a favorite. Dark copper-brown in color, aromas of caramel & roast malt, and nutty sweet grain tastes. A pint of A-Town Brown would compliment a big bowl of chili."

Bell's Brewery's Special Double Cream Stout (American Stout, 6.1%)
Eric says: "In October, this stout from Bell's begins to appear. This dark creamy treat has aromas of espresso & chocolate, and smooth mocha flavors. Try enjoying this with your favorite rich chocolate cake -- you will return for more."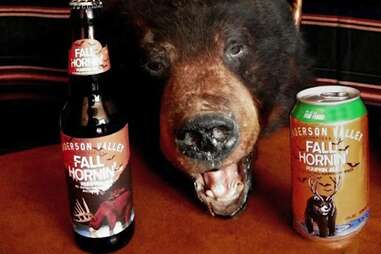 Reid Ramsay (@BeerSTJournal)
Anderson Valley Brewing Co's Fall Hornin' (Pumpkin Ale, 6%)
Reid says: "Summer seemed to disappear pretty fast. Even faster when you see Fall beers arriving in July. None the less, it's time to start drinking like it's Fall. New this year is Anderson Valley's Fall Hornin': a pumpkin beer that comes in both bottles and cans. Choice is yours. There is some Fall Hornin' in bourbon barrels, too. I hope the brewery releases it soon."

Lexington Brewing and Distilling Co's Kentucky Pumpkin Barrel Ale (Pumpkin Ale, 10%)
Reid says: "Even more intriguing is Lexington's Pumpkin Barrel Ale. Brewed with pumpkin and spices, the brewery ages it in bourbon barrels for six weeks. Some 4-packs will even come with a fun pumpkin snifter."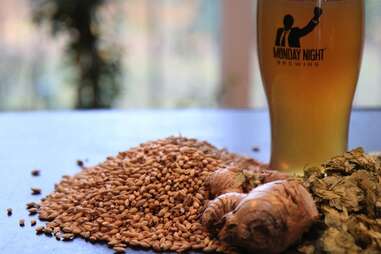 Jay Huffman (@TheBreweryUSA)
Monday Night Brewing's Fu ManBrew (Witbier, 5.2%)
Jay says: "September and October mean watching lots of baseball and football which also means you need something that you can drink for a few hours and not be unconscious by the seventh inning. The Fu ManBrew is an easy-drinking wheat beer, brewed with Belgian yeast, German hops, and just a smidge of ginger. At 5.2% ABV, you are sure to enjoy a six-pack of these, but also be able to remember the third quarter."

Wild Heaven Craft Beers' Ode To Mercy (American Brown Ale, 8.2%)
Jay says: "When the weather starts to turn, the Ode To Mercy Imperial Brown Ale can keep you warmer than that fuzzy sweater with a cat on it that you wear every night. With its combination of oak, coffee (specially blended by Athens, GA's 1000 Faces), citrus hops, and an 8.2% ABV, this beer is perfect for a cold day working the grill, or a night by the fire."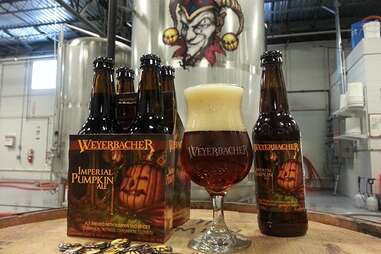 Dennis "Ale Sharpton" Byron (@AleSharpton)
Weyerbacher Brewing Co's Imperial Pumpkin Ale (Pumpkin Ale, 8%)
Dennis says: "When Fall hits, enter pumpkin beers. Weyerbacher Brewing Co's Imperial Pumpkin Ale is one of the best, thanks to the upfront rush of nutmeg, cinnamon, and, of course, baked Jack-o'-lantern, held down by a malty backbone. Sweet with no tricks. It's a straight-up treat."

SweetWater Brewing Co's Festive Ale (Winter Warmer, 8%)
Dennis says: "Hey, I have to keep it real and show some ATL love, and SweetWater's Festive gets the party jumpin'. It boasts flavors of dark fruit, toffee, and a gang of spices including the extraordinary "mace" sourced from nutmeg. Oh, and grab the gorgeous wax-sealed bottle for extra pimpage."