We'll have to wait two more years for what's destined to be one of the best sports bars in town -- the 100-yard-long drinking station at Mercedes-Benz Stadium where the seats are rumored to vibrate. But since we're not gonna hold out on drinking or losing games between now and 2017, we have to plan for today. Here's the truest list you'll find of ATL's greatest game-time gathering places with lots of food eating, beer guzzling, and more.
Downtown
The cost of game-watching inside the flashy, big numbers-displaying building near Philips, the Dome, and the soon-coming Mercedes-Benz Stadium ain't cheap, but neither is Downtown real estate or the TableTender that lets you pour your own brew. Recent upgrades to the system include high-res, Wi-Fi-enabled iPads for food ordering, watching web videos of "just about anything," and pulling up apps like Bleacher Report and Uber. 
Poncey Highland
One of the most energetic and economical choices, Dugans feels like a motorcycle club and a sports bar got together and had a love child. Open since 1982, the wings are legendary, the crowd is crunk, and the drinks are made for shit-talking a rival fan and/or helping you get over a loss. And do remember, this is ATL. We lose often, but we eat and drink like winners daily!
Recommended Video
Stay Classy This Winter With a Spiced Pear Tom Collins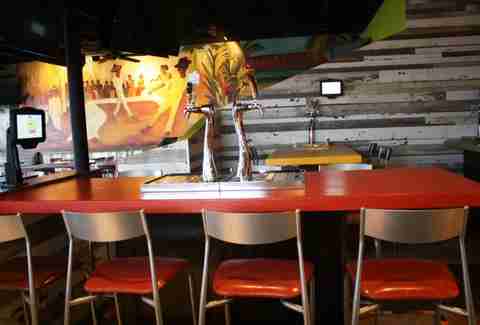 Druid Hills
RPT's deceptively strong 'ritas, 360-surrounding TV screens, table-tapped beers, and super-fresh foods are all part of Chef Mimmo's plan to plant your ass in a seat throughout the year, particularly when any type of sporting event is on. Don't let him down.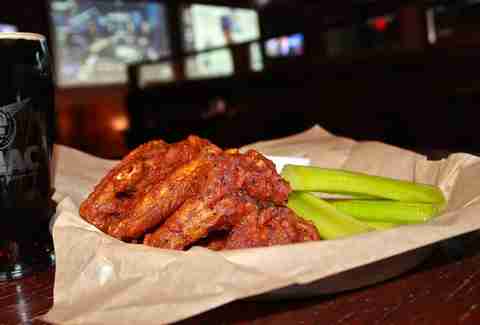 Various Locations
The T. used to stand for "Taco" until people started wondering why they never saw Tracy McGrady at the bar, where the reliably diverse and inviting draft beer selection draws many a foul-breathed Falcons (or whatever team) fan. Spacious, sudsy, and screen saturated so that you never miss a kickoff, tipoff, or flick-off from somebody rooting for the squad your team's murdering in real time.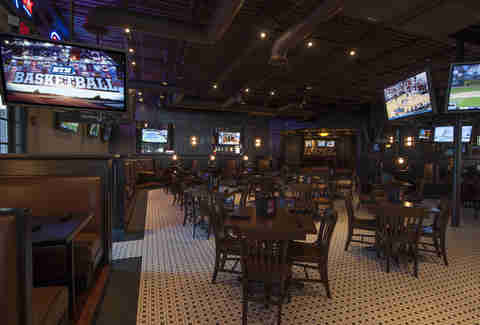 Various locations
Super classy but down to earth, like lunch-shift strippers, HG is a place you could take parents, grandparents, girlfriends, and possibly illegitimate kids you had with the aforementioned lunch-shift strippers, all wearing different team jerseys, and find enough in common to remember that sports really do bring people together.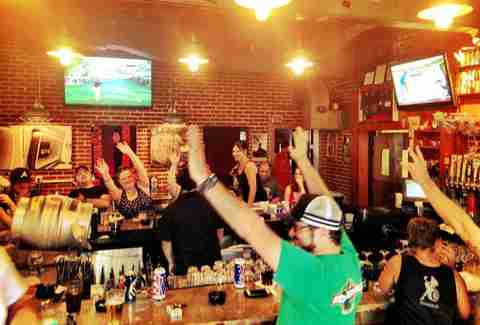 Virginia-Highland
The unapologetically grimey Deez comes alive whenever a soccer, football, baseball ,or even really intense video game is playing live on its screens. Locals love it for accepting (and returning) unsavory attitude at the bar, literal outsiders love the Highland Ave-facing patio, and the place is particularly welcoming to Oregon and Auburn fans.
Marietta
If you have to be in East Cobb when the game is on (and nobody's saying you do, even if you live there), hit this local megaplex for plenty of billiards and dartboard action while game-watching via a gang of HD screens. The food is respectable enough (it's also affordable as hell -- the $16.99 surf & turf is the highest-priced menu item), the pitchers are nice and cheap, and the fans are appropriately loud, like cologne worn by residents of East Cobb.
 
Brookhaven
Reasons? Eighteen taps, around 12 monthly rotating bottles of beer, above-standard fish & chips, and "Football Palooza" -- random drawings for stuff like a tailgate grill, Falcons tickets, and gift certificates for Simon Malls and Chops after every Falcons game, plus game-day specials like $3 Jack Daniels Tennessee Fire shorties, which hopefully will be what the Titans' GM does after we whoop their asses in Nashville on October 25.
Toco Hills
Not that Emory really needs beer this cheap, but Famous also has six huge projector screens and more than 50 normal flat screens stationed around the walls, plus the always-visiting beer and liquor brand girls, billiards, trivia, a dance floor, and an arcade area. 
 
East Point
What was once J.R. Crickets is now… um… basically still J.R. Crickets without the name. Which is actually a good thing, since the wings haven't changed (still very good), and the crowd seems not to have even noticed the name change. Go for the wall-to-wall widescreen projectors, crazy-cheap drink pitchers that make you wonder if it's even beer or just really good alcohol-infused sparkling water (which is kinda what cheap beer is anyway), and delicious tailgate-style eats. Also, if you want a crunk Falcons crowd, this is your spot. Especially when they start winning again. RIGHT?! 
 
Little Five Points
A lovably grungy attitude and funky accoutrements make you feel more welcome than almost any other place where you can watch dudes running around in different colored clothes. And there's no better place in Atlanta to watch people kick around a soccer ball for hours whilst still contemplating if you actually like soccer or are just trying to be more "European." 
Buckhead
Both locations are known for offering a ritzier take on the sports bar atmosphere: Humidors packed with stogies, private rooms, high-quality booze and bites, and a classy, stained wood interior with plush seating. All that, plus plump plates of your favorite tailgate fare make for a grown man's game-day paradise, without the ticket price.
 
Peachtree Battle
Forty HDTVs, 20 local beers (including five Monday Nights, four Terrapins, three from Orpheus), a game room with pool and Pac-Man, and a spread-out patio in case you want outside air, make this tucked-away Peachtree sports spot a proud continuation of what was once Cheyenne Grill.
Sign up here for our daily Atlanta email and be the first to get all the food/drink/fun the ATL has to offer.
Mike Jordan has been with Thrillist ATL since 2008, and is always ready to celebrate a (probably fictitious) ATL team W. Invite him to your fantasy league at @michaelbjordan.