L
et's get this out of the way: It sucks that the US team didn't qualify for this year's FIFA World Cup. But let's not dwell so much on the negative; this year it's in Russia -- and who the hell wants to be in Russia right now? Don't answer that.
But seriously, it's not a bad thing that you'll be here in Atlanta, the greatest city the world has ever known, to watch your favorite foreign futbol clubs play. ATL is now a serious soccer town, with a phenomenal MLS soccer team in Atlanta United FC and rabid fans (shout-out to Footie Mob!). Hell, we're even an official candidate city for hosting a World Cup semifinal match eight years from now!! I know -- that's 2026. Look, don't dwell on the negative; get out of the house and get to the places on the list below to join other World Cup fans for some rowdy and raucous soccer-watching. The action begins on June 14, and the group stage runs through the 28, with games kicking off at 8am. We'll also be updating this list with new events, parties, and places to drink as they come. Wanna help? Throw your favorite bar in the comments.
Recommended Video
The Best (and the Rest): Best Easy Ramen Hacks and Winter Beers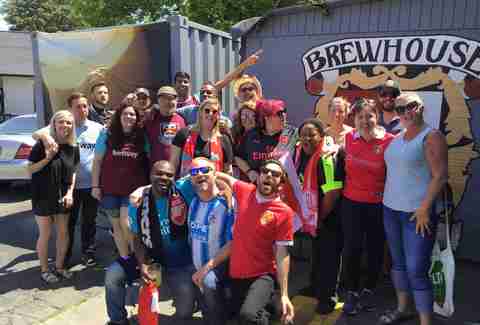 Little Five Points
Best for: Die-hard soccer fans
Nobody out-soccer-pubs the divey TBC. The website has a soccer section with schedules of upcoming matches, and there's memorabilia adorning every nook and cranny of this futbol bar, from ceiling-hung team banners to jerseys... literally everywhere. Located on Moreland at the main corner of L5P, this is where pretty much all soccer fans are going to see at least one match, since they always serve traditional breakfast for matches. This is a known hangout for Arsenal FC (Premier League) fans. Arrive early!
East Atlanta Village
Best for: Beer geeks who love a bustling atmosphere and bar games
Another no-brainer for anybody that went out for the World Cup around ATL last year. Midway's a serious sports bar with mad flags representing countries and football clubs around the globe. They've also got 130+ beers, "thoughtful" food (the smoked wings are fantastic), darts, and a killer patio just far enough past the central EAV madness of Flat Shoals to create madness of your own. It will get packed here; get here early and grab a beer.
Decatur
Best for: An incredible beer list and even been food
They'll have Cup matches playing upstairs and in their Belgian Bar, which is usually lunch-only by reservation, but they've dubbed it the "The Brick Store Football Club" for the tourney. You also know Brick Store has lots of beer, including rare stuff you'll find nowhere else in the world. Not only are they going to have any style of brew you want to try (other than "wack"), but their food is also top-notch, whether you're going as simple as bourbon-caramel popcorn or will need a blood orange-jus short rib to help cover all that exclusive soccer beer.
Inman Park
Best for: Serious viewing with tons of TVs
H+H is an official pub partner of Atlanta United, so they're not only used to soccer fandom, they encourage it. Look for H+H to be a central spot for the Cup, as ATL UTD fans have been flocking to the tucked away Inman Quarter hangout since they were playing at Bobby Dodd Stadium. There are too many TVs to miss a single goal, save, or stadium brawl. On top of that, they've got a fantastic covered patio out back -- with a solid selection of craft beer -- near a courtyard that's perfect for gathering your crew and belting out an "A-T-L" chant or two.
Buckhead
Best for: Drink specials and free swag
They're kicking off the Cup with a soccer-themed trivia night; first place gets four tickets to ATL UTD vs Seattle home game on July 15 and a $75 Fado gift card. The $5 cover benefits Soccer in the Streets. And look, you don't even need a soccer match to be on TV for Fado to be lit, but it gets especially lively when the Cup comes back around. This year they'll show all games, live, from June 14 to July 15 with food and drink specials, free soccer swag to give away, and will also have the sound from the matches turned up on the TVs to feed the energy -- as you feed yourself beer, fish and chips, and such.
Downtown
Best for: Watching on a big screen
Meehan's is the official Southeast home of Liverpool Football Club and looks like it's been there forever, with ornate old school chandeliers, rustic green paint, and imperfectly carved wood beams. However, it's only been eight years since this charming Peachtree pub arrived -- and soccer fiends flock to watch games on the giant projector screen. Fill up on Guinness-braised shepherd's pie, bangers & mash, or that classic Irish dish, sriracha honey mustard wings.
East Atlanta Village
Best for: Early morning games and hardcore fans
Another Irish pub with ravenous ATL UTD fans, The ET's even got "soccer pub" in its Google description -- it's that real! The polished, moody interior is great for the grimier sect of futbol fans, and they're the official away-game viewing party headquarters for the Atlanta Silverbacks, the city's 20-year-running soccer club. It's legit. ALSO: They've got a private membership that lets you get early Sunday pints (8:30am to noon).
Buckhead
Best for: Margaritas, a low-key laid-back vibe, and breakfast burritos.
Cabo allegedly has "Atlanta's largest tequila selection." And there's only one way to find out if it's true. This Mexican bar and restaurant is opening at 10am for early matches, with 16 TVs ensuring that you won't have a bad seat when the goal lands and the crowd rises. Specials for the World Cup include $5 Bacardi mojitos, $5 Cazadores margaritas, and $10 scrambled egg and Jack cheese burritos. Bring a 20, and you're set.
Sign up here for our daily Atlanta email and be the first to get all the food/drink/fun the ATL has to offer.