So it's Christmas Day, and you're looking for an escape from the fam. Don't worry -- there are plenty of spots that will happily cater to your lust for libations. This season, let us give thanks to them, and to the benevolent breweries that know how important adult beverages are, especially during the holidays.

Downtown
Nothing makes the holidays better than winter-themed cocktails served alongside meat, meat, and more meat.
Midtown
They open at 6pm and will have a limited food menu -- but everyone knows a limited menu from here is better than a full menu from nearly everywhere else... especially when you think about their legendary Sublime Donut burger.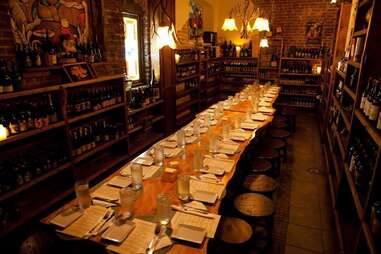 Little 5 Points
Can you think of a better place to spend Christmas than at one of the city's best beer bars? We can't either. Check them out from 5pm until whenever they feel like closing.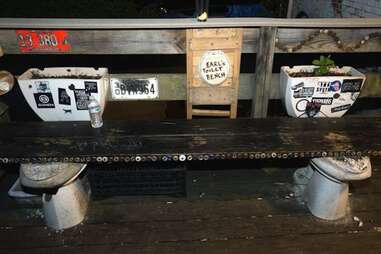 East Atlanta
This East Atlanta institution never fails to meet your need for awesome bar food and drinks -- do you think they're gonna stop on Christmas? Hell no they're not.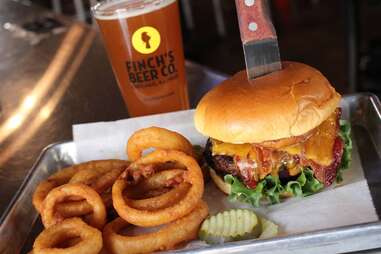 Virginia Highlands
Celebrate the holiday with killer food and drinks from one of the city's best dive bars. Opening at 6pm, look out for Christmas specials and holiday movies playing on the TVs.

Little 5 Points, O4W, East Point
They boast 16 specialty beers on tap, eats including BBQ sliders, and best of all, heading there when it opens at 6pm will keep family members from corner-ing you about your love life back at home.
Midtown
After all the stress of the holidays, time spent with a drink (including their selection of Christmas lights-colored drinks, or their 40-deep vodka passport menu) at this laid back Midtown hot spot is a fine way to relax.

Midtown
If you didn't know that heavy metal and tater tots are the best way to celebrate Christmas, you will when you leave here. Hey, does Ozzy have a Christmas album? He should.
Midtown
If you want a little more class and substance with your Christmas drinking, head to Einstein's. They're offering a special prix fixe Christmas menu including a four-course dinner for only $40 per person with appetizer, salad, entree, and dessert. Plus all general booze you'd expect.

Brookhaven
Sure, Santa slid down your chimney, but these girls slide down poles... so find your way there around 4pm and let a few drinks slide down your gullet.
Westside
Dim, dank, and divey -- Northside Tavern is so anti-Christmas it may actually be at its very best on Christmas. Although you'll certainly get into the Christmas spirit when you discover that their prices enable you to buy a few rounds for everyone.

Midtown (& Other Locations)
Not only can you score great drink specials and ALL the sports at Husdon Grille, they're also hosting a three-course all-you-can-eat ham and turkey dinner.
Decatur
When you hear folks say "It's greater in Decatur," they're talking about Decatur's best beer bar. You should really treat yourself to some of their draughts.

Cabbagetown
You'll find kindred spirits to share opinions on the year's best music and best bad decisions.
The Highlands
An impressive beer and wine selection plus gourmet, Southern bar fare (fried chicken biscuits with cheddar cheese and maple syrup, son!) make for an impressive, albeit unconventional, Christmas feast.

Midtown
Enjoy drinks on their dog-friendly patio (including their seasonal spiced rum or bourbon-infused eggnog). They'll also be serving a traditional ham dinner that night complemented by an assortment of sides to soak up all that alcohol.

Sign up here for our daily Atlanta email and be the first to get all the food/drink/fun the ATL has to offer.

This Christmas, Brook Bolen will be drinking at home. Follow her at @BrookBolen.