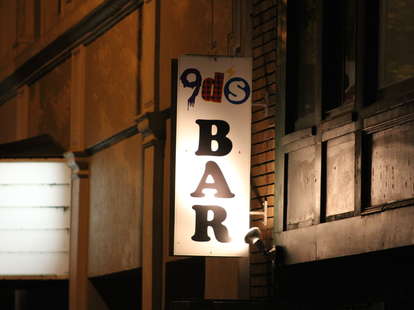 Sebastian Davis
Sebastian Davis
Whether you're going to Athens to join tens of thousands of your fellow college football fans for the mayhem between the hedges, or to do... um, whatever else there is to do in our state's sweetest college town, you're going to want to eat at one of Georgia's best restaurants and do your drinking at one (or more) of Athens' 12 best best bars. Here's our guide to the latter...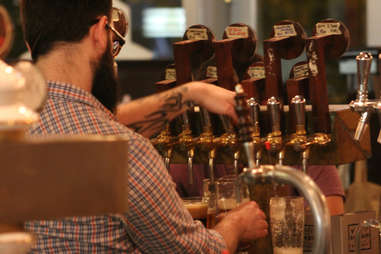 Best bar food
Trappeze Pub (address and info)
The extensive cocktail list includes an impressive collection of bourbon, gin, and Scotch concoctions. They get fancy on the food side too, with a wide selection of cheese plates, and if you really want to get a good meal, the Double Pig with braised pork, spiced bacon, and pickled green beans really sets the stage for a night out on Hull St.
Best gaming
Wonderbar (address and info)
Booze designed for gamers and geeks complements arcade cabinets of Mortal Kombat, Mrs. Pacman, and Galaga. You can slam down shooters based on classic snack foods like Cap'n Crunch or have a pint of the Game of Thrones "Take the Black" Stout. You can play "Beerio Kart" too, but don't finish the final lap of Mario Kart 64 before finishing your beer. Also, you must come to a complete stop before drinking, because drinking and driving is bad, mmkay.
The most booze
Allgood Lounge (address and info)
This triple-decker bar features three floors of drinking possibilities, and to to prove how serious they are about providing said drinking, happy hour runs for a full five hours from 5-10pm. Not enough? How about a daily build-your-own Bloody Mary bar from noon-9pm? Yes, that'll do nicely.
Most weird
Go Bar (address and info)
Bizarre (in a good way) hosts, karaoke with "Dr. Fred", interesting open mics, this tiny place is where you can let your freak flag fly under the disco ball or hang out under the blue lights on the patio while the disco/funk-inspired retro vibe washes over you like their very affordable booze.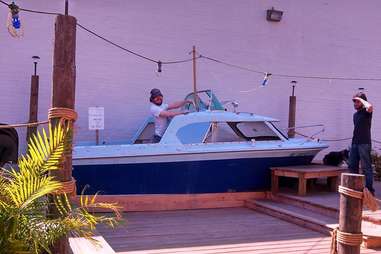 Most nautical
Little Kings Shuffle Club (address and info)
First, nab a mint julep and a few alcoholic gummy bears, then head to the back patio where you're definitely grabbing a pic on the dingy. The rest of the night is yours to enjoy lounging beneath the Athens stars and dreaming about your next trip to the (still pretty far away) Georgia coast.
Simplest menu
Five Bar (address and info)
The name says it all: there are always five easy choices at this bar. Five standard beers. Five fantastic Southern beers. Five each of red and white wines. Five bar snacks. The number of drinks you should have? Hmmm...
Best jukebox
Manhattan Cafe (address and info)
A jukebox full of real 45s rotates classics, as well as rare tracks that will be your new favorites. Grab some free popcorn out of the machine, one of the cocktails off their deep list, and sidle up next to a weird, old local. Trust us, it will be a much better conversation than the one you will have later with that gaggle of Fireball-fueled sorority sisters on Lumpkin St.
Best beer
Copper Creek Brewing Company (address and info)
Sure, you can get solid pub eats (buttermilk fried chicken, stout & molasses BBQ ribs, etc.), but the real reason you're at this beer-slinger is for the tank-to-tap suds like their Columbus IPA or the dry Irish stout made with pale malt, roasted barley, and flaked barley.
Best place for shots
The Bury (address and info)
Forget drowning your sorrows after losing a close game, we're sending them 6ft under. Get your fill of cinnamon whiskey, German deer liquor, or Tennessee honey booze. It doesn't matter if it's red or black -- it's all the same on the inside.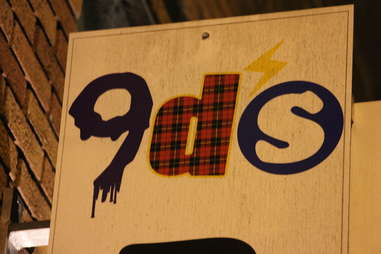 Best place to feel old
9d's Bar (address and info)
DJs play, you guessed it, only '90s music, which keeps the giant upstairs dance floor jumping until 2am. Oh, you didn't know there were so many club remixes of The Lion King's theme and "My Heart Will Go On"? Doesn't matter, you'll get more nostalgic the more vodka you get in your system.
Best live music
40 Watt Club (address and info)
This legendary live music venue has been the incubator for every big Athens band including R.E.M., The B-52's, Drive-By Truckers, and too many others to name. Friendly bartenders will be happy to sling you tall boys or local drafts, and they have plenty of stories about the weird stuff that goes on after the amps are turned off.
Best (only) strip club
Toppers International Showbar (address and info)
Top(pers) your night off w/ a stop at Athens' best... err, only, strip spot. They might not be on ATL's level of adult entertainment, but they do have plenty of scantily clad women, all of whom are presumably working their way through college, obviously.
Sign up here for our daily Atlanta email and be the first to get all the food/drink/fun the ATL has to offer.