Athens
Being a good beer bar in a college town takes some doing. But 30 taps, 200 bottles, and the half-beer "samplers", plus a superior bar food menu with things like pork/bacon/green bean sandwiches on it gets it done.
Athens
Owned by local musician Bain Mattox, this abnormally good bar is named for the chill Athens neighborhood of Normaltown and in addition to some seriously sweet cocktails, they're serving up beer-of-the-week specials and plying people with down-home snack options like unlimited boiled peanuts for a dollar.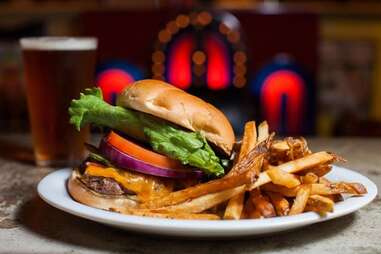 Savannah
Named for the owner's '65 Chevy, this accolade-heavy boozer is all about one thing: making badass burgers w/ local grass-fed beef topped with things like bacon, cheddar & a fried egg (The Whole Farm); or cheese, black bean/corn salsa, avocados & jalapeños (The El Jefe). Oh, and they pour some equally badass American craft beers.
Savannah
One of the South's sweetest dives, this Drayton St spot has got cheap beers, a jukebox full of old favorites, and a charmingly worn interior that's been welcoming locals and notables ranging from Jimmy Carter to... um, you, for decades. Oh, and just like Folsom Prison this place is Cash only... although there's no word on wether Johnny was ever one of said notables.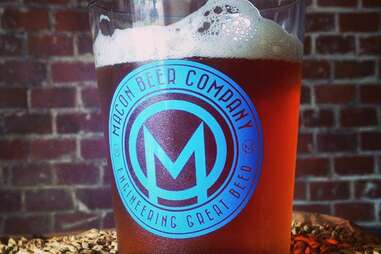 Macon
Downtown Macon's burger and sandwich powerhouse also boasts an impressive beer list and Macon-inspired cocktails that pay homage to things like the Allman Brothers and peaches. Pro tip: ask 'em to recommend the perfect cocktail pairing for their bacon-pimento cheese dip.
Macon
All the local, live music that made Macon famous, plus the deep, cheap mugs of beer that helped write it. With 3-for-1 deals and bottomless mugs regularly, this is the perfect mid-state bar... as long as you don't have to go to work the next day. Or maybe the day after.
Helen
North Georgia is a hell of a lot closer than Munich, so whether you're Oktoberfesting or just need a weekend away from the traffic, Big Daddy's is your new papa. Eighteen taps keep you awash in German biers (or even a few American beers), but be warned, the portions are so huge, so you might want to wear your favorite stretchy pants instead of lederhosen.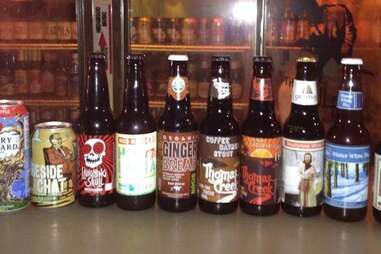 Augusta
Named for the Godfather of Soul, and Augusta's favorite son, James Brown, this spot's probably the hardest working bar in the booze biz, thanks to DJs that spin funk nightly and a bar that slings the kind of inexpensive drinks that'll make you feel good.
Statesboro
You wouldn't expect a microbrewery in a boisterous college town to turn out such deliciously artful brews like their dark, nine grain Creekwater or a hoppy IPA called Whose Ale?, but they do, and they combine 'em with a strong signature cocktail list and gourmet specialty 'za like their buffalo chicken and bacon, which leaves quite an impression(ist).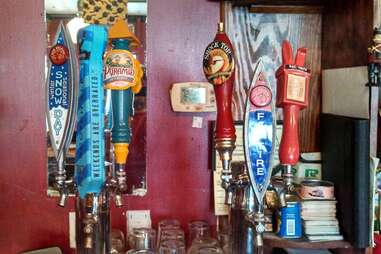 Carrollton
Great beer, liquor, tacos, and none of the generic West Georgia college headaches. In a land of flat beer pitchers and disgusting food, this delightful outpost of chicken and waffles and craft beer is a satisfying relief, proving that there is culture to be found way out on I-20.
Lagrange
There is no way you're leaving here without a story that none of your ITP friends will believe. Chat up the sexy ladies while enjoying a game of pool and a cheap pitcher. Hell, you can probably get your first-ever pool table-top dance for a few bucks.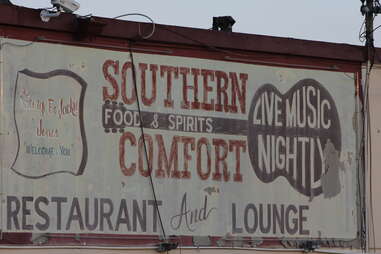 Conley, GA
This trucker honkey-tonk could be the most Georgia bar in the state. The large gravel lot has space for plenty of semis, as well your buddy's compact SUV. There's cheap beer, "interesting bar food", and nightly performances of both country and Western music. It'll only take you a few rounds to work up the courage to learn how to line dance.

Rome
Rome isn't all Deliverance jokes and bad whiskey shots. If you do it right, it's country girls dancing on the tops of bars while you're throwing down beers and premium whiskey shots.
Sign up here for our daily Atlanta email and be the first to get all the food/drink/fun the ATL has to offer.