The Atlanta Bartenders You Need to Know
Atlanta has many outstanding tenders of bar, and none of them make Blue MotherF*ckers... although there are many people who do, if that's your thing (we've all been there). But assuming you've arrived at the point where you appreciate craft cocktails and the amazing individuals who don't just serve drinks but serve guests, you should meet a few local bartenders who are moving cocktail art forward in major ways. We decided to list the individuals who deserve major recognition for the work they've done this year, in hopes that you avoid considering yet another glass of rose or sangria.
Sean Gleason
Ponce City Market
Everybody just expected there to be beef jerky and a few simple two-ingredient bevvies at best when Biltong first opened. Instead, a serious bar has emerged, led by Leon's Full Service alum Sean Gleason. In addition to making deliciously boozy and completely unique drinks (bring back the "Dark Side"!!), Gleason directs drinks at sister restaurant Cape Dutch, and is down to talk tonic anytime if you have questions. He occasionally leads cocktail classes, and is particularly keen on showing you why Mai Tais are amazing, as well as show you how he learned to create them on a level that'll make you realize you might be sexist for not yet gulping one (seriously, they're outstanding).
What's your favorite drink to make?
Anything that includes fire.
What got you into bartending?
An academic interest in vice, combined with random chance.
What's something you love about this career?
I love the creative outlet, and I feel like I'm performing more of a public good than I would working in finance.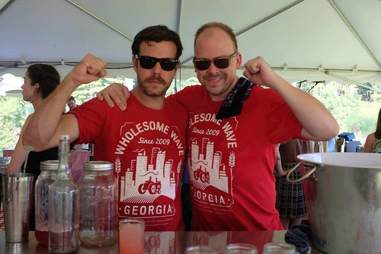 Courtesy of Greg Best & Paul Calvert
Greg Best & Paul Calvert (tie)
Krog Street Market
You can no longer separate the Ticonderoga Club partners now that they've bellied up to their own bar. Both have received major respect and notoriety through running incredible bar programs. Best can be credited with starting a citywide mixology movement at Holeman & Finch, while Calvert designed the original drinks of The Sound Table, breathed new liquid life into Pura Vida Tapas, then became bev director for Victory Brands, where he created cocktails that we all drank at Victory Sandwich Bar, Paper Plane (where he was a partner), and Little Trouble. In addition to all sorts of awards, they've also collaborated/consulted with Wild Heaven to create local beers (Emergency Drinking Beer and Wise Blood IPA). Both men should be at the top of any list as long as they choose to call themselves bartenders. This year they share a space in both our list and the real-life bar they run together at Krog.
What's your favorite drink to make?
Greg Best: The Sazerac is my favorite. Because I hold the drink so dear, everytime I make one it feels like putting on my favorite pair of boots. Seemingly simple, yet often difficult to find properly prepared. It's a great classic template.
What's something you love about bartending?
Paul Calvert: I've always loved playing the host at a party. So when I can help guide a guest through their entire experience at Ticonderoga Club and they love every stop along the way -- the cocktail before dinner, the wine or cider or sherry pairing with the meal, the glass of old rum or the digestive-style cocktail with dessert -- I get a great sense of accomplishment and of a job well done. It is now and has always been the people that keep me coming back to work.
What got you into bartending?
Greg: The usual chaos of the restaurant business first put me behind a bar. Someone hurt themselves, and I was thrown in to cover, etc. What kept me interested though were the nightly opportunities to meet new people and prepare things for them that might just add a level of excitement or joy to their evening.
What's your favorite drink right now?
Paul: That would be Evan Milliman's fantastic tequila and cognac sour -- "Get Happy." The name says it all.
What do you think about the bar scene in ATL?
Greg: I'm incredibly proud of the scene here in Atlanta. Our culture is a positive and collaborative one, creatively speaking, and we all really get along outside of our bars as well. This breeds a healthy environment for everyone. Especially for our guests who have an even level of familiarity with the various barkeeps across the city.
Courtesy of Miles Macquarrie
Miles Macquarrie
Decatur
The oysters at Kimball House are hard to beat. Still, there are people who don't eat oysters (shame on them) but swear by the cocktail program Miles Mac made in the old train depot. He's a three-time James Beard semifinalist who spent time at Holeman & Finch and ran booze operations at Leon's Full Service before becoming a partner at Kimball House, where everything looks scientific but tastes like flowing art, thanks to the house-made bitters and tinctures used throughout the cocktail menu, whether you're indulging in the Swiss/French/Californian absinthe program or having a classic G&T, Sazerac, or fancy sour cherry bourbon julep. Hell, the dude even has his own amaro based on the flavor of Coca-Cola.
What's your favorite drink to make?
I like making drinks. I don't know that I have a favorite to make, but I do love making drinks with really nice spirits that most wouldn't dare put in a cocktail. Daiquiris with V.E.P. (note: that's Vieillissement Exceptionnellement Prolongé, ahem) Chartreuse. Sure, why not?
What got you into bartending?
Craft beer and a fun way to make a living.
What's your favorite drink to sip?
Sazerac, or a super-cold -- I mean very, very cold -- yet stirred, 3:1 dry Martini.
Courtesy of Kellie Thorn
Kellie Thorn
Midtown
She's known locally as the lady who Hugh Acheson trusts to match his kitchen wit with boss-level bartending skill and taste. She's an ATL native who's becoming known internationally, thanks to being picked to craft holiday cocktails live on CNN and winning regional competitions to fly out to the actual city named Cognac. She can do to gin what Billy Dee Williams does to… wait, skip that, since it alludes to a relationship based on Colt 45. Anyway, Thorn is on your side, much like your liver. Let them become friends.
What got you into bartending?
I've been in hospitality for 16 years and bartending for 13 of those. Providing mindful service and curating guest experiences is what excites me about this industry. Bartending is all of that with the added bonus of flexing my creative and intellectual muscles.
What's your favorite drink to sip?
A well-made martini is a lovely thing. Also, Champagne.
What do you think about the bar scene in ATL?
I think it is vibrant and diverse. There are a lot of smart and passionate people in this city running thoughtful programs. Above all though, I think the bartenders in this city make hospitality the priority. Good drinks are getting easier to come by all the time, but exceptional and nuanced service is what really elevates an establishment.
Courtesy of Navarro Carr
Navarro Carr
Old Fourth Ward
It says a lot about a bartender when he or she can sustain and elevate the cocktail and spirits program at a place with sky-high expectations. The Sound Table is that venue, due to the consistently captivating music and food menu, but it is NYC native and UGA grad Navarro Carr who has managed to steadily surprise guests who are sometimes too busy dancing to realize their drinks are damn good until the second or third sip. He may not be the smiliest dude in the bunch (I personally thought he hated me for years, which would have been fine), but you won't get a bad drink from his hands. Maybe that's due in part to his early tutelage from OG ATL bartender Eric Simpkins of The Lawrence, or maybe it's just because he's really good at what he does and doesn't have to smile for your sloppy self. You'll still suck the last drip out of your highball glass -- count on that.
What's your favorite drink to make?
The short answer is a drink called The Eulogy Cocktail, which has equal parts Batavia Arrack, Strega, velvet falernum, and fresh lime juice. The long answer is "the cocktail that best fits my guest at that moment."
What's something you love about mixing cocktails?  
The opportunity to meet amazing people and also the bond I have with fellow bartenders. We're family.
What do you think about the bar scene in ATL?
I think it's amazing and our city is underrated.
Sign up here for our daily Atlanta email and be the first to get all the food/drink/fun the ATL has to offer.