Sebastian Davis
Sebastian Davis
Given that you can get chicken and waffles (emphasis on the waffles) pretty much anytime around here, Bloody Marys are basically the only reason anyone goes to brunch in Atlanta, but you can't let just anybody with a bottle of vodka and some tomato juice make you one. No, you need one of the 11 best Bloody Marys in the ATL...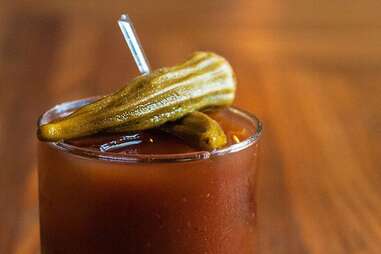 Buckhead
Made with with gin (and love), this is the perfect complement for the H&F burger, mostly because of the sauce: hand-milled tomatoes, fresh lime juice, cayenne, horseradish, Worcestershire, cream sherry, salt, black pepper, and celery seeds are just a few of their "secret" ingredients. Your secret is that you're totally already on your second one.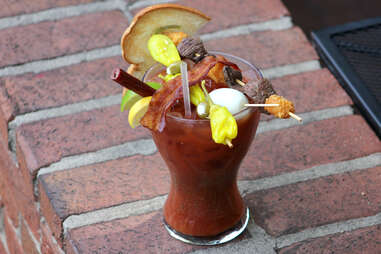 Midtown
All you Bloody size queens will be satisfied by The Nook's 32oz Bloody Best. It starts with 6oz of Absolut Peppar and their custom Bloody Mary mix, and then there're the toppings: steak, tots, pepperoncinis, jalapeños, a hard-boiled egg, lemon, lime, and a slice of toast top it off. Pro tip: hold off on eating the beef straw until the end.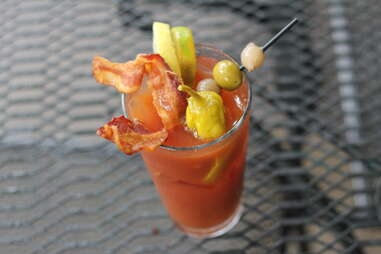 Grant Park
Lots of Bloody Marys come with a mix of vodka and tomato, plus things like Worcestershire sauce, bacon, olives, onions, etc., but how many are hopped up with your favorite IPA? Hint: at least one.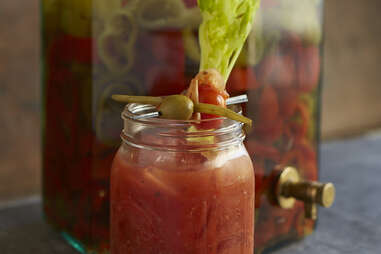 Little Five Points
Little Five Points' best beer bar is giving you a pepper vodka-based quart of good times, and since they do everything so right at The Porter, their blend of tomatoes and spices hits all the right notes, and might just make you forget about their 800 beers. Or, like, an entire day if you're not careful.
Buckhead
The Hail Mary is an impressive stack of a stromboli slice, bacon, a meatball, capicola, pepperoni, and every cocktail veggie you can imagine. It's the reason Elbow Room is so popular with industry types who know what a real meal-drink is.

East Atlanta Village
Their Hangover Helper includes a medium bowl of pho and a Bloody Mary for just $12 on Saturdays or Sundays. Or, knowing you, Saturdays AND Sundays.
Morningside
This is quite possibly the craftiest Mary in Atlanta. San Marzano tomatoes are blended with fresh tomato juice to give you a rich and salty drinking experience. They even bottle the stuff so you can make the magic at home.
Brookhaven
Consistently topping the list of Atlanta's best, Executive Chef Brian Traudt may not give you the exact recipe, but we know it comes with bacon, pickled okra, and a savory house mix that goes great with a heaping pile of fried avocados.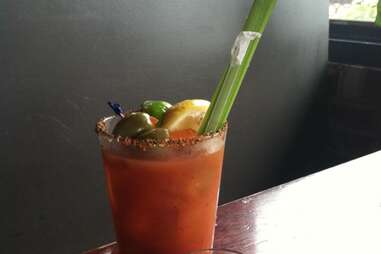 Westside
The Fish House Bloody Mary starts with Absolut Peppar & Zing Zang's Bloody Mary Mix. Things go into overdrive with a peppered cayenne rim of salt, all the veggies, and a shot of stout. Oh, and there's a raw oyster to top it all off.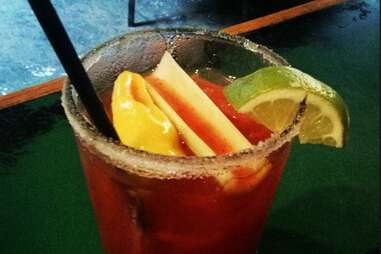 Old Fourth Ward
Jack's Bloody Sundays are a weekly holiday where your present is always booze, and you're never disappointed. You can go cheap and basic for just four bucks, get it made with their marinara or wing sauce, or get "fancy" with nice vodka and fixins. Whatever you choose, you'll have the perfect beverage to dip your food into.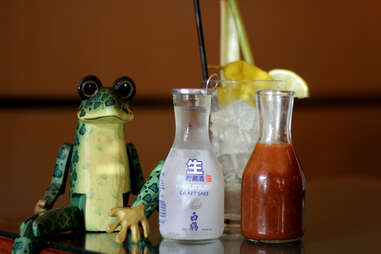 Midtown
You get to be the bartender, blending your own mix of Babs' proprietary Mary mix with draft sake. At 14% ABV -- and served chilled -- this is the level of sake that you are robbed of at the average, cheap sushi place. Find your perfect mix and the house mascot will happily watch you consume it.
Sign up here for our daily Atlanta email and be the first to get all the food/drink/fun the ATL has to offer.