Georgia's restrictive beer laws (it's one of the few states where local brewers aren't allow to sell their own beer!) mean that The Peach State was a little late to craft beer party the rest of the country's been throwing for itself the last decade or so, but now that sweet small breweries are popping up around here quicker than reality TV stars, it's getting harder to tell which is best, so we talked to five local beer gurus and they gave us their picks for the top 10 breweries in Georgia.
Awarding 10 points for first, nine points for second, and so on, here's who came out on top...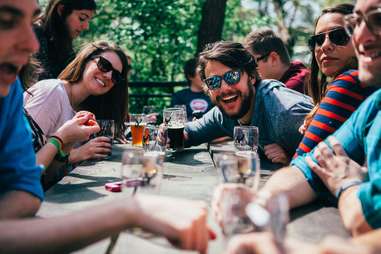 Atlanta
It throws some of Atlanta's best beer-related parties, and you can always find its stuff in some of Atlanta's best beer bars, so it shouldn't be any surprise it's got some of the ATL's best beer, especially after you try its Blind Pirate Double IPA or its "pseudo pilsner," Nerd Alert.
What the experts say: "Their (limited edition) barrel-aged Drafty Kilt definitely hits on all cylinders." -- Zak Schroerlucke, SweetWater Brewing Company
Atlanta
This brewery hit the ground running in October with four beers out of the gate, and its tasting room was one of Atlanta's best new bars. The Georgia Tech scientist founders have released six delicious seasonals since then, and they are about to release cans of their two year-round beers, their Red Hop Rye and the spicy Thai Wheat that's made with lemongrass and ginger.
Decatur
Started by a home-brewer who fell in love with Belgian brews on a trip there in '90s and who hired a brewer from there to help him actually make the beer, this brick-wall beer-slinger has been making a solid impression on beer-lovers thanks to swill-ables like a Belgian-style white IPA called White Hops that was inspired by "a mysterious and controversial" Atlanta malt beverage sold in 1898. There's also A Night In Brussels, which is an American IPA made with Belgian malts and an authentic Belgian yeast strain.
What the experts say: "How many breweries have an honest-to-God Belgian running the show?" -- Brian Diggelmann, SweetWater Brewing Company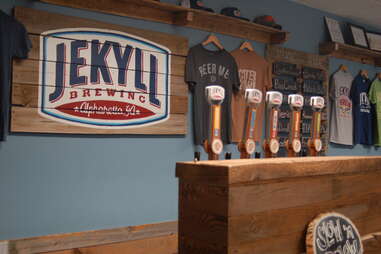 Alpharetta
A real blue-collar kinda brewery where the goal is to be true to Georgia's traditions in each of its brews, and the 'Merican Amber should be proof enough of that, but you should also try the blonde ale, Southern Session 'cause some claim it's "everybody's beer."
What the experts say: "This brewery has focused on accessible styles done well. They have found a winner in Hop Dang Diggity IPA, a hoppy and rewarding everyday IPA. They might be from the suburbs, but their beer is Main St done right" -- Kraig Torres, Hop City Craft Beer & Wine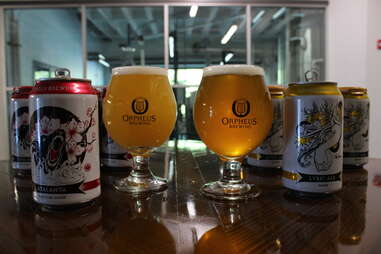 Atlanta
Take a jog through Piedmont Park, and then grab a few glasses of some of the state beer nerds' favorites. You're starting to see these cans in your finer beverage outlets, at a little higher price, but one that is so worth it.
What the experts say: "Having a sour focused brewery was a bold move, and they are coming up with some great concoctions." -- Jason Santamaria, Second Self Beer Company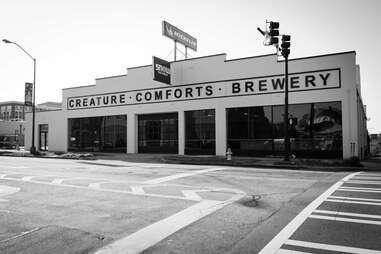 Athens
Founded by a SweetWater vet, it's got the lineage to support at least a taste, which you can do just a few blocks from the Georgia Theatre, where they're pouring creative, flavorful brews like an American IPA and an amber aged on French Oak called Reclaimed Rye.
What the experts are saying: "What's in the water in Athens? Tropicália is, hands down, our best-selling new beer from Georgia, and the best new IPA in years. Plus, they are happy keeping GA drinkers out of their comfort zone with a year-round Berliner Weisse...in a can, no less" -- Kraig Torres, Hop City Craft Beer & Wine
Atlanta
The oldest local brewery recently celebrated turning 21, so now it can drink its own product, and while its original location had to make way for the expansion of Midtown and those giant bridges, it's keeping on the hop game on the Westside.
What the experts say: "You gotta respect the OGs. Done some really cool new stuff in the last couple years, and their artwork is awesome." -- Brian Diggelmann, SweetWater Brewing Company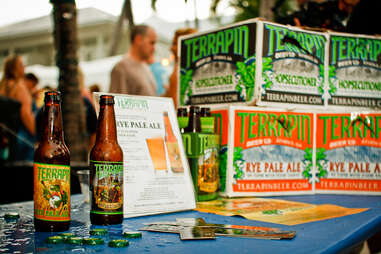 Athens
Slow and steady almost wins the race, as these Athens brewing turtles are thought of very well by our experts, and by everyone else since you're guaranteed to find their product (look for their citrusy Hi-5 IPA, or their signature Rye Pale Ale) in some of the city's best watering holes.
What the experts say: "They're one of Georgia's big brothers when it comes to beer. They make an excellent product, and are instrumental in helping make Georgia's beer scene what it is today." -- Jason Santamaria, Second Self Beer Company
Decatur
Easily reachable via the Avondale Estates station on your BAR-TA tour, you can also get these all-grain strains throughout the city, with ABVs ranging from 12% down to 4%.
What the experts say: "Ode To Mercy is so tasty. Imperial brown ales are where it's at." -- Zak Schroerlucke, Sweetwater Brewing Company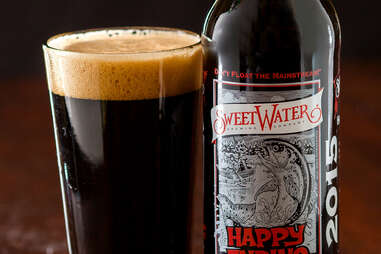 Atlanta
The giant stacks that waft delicious-smelling steam across 85 need to be an official state landmark because this beer-slinger (started by two guys who met in Colorado and trained in California) is one of the South's signature breweries, mostly thanks to mainstays like its West Coast-style 420 Extra Pale Ale, or its powerful, unfiltered IPA.
What the experts say: "The big dog keeps on barking: a new barrel program shows off the new tricks for this Greyhound. It's not one of the top 20 largest craft breweries in the country for nothing." -- Kraig Torres, Hop City Craft Beer & Wine

The Judges
Zak Schroerlucke -- Brewery Experience Lead, SweetWater Brewing Company
Kraig Torres -- founder and Chief Hophead at Hop City Craft Beer & Wine
Jason Santamaria -- founder and brewer, Second Self Brewing Company
JC Winter -- A Social Mess contributor, former lifestyle writer, Creative Loafing.
Brian Diggelmann -- Beer Education Manager, SweetWater Brewing Company

Sign up here for our daily Atlanta email and be the first to get all the food/drink/fun the ATL has to offer.