There's a reason Atlanta is dubbed "the city too busy to hate"—we're all booked up sipping expertly made Old Fashioneds, frothy margaritas, and other carefully concocted cocktails. Over the past decade, the city of Atlanta has emerged as a craft cocktail behemoth. The options to imbibe are plentiful, but if you're looking for the best of the best, we've sipped far and wide to narrow down this list of the city's top cocktail bars.
Who doesn't love a good surprise every now and then? Especially when it includes your favorite spirit. At 12 Cocktail Bar, which rests in a tower high above Ponce City Market, menus are not available. Instead, simply share your favorite spirit and your preferred flavor profile, and their mixologists will work to create a cocktail that's sure to become your new fav. And if you can, be sure to arrive at 12 just before dusk to catch hues of pink and orange as the sun sets over the Atlanta skyline. Guests at 12 are highly encouraged to book reservations prior to their visit.
If you're in the market for a cocktail bar that will elevate your next date night, look no further than The Garden Room. This Instagram-worthy cocktail destination is lush in more ways than just one. The decor is extravagantly lush—it's almost as if a posh lounge and an extravagant greenhouse were fused together to create Atlanta's chicest cocktail bar. The cocktails are just as lush thanks to fresh ingredients and the occasional creative touch (think rosé foam and color-changing glitter bombs).
Atlanta is far from the tropics, but a visit to S.O.S. Tiki Bar could easily lead you to believe otherwise. With its dim lighting and retro decor, S.O.S. is one pour of rum away from moonlighting as a cozy cocktail bar in Maui. In actuality, S.O.S. Tiki Bar is located at the end of a small alley in downtown Decatur. During the warmer months, this alley becomes the ideal location for sipping an expertly made Zombie as you chat it up with friends. Given that you're sure to work up an appetite after your first round of tiki-inspired cocktails, Asian-inspired bites from Mushi Ni are available to order at S.O.S.
You haven't had a true Atlanta experience unless you've braved the elements for several hours to get your hands on a Sloppy Toppy or another friskily named burger from Slutty Vegan. But if you prefer bourbon over burgers, head over to their boozy counterpart Bar Vegan for specialty sips and signature cocktails and to experience drinks that feature exciting elements such as fire and smoking volcanos.
Cocktail devotees might be caught off guard upon stepping foot into The James Room. You're first introduced to the bar's cafe counterpart, a quaint space anchored by a glass display brimming with pastries. Glance past the croissants and you'll find a door that leads you to the boozier side of The James Room. The dimly lit space is sultry in appearance: forest greens and mahogany browns come together to set a speakeasy vibe.
Feeling a bit indecisive? Opt for a martini flight. This $33 option includes a sample size of three specialty martinis: 50:50, Gypsy Queen, and Apple Martini. To appease cocktail enthusiasts of all tastes, you'll also find a comprehensive selection of classic and specialty cocktails at the bar.
In Atlanta's Castleberry Hill neighborhood, if you look hard enough, there is a bubblegum pink door that leads to an intimate cocktail bar. For those who walk through this door, signature cocktails and small bites await guests at Parlor, a sleek bar that serves up Southern hospitality in glass. And on select days, Parlor welcomes food pop-ups, so be sure to arrive with an appetite.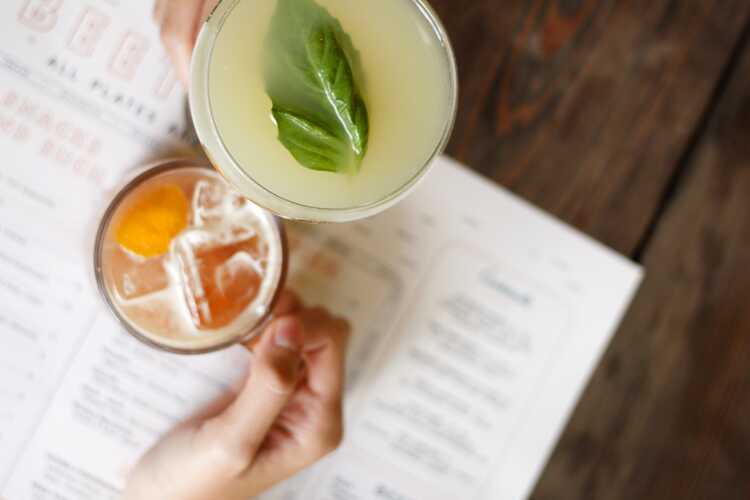 The Den At Beetlecat

| BeetleCat
If you have a penchant for buttery lobster rolls and decor that'll swiftly transport you to the groovy '70s, The Den has a Mai Tai with your name on it. Located below Beetlecat, this charming cocktail bar is reminiscent of a New England den (but with way better sips). Cocktails at The Den lean towards beach-y thanks to a lush lineup of cocktails that include the gin-based Royal Hawaiian and the bourbon-heavy Tiki Torched.
One of the newer bars on our list, Jojo's Beloved Cocktail Lounge brings a level of retro glam that would make even '70s-era Diana Ross proud. Sneakily located in the back of the recently opened Politan Row food hall, Jojo's welcome divas from across the city to indulge in glitzy cocktails such as the Bluetsy Collins and Sagittarius Sour. It's the place to see and be seen, just remember to book a reservation or you might not be seeing much of anything.
Located in the Four Seasons hotel, Bar Margot is a swanky cocktail bar that impressively manages to be both posh and welcoming. In addition to its accommodating staff and a stellar cocktail menu, part of Bar Margot's charm is rooted in its desire to make the hotel bar familiar and inviting again. It pulls this off by creating an environment that isn't too regal to host the occasional live music event and other community-centered soirees.
The good times are certainly rolling at Bon Ton, a cocktail bar that blends Cajun flair and Vietnamese flavor. There's no better way to quite literally get a taste of this intriguing combination of locales than with a drink from their equally enchanting cocktail menu. Upon glancing at their selection of libations, you'll come across everything from the Nola-approved Bon Ton Hurricane to the Frozen Vietnamese Irish coffee (a caffeinated sip made with plenty of Jameson).
Danielle Harling is a contributor for Thrillist.