Gone are the days when you found drinks with Midori on the menu at Atlanta's cocktail bars. We've collectively stepped it way up, creating a level of expectation that actually makes $12 drinks make sense. That makes it harder to identify which bars are the true beasts of Atlanta's beverage scene, and which are just letting the price tag do the work. Luckily, we've exhaustively put these bars to the test to present you with the following: Here are the best cocktail bars in Atlanta.
MORE: For something a little less stuffy, check out Atlanta's best dive bars
West Midtown
It's a ramen spot, a living monument to Blade Runner and Big Trouble in Little China, it has amazing music (check the playlist), and it features a randomly changing drink menu, which has included various cocktails, from the smoky mezcal/rye Found Art, to current concoctions like the herbal liqueur Green-eyed Monster and the funky coffee/amaro/vermouth/cacao Tiger Uppercut.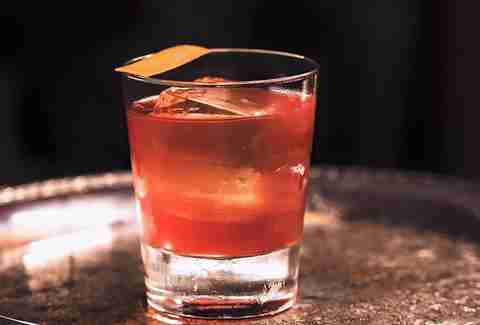 Decatur
Most people became familiar with Kimball House due to its incredible oyster selection, but the famous ATL mixer Miles Macquarrie is a partner, which means that this old rail station in The Dec will boost your caboose with a Herbsaint daiquiri served with tarragon oil; the Cherry-Coke-ish Cowboys & Indians, with Colorado whiskey, Madeira, kirsch, preserved cherry, and cola bitters; a serious absinthe service program; and a bottled Old Fashioned that serves four for under $40.
Buckhead
Reservations are the only way you'll get any refreshment at this super-exclusive cocktail parlor connected to sushi restaurant Umi. The name means "secret," the space is intimate (though two stories), and the staff serves guests according to the practice of Japanese "selfless hospitality" (omotenashi, if you wanna get technical). It's run by T. Fable Jeon (The Lawrence, etc.) and Shingo Gokan, who's famous in NYC for a similarly hard-to-access Japanese speakeasy called Angel's Share.
Krog Street Market
Greg Best, Paul Calvert, and the rest of the TC gang are a drinky dynasty similar in spirit (ahem) to a 2016 booze-mixing version of the '99 Lakers. It will be you, however, who feels like the repeat champion after hitting the bar (pay homage to the Biggie Smalls painting if you can snag a table upstairs), where you should sip the signature house punch over crunchy ice in a metallic cup, or super-strengthened libations like the Holland Tunnel, with rye, Quina aperitif, amaro, and Angostura.
Grant Park
No longer a secret beverage hideaway, Cardinal is Third Street Goods' hidden den for Atlanta's cocktail counterculture, defined here as "people who would walk into a grocery store and politely ask for a high quality mixed beverage." It's run by two artistic and awesome ladies who met working at Leon's Full Service, so they're used to being good people in weird spaces with high standards. Also, Cardinal is always going to be closed on nights where the moon is full -- no, seriously -- so be sure you're up on your Farmer's Almanac. Once you come in through the shop's outdoor patio and down the dark blue hallway, you'll sit at the round bar and ask for the daily changing menu. There you'll find something like the "Slick Ricky," which is mezcal, bay leaf, salt and pepper, plus lime and thyme. All the drinks follow a similarly creative bend, all of which is supposed to be the point of having good drinks in unorthodox spaces with good/strange people, right?
Ponce City Market
Most people don't expect a place selling South African beef jerky to become a great cocktail hangout, but ask beverage director Sean Gleason to make his favorite drink for you, and you'll never look at Mai Tais with touristy disdain again. While you're there, ask him when he's bringing back the Dark Side -- a dark rum, sherry, and imperial stout reduction masterpiece -- and he'll probably say "Soon!" or "In fall, maybe!" or "Tell Mike Jordan to f*ck off!" He'll know who sent you.
Old 4th Ward
Nobody expected an arcade bar to be as wild with its tonics as Joystick has been since opening. Co-owner Brandon Ley has meticulously put together a highly respectable program that takes fortified wines as seriously as it takes random cosplay parties and the hosting of weird local podcasts, and sexy liquid inventions like the Donkey Punch.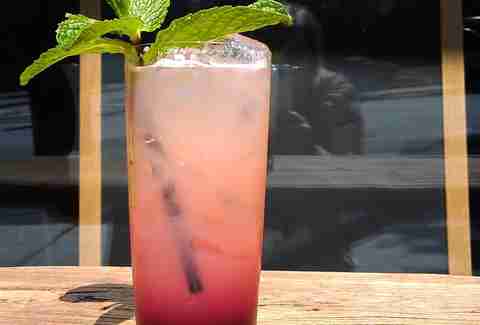 Midtown
Partner Eric Simpkins, who's been a fixture of alcohol-based mixtures in ATL since the mid-aughts days of TROIS (remember that joint?), has been the steady hand that pours success out of this once-untenable building. With The Lawrence, he makes sure that you get serious liquid sustenance, including several creations made with house infusions (lavender mint tea vodka, cinnamon-chipotle-infused añejo tequila, lemongrass-infused rye) and other ass-kicking drinks like the Armagnac-mixed Brooklyn Social Scene, whether he's there or not.
Decatur
The Victory gang may have shuttered Paper Plane, but they kept the space and made it a tropical paradise on Church St. Go there on a festive eve and get your Dr. Gonzo on with a Singapore Sling. Go Wu-Tang Clan on a Ghost Face Kula with five-year rum and a bunch of other madness. Hell, bring a friend or three and get a larger shaken or stirred tropical bevvy for $30, or go full-crazy on a $100 punch bowl for six to eight drinkers. Actually that last one. Do that one.
Buckhead
Affiliated with Atlas but in a separate space with a different entrance, The Garden Room is an indoor ecosystem of fine cocktail imbibement that gives Buckhead a bit of old Hollywood class and prestige without excessive pretentiousness. It's basically a big, vine-wrapped conservatory where plants and human wildlife come together in cocktail worship. There's that big white-leafed tree at the corner of the rectangular bar, a seasonal installation in another corner rigged for flowing water to run through the flora, a huge mural of a lady surrounded by blossoming flower petals, and even roses woven into the damn chandeliers.

It's gorgeous, and the drinks are both pretty and powerful. Try the Paradis Bramble (Martell Blue Swift cognac, Chateau Pegau Cotes Du Rhone wine, blackberries, lemon and egg whites) for a boozy-zippy kick, or the Bend and Snap, with gin, wild strawberry and lychee liqueurs, lemon juice and rose foam. Just make sure you show up early; reservations for dining are booked out for months, and once the bar fills up they hold the line at the door. Hey, you're the outdoorsy type anyway, right?
West Midtown
From the metallic sheen of the silver bricks in the foyer to the big, bushy gold chandeliers hanging above the multicolor-striped banquettes, and especially those huge framed photographs of artists like Lauryn Hill and Shabba Ranks, Rock Steady has looks for days. But it also has -- along with great plates of your favorite Caribbean, West Indian, and island dishes -- a great bar with much more to offer than your typical yellow/green/red "Bob Marley" sugar-bomb concoction. Here's it's more balanced, with fresh juices and bitters keeping the coastal feeling from being too sweet, evidenced by such sippers as the Rude Boy, which mixes vodka and Aperol on the rocks with lemon and raspberry. Even the presentation is more reserved, with drinks described as "served up" being in coupes as opposed to giant martini glasses, a la that headache-causing thing you drank on your most recent cruise. Here the boat definitely rocks, but smoothly, so show up in your flyest clothing and help put down more roots and culture in West Midtown.
Inman Park
It's been less than two years since Little Spirit began boozing it up in the intimate former space of AMER. But it's also been an uplifting experience to consume invigorating cocktails listed on the bar's chalkboard back wall, while you're surrounded by murals of deceased musical saints like Freddie Mercury, David Bowie, Prince, Tupac, and Biggie. There's always a buzzy energy bouncing off the walls, aided partially by the fact that if you're here drinking, you're standing, if not leaning.

The seasonal drink menu might feature things like the herbal-mai-tai-ish "Sex Panther," made with two rums (agricole and overproof), chartreuse, lime, orgeat, cacao, and "bitters of real panther." Also try initialism-titled drinks like the "DSL" (Drunken Spice Latte) made with vodka and cognac, or the aged rum, vanilla and mezcal- spritzed "ODB." They even have a drink made with beet juice, Campari, gin, amaro, and rosemary. It's called the "Beet Down," and it is good. And maybe even better than the stellar drinks is the fact that you're drinking them in an environment that makes mingling mandatory, and makes even the smallest of us feel like a little bit of a bigger deal once we've left.
Reynoldstown
Wonderkid is a retro paradise for your inner-child. It's a collaboration between King of Pops and the Big Citizen gang (Bon Ton, The Lawrence), and is the kind of place that makes full use of its location in the Atlanta Dairies development. Here you can get a breakfast of local milk and granola, fruit, and toast, or "Milk & Cereal," for breakfast, then move to lunchtime soft serve (believe it or not, this is KoP's soft serve debut), but then ramp up the good times with the house milk punch, made with gin, rum, madeira, and more. That's one of the drinks on the "Greatest Hits" menu, which sticks around longer, but don't miss out on the "Now Playing" drink menu, which changes often but is inspired by music and kicked off with liquid odes to Pulp Fiction. The standout: "You'll Be a Zombie Soon," which with overproof 151 rum, mezcal, absinthe, and a mixture of juices.
Sign up here for our daily Atlanta email and be the first to get all the food/drink/fun the ATL has to offer.