Dive bars in Atlanta may seem like they're in constant neglect, but the truth is they survive because we love them. Yes, we're always getting some new fancypants bar that focuses more on a modern theme than on reasons you'd actually want to hang out there -- but who needs fancy when you've got cheap booze, possibly a pool table, and bartenders who haven't seen the sun in years. These are the dives we love and must defend from the onslaught of gentrification and condo-development, and the best way to defend them is to budget like $10 and have a plain old good time. Take this list, and go do your duty.
Est. 1987 | Little Five Points
For when you wish you had a boat but will settle for booze
The entrance is like a funnel. You walk in the door and a dart board with the Camel cigarettes brand logo stares back at you. There are cheap chandeliers, metal fish nailed to the walls, and wooden booths that are just moist enough to be both comforting and a little gross, which is exactly why you sit in one. There's Malibu, Jameson, Bacardi, and other liquor brands you won't find in a $15 cocktail around town, and that's all just fine to the folks who've been coming here to drink and eat Mac Daddy patty melts and brisket sandwiches on Texas toast for 30+ years. Feel free to sail away if you don't like it; EAYC has survived some of your favorite hipster bars, and will continue right on floating.
Est. 2018 | Inman Park
An instant classic dive where you can still be one of the originals 
Lloyd's has no problem pretending to be '70s-crappy. It makes fun of itself in several ways, from the general decor of the place (maroon pleather seating, wood-paneled walls, diamond-shaped windows, and graphics everywhere), to the branded plates, which can and should be filled with their signature meatloaf special and endless mashed potatoes. It's a roadhouse diner in a neighborhood that isn't used to that sort of thing, and it warns you not to expect "good-looking people" in its own marketing. Everything from the beer to the tilted backlit signage above the bar is terrible, but in a curated way that makes it one of ours. And make no mistake: It's awesome, and you'll hopefully get to love it for decades to come.
Est. 1991 | Little Five Points
Where ATL comes together for good, and sometimes no-good, reason
The weekly comedy nights on Monday have given many a creative Atlantan a platform upon which to be laughed at, shrugged towards, and maybe thrown up upon if you're lucky. Wednesday night's cowboy karaoke lets you sing swanky Southern classics while backed by a live band, and on rando nights there might be a no-cover "party" hosted just for the un-spectacular cause of drinking. But whatever brings you here, you're sure to have a good, cheap time getting down and dirty with drinks in the dingiest way possible.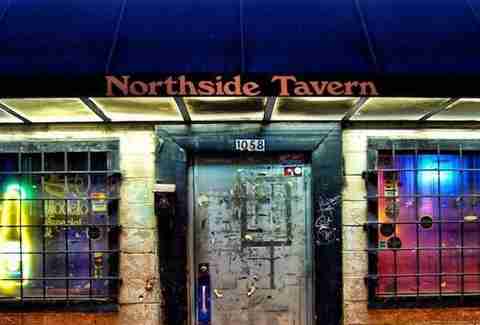 Est. 1972 | West Midtown
The dirty-blues-iest place in Atlanta
Nothing in Northside Tavern smells like it hasn't been soaking in cigarette water for 40+ years, but nobody would like it if it were ever to be sanitized, because it has never been a place to wear your Armani Exchange pants or anything that wasn't already dirty before you entered. Leave if you don't like it, or stay and play pool on some squeaky, tilted tables while you hear some of the most authentic blues music you'll ever hear performed live. A right of passage for potential Atlanta lifers, you can't come through the city without having been here to see and soak in the glory of this hole-in-the-wall, which hosts live music every single night of the week.
Est. 1956 | Poncey-Highland
The intellectual war room and watering hole of Georgia Democrats
Founded by a Lebanese-American military veteran named Manuel Maloof, who went from bar proprietor to the most powerful politician in Dekalb County (we ultimately have Maloof to thank/blame for the completion of the 85/285 "Spaghetti Junction"), Manuel's is one of the most important places a politically minded local can consume alcohol. Public radio stations still broadcast from Manuel's after election debates, interviewing customers who're more than happy to weigh in on whatever. Election swag going back to Jimmy Carter's first gubernatorial campaign -- which he announced at Manuel's -- adorn the walls, none more famous that the JFK portrait on the main bar back. It's where conversations about left-leaning politics are par for the course, and where you might have the next powerful political player pay for your next pour. RIP, Bill McCloskey!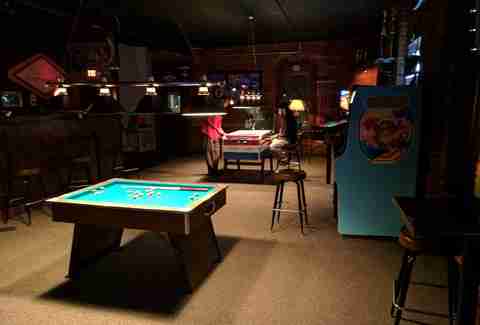 Est. 2016 | East Point
Same Tri-Cities corner, different Tri-Cities tavern
When the building that housed East Point Corner Tavern, which by the way was the first Corner Tavern in Greater Atlanta, went up for sale after 15 years in business, anything could have happened. Fortunately it was taken over by Nick LeMay, who'd been EPCT's GM and decided he was ready to transition from manager to owner. The continuity of a former-employee becoming the boss made Chairs. (sometimes called "Chairs Upstairs") a familiar experience to the long-supporting locals who made trivia, karaoke, and pool league nights so communal. The regulars are genuinely nice, the billiards area is still busy, and the beer list is always quality. Now, with a new name and a slightly upticked menu that includes meats cooked on an outside smoker, it's not just a place to eat, drink, and be merry in East Point, it's also telling you exactly where to park your backside when you're in the mood for such fun.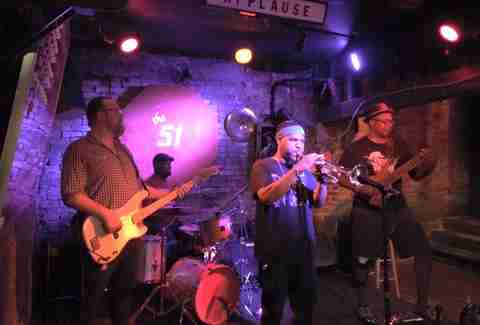 Est. 2006 | Castleberry Hill
The little red no-frills bar that could
Not many people seemed to care about the area near Mercedes-Benz Stadium back in the mid-2000s. But quietly, a steady stream of regulars began to frequent the backstreet bar that now sits on one of the hottest blocks in the city, right between Downtown and the Westside. And although it's currently for sale, the Pub, with all its plastered $1 bills stuck to the bar walls, is still one of the best loved places in the city to enjoy the company of regular folks who can eat and drink like they've been around here since before it was trendy.
Est. 1992 | Midtown
An immortal late-night dive for gamers
When you need to play pool, air hockey, or pinball at 1am, and usual tavern food won't do, remember to be thankful for The Highlander, where kids are never allowed and people looking for eclectic overnight eats that lean on the spicy side aren't allowed to leave disappointed. Here you can order ghost pepper wings, Nashville hot fried chicken, chicken "chunks" with green chile waffles, a bowl of Jamaican jerk chili, and more, before heading over to the game room to compete for after-midnight supremacy. It's a fantastic place to dine before or after a movie at Midtown Art Theatre nextdoor, and with the exception of Sunday night, you can hang out until 2:30am.
Est. 1996 | Poncey-Highland
A tried and true, always-reliable old-ATL haunt 
The timelessly shiny Rock-Ola jukebox is stocked with CDs from a very wide assortment of alternative, old-time, hipster alternative, and deep-cut songs. The walls -- black-painted brick on one side, basement wood paneling and red velvet wallpaper on the other, convince visitors that this place has been around far longer than the era of OutKast and Goodie Mob, and the wooden canopy bar, stained over time with much more than polish, is adorned with every sort of sarcastic sticker visitors could find. If you're eating, have a sandwich; the grilled rosemary chicken on naan is never a bad pick. The draft taps are balanced between low-brow American pilsners and local upper-classmen like Scofflaw and Three Taverns, and they'll never run out of Jameson. This isn't the new location at Brookhaven we're talking about; this is OG RR. What else do you need to feel righteous?
Est. 1947 | Virginia-Highland
Reasonable prices for real ATLiens
Few places that aren't fast-food establishments have a $4.25 burger that you'll actually want to eat. But Moe's & Joe's still treats people like it's the '40s, with people-first pricing and gritty, everything-but-fancy grub, from brisket chili dogs to actual goose liver, which they've been serving since they opened "when nothing else will do." It's also a great place for a cheap pitcher of domestic beer, and general rejection of modern society.
Est. ? | Poncey-Highland
Fantastic wings and friendly-ish vibes
The Local is so divey that they damn-near don't have a website, save for a search page that lets you check out the extensive list of songs available for Monday night karaoke, which begins at 9pm and just goes until last call (the place closes at 3am). It's so dim you might be tricked into believing it's only illuminated by the neon signs behind the bar, but it's those, plus that liquor bottle chandelier, and you keeping this place lit. Oh, and the wings, of course: The Local's dangerously delicious smoked wings, sauced or dry-rubbed, are seriously among the city's best if you ask someone who's been on the other side of the street from Ponce City Market. They also do a great job of keeping native beers on tap and in cans, which you should be drinking on trivia night Wednesdays. Spend a few evenings here and you're sure to end up living nearby.
Est. ? | Hapeville
A beach just as real as Lake Lanier but with cheaper beer
Hopefully you're not reading this story about dive bars because you're into great service, because you certainly won't find that at Hammer's. But at least this place has a volleyball court and a covered beach bar, which is both a little questionable and extremely fun when you're drinking cheap beer and well liquor. But besides the faux-shoreline granules, Hammer's also has an always-unpredictable mix of Tri-Cities locals, Delta employees, and travelers who're dealing with a layover and gambled their rideshare budget on a bar they heard looks like a beach. It's just terrible enough to love.
Sign up here for our daily Atlanta email and be the first to get all the food/drink/fun the ATL has to offer.