Summer isn't letting up anytime soon. This is all too evident when we walk outside and immediately sweat through whatever clothes we thought would keep us cool. And let's be honest, there's only so much water to drink before we decide we need something a bit more flavorful… with the ability to distract our minds from the blistering heat. Cue Atlanta's best alcoholic slushies.
Recommended Video
Stay Classy This Winter With a Spiced Pear Tom Collins
Alcoholic poptails
King of Pops
Address and Info
Poncey-Highland (& other locations)
King of Pops took its delicious popsicles to another level with its cocktail popsicles -- aka poptails -- sold at their Ponce City Market location. Surprisingly refreshing, each poptail is inspired by previous King of Pops' flavors and comes complete with a popsicle in the cup. Flavors range from grapefruit-orange blossom paloma, raspberry-lime margarita, and our favorite: orange basil bourbon, made with orange, bourbon, basil simple syrup, lemon, and freshly chopped basil.
The Jack & Coke Slushie
Victory Sandwich Bar
Address and Info
Inman Park and Decatur
Nothing pairs better with Victory's Hambo sandwich than its Jack & Coke Slushie. It's the ideal way to enjoy the patio in the summer, whether you're an Inman Park regular or prefer the Decatur location. Perfectly blended, with just the right amount of booze, the slushie is incredibly addicting, though it WILL knock you down if you're not careful.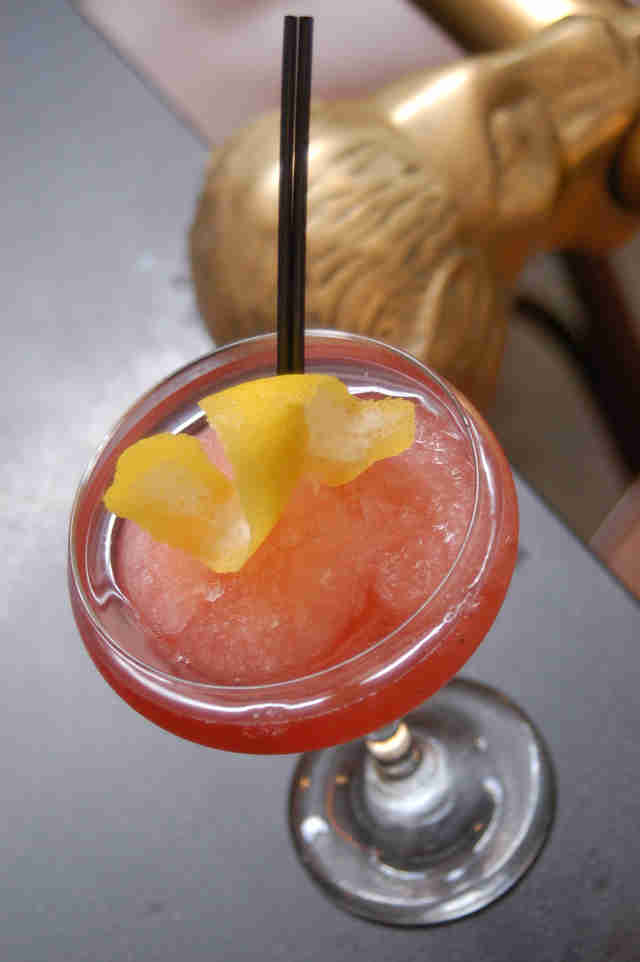 Meghan Royale
The Luminary
Address and Info
Inman Park
For the wine aficionados, rosé is the easy choice for summer drinking. It's light, a little sweet, and bubbly enough to keep us from melting in the heat. The Luminary took it a step further with the Meghan Royale, a rosé slushie cocktail which is -- at this point -- rivaling the wheel in its level of genius. The drink's made with Aperol, lemon, a strawberry-balsamic gastrique, and a Champagne floater, and comes in a wine glass... so, you know, you can still drink with your pinky out.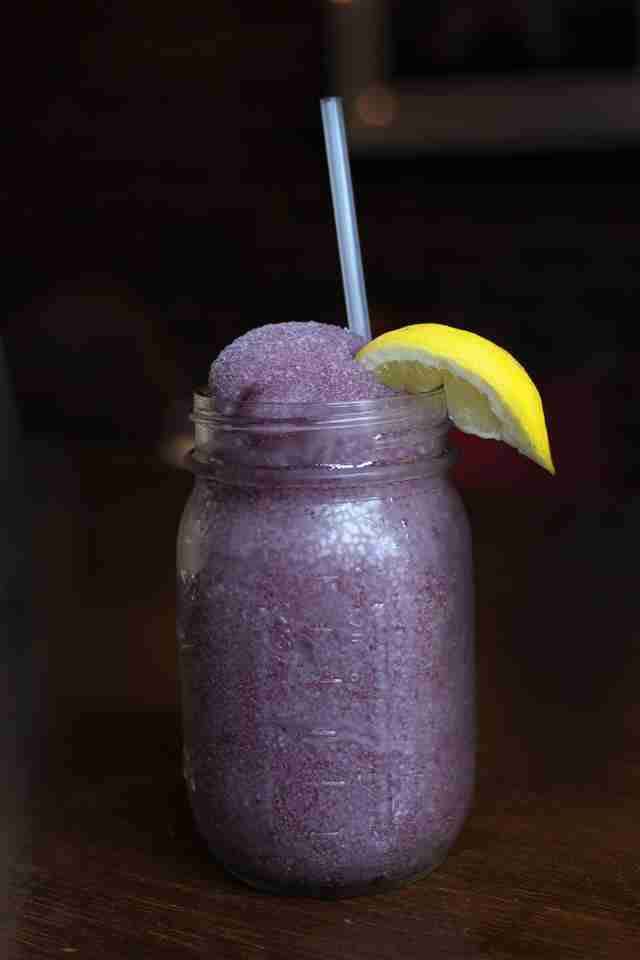 Spiked Slushy
D.B.A. Barbecue
Address and Info
Virginia-Highland
D.B.A.'s selection of spiked slushies is expansive to say the least. The rotating roster takes us back to a childhood full of 7-Eleven Big Gulps and the wild assortment of flavors you could mix together. Served in a Mason jar, the mixes include a spiked root beer slushy (which is great), and the crowd favorite -- an icy blueberry moonshine lemonade. Order yourself one of those plus a pile of BBQ and you'll forget you look like you took a shower fully clothed.
Sign up here for our daily Atlanta email and be the first to get all the food/drink/fun the ATL has to offer.
Previous Venue
Next Venue
Venue Description
1. Victory Sandwich Bar
913 Bernina Ave NE, Atlanta, GA 30307
This sandwich-slinging joint's got a hell of a lot more going for it than its smoky and spicy Italian-inspired creations (like the sassy Cowabunga Dude that packs pepperoni, salami, pepperoncini, mozzarella, and tomato all into one sandwich). Victory also boasts a ping-pong table -- complete with an electronic scoreboard akin to those found in high school gyms -- and its self-proclaimed "world-famous" Jack Coke slushie that makes the Tennessee whiskey taste more refreshing than you'd ever imagine.
Previous Venue
Next Venue
Venue Description
2. The Luminary
99 Krog St NE Suite Y, Atlanta, GA 30307
At this polished, subway tile-bedecked brasserie near Inman Park, French technique and traditional Southern ingredients create a cuisine of its own that's both sleek and indulgent. The Luminary features dishes like duck breast with crispy fried okra, short ribs with grits, and saffron-laced corn risotto on its dinner menu, and spicy chicken sandwiches and kale omelets at brunch. The drink menu is geared towards wine aficionados with an extensive selection of bottles from France, Spain, and California.
Previous Venue
Next Venue
Venue Description
3. D.B.A. Barbecue
1190 N Highland Ave NE, Ste B, Atlanta, GA 30306
With its red plastic chairs, booth seating, and vintage Coke ads on the wall, D.B.A. Barbecue looks like the kind of joint that would serve down-right sloppy but delicious BBQ on paper plates and cheap beer in styrofoam cups. And that's partially true -- the smoked wings, ribs, brisket, and pastrami that grace this Virginia Highland spot's plates are top-notch -- especially when paired with a side of Texas toast -- but the full bar takes things one step further with its selection of craft beers from the Southeast and spiked slushy cocktails.