Atlanta, in all of its splendor, has roughly a million things to recommend it, and among its greatest draws is one of the world's most impressive and influential LGBTQ scenes. This city is a breeding ground for some of queer culture's most influential activists and artists. It annually hosts one of the oldest and largest pride festivals in the United States, plus the country's largest black gay pride festival. In short, going out here is an insanely good time. For proof of that, look no further than any of the LGBTQ bars below -- the best Atlanta has to offer.
Midtown
A gay good time, any time of day
At the intersection of 10th Street and Piedmont Avenue, Atlanta's Rainbow Crosswalks isn't the only attraction. 10th and Piedmont is a spirited community-servicing restaurant that flaunts a vast menu including everything from classic Southern staples to seafood and vegan items. But when the clock strikes 6pm, the eatery and its adjoining brother location, G's Midtown, becomes the perfect setting for a weekly social set full with countless cocktails, karaoke, and of course, gorgeous people.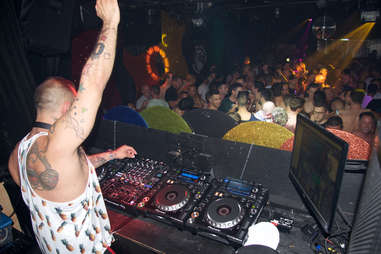 Cheshire Bridge Road Corridor
Bears, leather, and some incredible DJs
This scene staple is a playground for entry-level fetishes like leather and jocks and the occasional DILF sighting, but the party emporium also features acclaimed international disc jockeys and is the new home of the acclaimed "Stars of the Century" weekly drag show. Caution -- if you're afraid of bears, stay away. Hairy chests, broad shoulders and backs, and rhythmic body contact reign supreme here.
Midtown
Cheap drinks and pool tables at a black gay pride classic
Entering this famed Peachtree hotspot immediately places you amid inexpensive, yet highly potent, cocktails, the latest chart-topping urban hits, pool tables, and a patio for reprieve if your engagement gets a little too hot. And, because bragging rights mean everything in the Hollywood of the South, Bulldogs prides itself as not only being the "Original Atlanta Black Gay Pride Party Spot" (it opened in the late '70s), but also one of the best gay bars in the nation.
Midtown
A lesbian-owned and -operated ATL institution
This lesbian-owned and -operated spot has reigned supreme for decades. Stiff cocktails, bottle service, a full kitchen, burlesque performances, and community-based philanthropic offerings are all on deck. And don't be shy if you're not a lady who loves ladies because MSR prides itself on being a haven for anyone who desires high-level happiness and good vibes.
Midtown
The go-to gay strip club
Swinging Richards touts itself as America's No. 1 Gay Male Strip Club. Not only frequented by locals who love a good body party, the all-nude, all-night destination attracts plenty of celebrities and notable personalities. The club's centerpiece is a lengthy and ample stage on the main floor, but there's also a VIP lounge. Also, Swinging Richards offers matriculating college students free entry with a valid ID on Thursday nights. Mom would be proud to know you're being responsible with your book money.
Midtown
Killer cocktails, plenty of food, and a welcoming patio
Don't be ashamed if you're looking for the perfect place to stuff your face in the city, because Joe's on Juniper has you covered. Daily menu specials like the three-for-$10 lunch or half-price desserts will offer you more than you can handle. With both Southern charm and coy sexual innuendo woven through the interior design, and colorful string lights illuminating the patio, it's the perfect place to eat, drink, and be merry -- where everybody knows your name.
West Atlanta
An alternative social club for a late night
Here's the thing -- what happens at the Marquette generally stays there, which is why the Westside Atlanta lounge has limited social media and web presence. But we can tell you this late-night locale features engagements like "Turn Up Tuesdays," "Wasted Wednesdays," and "Hush Night," a celebration of trans performers. Doors open nightly at 11pm, so it's a guarantee that you'll be racing the sun home.
Midtown
If you want to party, head here
Don't think for one second that living la vida loca requires a passport, or a plane for that matter. Plan a trip to Las Margaritas, and be prepared for a potent combination of Latin influence and LGBTQ effervescence. After downing a Latin Monster Fishbowl or a few Mexican Aguas with Rum, you'll understand why the spot is most popular for their booze-fueled Cinco de Mayo block parties. Warning, if you don't want to party, this definitely isn't your place.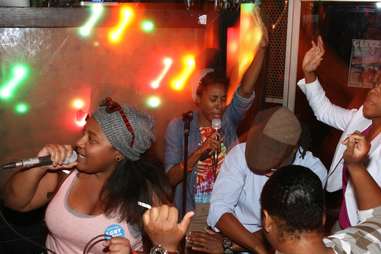 East Atlanta
An undeniably fun vibe, complete with karaoke
Sometimes the perfect watering hole isn't about bells and whistles, but about perfect pours, people, and a hell of a party -- enter East Atlanta's grand dame, Mary's. Heavy-handed bartenders, show-stealing hosts, and unapologetically happy patrons all rule this world, providing unpredictable, yet perfectly played parties in the heart of East Atlanta. Come for the karaoke and leave with... well, that's up to you.
Midtown
Atlanta's only gay sports bar
Though the idea of playing sports satisfies a certain level of bravado, the perfect alternative to dodging bodily harm and working up a non-flattering sweat is watching the gamut of games and matches with perfectly chilled cocktails and bar fare at Woofs, Atlanta's only gay sports bar. Show your team spirit, in comfort, as dozens of televisions showcase gladiator-style battles and animalistic instinct from wall-to-wall.
Sign up here for our daily Atlanta email and be the first to get all the food/drink/fun the ATL has to offer.
Satchel B. Jester is a contributor for Thrillist.