The Best Night of Your Life starts with the ATL's best happy hours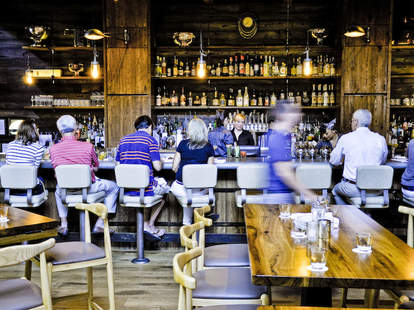 December 21st is going to be the longest night of the year, and it's also going to be the Best Night of Your Life. Obviously, a night this epic (or any night, really) has to start with a sweet happy hour, so we've picked six of the best places to score deals on everything from half-priced Asian street food to six beers for $10.
Check out the picks below, and make sure to fully map out a perfect evening with our itinerary builder.
Austin Holt
Sweetwater Brewery
Brookwood Hills
Boozing on on this suds-slinger's patio is like chilling at a good old-fashioned house party. If that house is a factory. That makes beer. And then sells that beer during its daily happy hours, during which 10 bucks'll get you a glass and six drink tickets.

Dark Horse
Dark Horse Tavern
Virginia Highland
The focal point of a Va-Hi hot mess just waiting to happen, Dark Horse is one part English pub, and 14 parts late-night anything-goes, including a $5 martini list that runs 'til close.
Austin Holt
Takorea
Midtown
Upstairs, the apotheosis of polished, Buford Highway-style Korean/Mexican fusion. Downstairs, a secret bar... with K-Pop, plus half off street food and daily drink specials.
RA Sushi Bar
Midtown
A cavernous high-ceiling'd dining room w/ hanging sake barrels, a stone-backed sushi bar, a 20ft wooden pagoda, an upstairs lounge, and photos of one sexy, sword-wielding, silk-robed lady is the backdrop for the important stuff: sushi and apps starting at $2.75 everyday.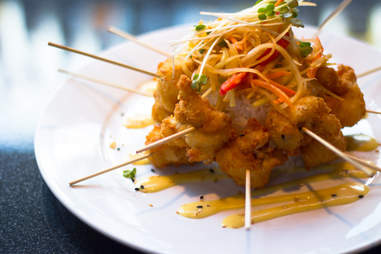 Strip
Atlantic Station
Already a destination for giant slabs of grilled meant and one of the ATL's eight best secret foods, this double-decker eatery is also a go-to for daily specials on sushi, hamburgers, chili, and more.

Meehan's Public House
Midtown
All four versions of this Irish-inspired boozer offer daily eats/drink specials, and a full range of classic pub fare like Guinness-battered Pacific cod, and meatloaf made with Italian sausage, beef and bison, but no-longer M. Bison since whenever customers saw it on the menu they were all "Ryu crazy? I'd never eat that!"