The Best Holiday Bars in Atlanta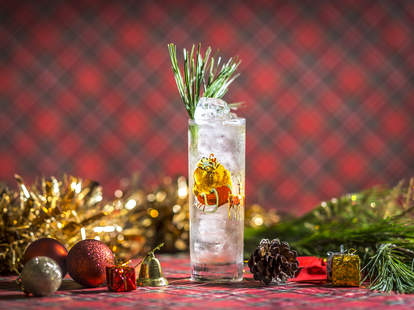 If there's ever a good time of year to drink, well, it's all year. But nothing quite puts you in the seasonal spirit like ingesting spirits at a holiday-themed bar. And sure, it's nice that your favorite watering hole is pushing mulled wine this month, but have you ever mulled over whether or not they're actually just heating and sweetening wine you can buy with a Trader Joe's gift card? Don't leave your merriment in the hands of lackadaisical bartenders who don't even believe in Santa Claus -- remember the reason for the season, and sit your ass down at these seriously special Atlanta bars that've given us all something to celebrate by going all-in with a true Christmas/Chanukah/Kwanzaa/Festivus drinking experience to cap off 2016.
Shelby Light
Old Fourth Ward
If live musical performances of the songs from A Charlie Brown Christmas by jazz keyboardist David Ellington on December 14th and 21st aren't enough, the Ghostbuster-ly named dinnerhouse will have a brunch on December 10th, featuring Christmas mimosas and a puppet show about crooks trying to steal letters to Santa. Then on December 17th there'll be another brunch with the big red guy himself, and parents can snap free pics of their kids (or themselves) with Santa using their own cameras while enjoying cocktail specials.
Buckhead
Normally called Yebo Beach Haus, the always-summer-themed coastal South African resto-bar will turn into a pop-up ski lodge for the winter, replacing those surfboards hanging from the ceiling rafters with wooden skis, covering all seats with plaid blankets (including the ones outside on the patio near the new fire pits), adding antlers above the turtle shell light fixtures, and bringing a few pine trees inside. There'll also be new cocktails to match the temporary theme, such as the "Alpine Dreams" made of homemade hot chocolate, green chartreuse, Italian meringue, yebo chocolate and a cookie straw, and the "Southern Edge" with Bain's Cape Mountain whisky, Amarula cream, mole bitters, coffee and Angostura whipped cream.
Courtesy of Miracle
Midtown
Tapa Tapa in Midtown Arts has become an over-the-top Christmas cocktail cabin, with wonderfully ridiculous decor (hanging presents, mistletoe, frosted glass on the windows with an actual peephole scraped out for outdoor voyeurs), and a drink menu with nothing but delicious holiday beverages. Those include beers like the 10% ABV Delirium Noel Belgian dark ale and Santa's Little Helper imperial stout, along with the "Santa-quila" with cacao nibs, sherry, maple syrup, and black walnut bitters; a mulled wine sour; a snowball-iced old fashioned, plus specialty shots (gingerbread-spiced rye, cinnamon bourbon), and lots of secret drinks you have to specially request from genius bartender Eric Simpkins and his crew of merry mixologists.
Little Five Points
Calling its own month-long makeover "Miracle on Euclid Ave," the L5PCT has put a snow-blowing machine to make nightly powder on its shiny new rooftop patio, and is also pumping out plenty of holiday-only cocktails with names like the "Black Metal Sleigh," "Happy Sugarplum Punch," and fishbowls of something called "Little Elf Ho Ho." There'll also be Bad Santa Happy Hour every weekday at 5pm with free bar snacks and holiday cookies, plus it's taking part in a Krampus Krawl on Dec 10th, and are on the route for the annual L5P SantaCon.
Virginia Highland
Until President's Day 2017, you'll be able to slide around on an ice-skating rink under a heated tent. You and up to 199 other skaters can buy all-day tickets to skate from 8am to midnight on the 40ft-wide, 85ft-long surface of slick. And yes, you can eat and drink everything from cocktails to bottles of Louis M. Martini Sonoma cab right next to the rink, and then step outside to check out the holiday lights around Piedmont Park.
Downtown
Every Wednesday in December the former Atlanta Grill, which was recently renovated to be just as Ritz-y but less likely to make you nervous you're going to break something you can't afford to replace, will host a holiday cocktail workshop every Wednesday in December, plus a Christmas Eve dinner with a sommelier-curated wine pairing, followed up by a Christmas Day brunch.
Ansley Park
Linton Hopkins, the chef behind Holeman & Finch, Restaurant Eugene, and Hop's Chicken, has a restaurant in the middle of the Atlanta Botanical Garden. The place is literally lit (like you) through January 7th due to its Garden Lights, Holiday Nights winter wonderland of decorations. Twinkling lights are strung every which way throughout the Garden's 30 walkable acres, and there's no better way to warm back up after freezing for holiday romance's sake than to drink a Manhattan-esque Dewars Scotch mixed with Cherry Heering and Dolin Rouge vermouth.
Wassail cocktail

| James Camp
Midtown
For the month of December you can call yourself a gift-giver just by drinking. All proceeds from sales of the Edgar's Proof and Provision cocktail "The Truth" (made with Sotherly's private label Edgar's Truth bourbon, and topped with citrus, fig, and Angostura bitters) will go to support military veterans via the Sotherly Foundation. Also don't forget to stop by Livingston on the opening night of The Nutcracker (across the street at The Fox Theatre) for a special a la carte dinner and silent auction, or just to have the season-appropriate "Madame Ching's Rum Cocktail" with Shipwreck rum, Hoodoo chicory liqueur, half and half, Scrappy's chocolate bitters, and a pinch of nutmeg.
Sign up here for our daily Atlanta email and be the first to get all the food/drink/fun the ATL has to offer.
Mike Jordan is wearing a Santa hat all through the holidays, because it diffuses any strange situation and results in free drinks (seriously, try it). Get at him on Twitter at @michaelbjordan and on Instagram at @mikejordanatl.