Now that we've figured out people actually like -- and will spend good money on -- fermented carbonated beverages, breweries won't stop popping up all over Atlanta. And perhaps we're simply enjoying the beer too much to notice, but ATL is riding high atop a joyous wave of economic possibility and craft beer camaraderie in what can only be described as one hell of a beer boom. Here are the latest and greatest additions to ATL's local brewing scene.
Recommended Video
Stay Classy This Winter With a Spiced Pear Tom Collins
Hapeville
Having started from the bottom (of the perimeter), Arches is a Hapeville-based operation whose brewmaster came up with the original recipes from his East Point Colonial home. He then spent 10 years afterward using playful chemistry to mix Old World Belgian and new-school American styles of beer to come up with 30+ recipes with four partners. Inside the brewery's tasting room (open Thursday and Saturday afternoons), and built by the owners inside a renovated NAPA Auto Parts shop, Arches have got several year-rounds -- try the Southern Bel' blonde ale, which has "biscuit notes" -- as well as seasonals and limited releases like the twice-per year Rough & Ready double IPA, and a winter-only aged Russian imperial stout.
Westside
Already vying for the fictitious award of "most bravely named brewing company considering Georgia Blue Laws," this science-heavy beer-making company started with two guys. One guy who walked away from his corporate job dealing with debt-straddled businesses, and a friend in pharmaceutical development who decided to study beer and went on to brew for big names like Russian River in CA. Their niche is the cultivation of local yeast strains to make an imperial American wheat called Sneaky, a West Coast IPA called Westside, the Slim pale ale and their go-to Basement IPA, with Citra hops that give it an earthy tone with lemongrass hints.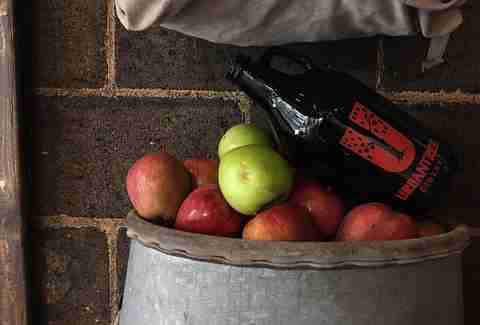 West Midtown
Unwilling to be left outside the newly booming westside boozing scene, Urban Tree bills itself as Atlanta's first craft cider brand (Treehorn is made in Marietta, after all), creating its product from hand-pressed apples sourced from a family orchard in Mountain City, GA. Open four days a week (Wednesday, Thursday, Saturday & Sunday), UTC allows you to sample all the locally brewed ciders inside the tasting room, or out on the dog-friendly patio where they let guests BYO-food and occasionally host events like cornhole tourneys with food trucks. The original, barrel-aged, and classic ciders range from dry and crisp to sweet and woody vanilla oak-flavored. And if you're unable to visit the facility, order online -- they ship it in boxes of three, six, or 12, anywhere in Georgia.
Midtown
This beautifully designed brick brewpub does hand-crafted beer as well as savory food. On tap you'll find a solid selection of beers not many newcomers offer in the beginning, including a 6% ABV strawberry shortcake-esque fruit beer called Miss Scarlett's Guilty Pleasure (rested on 200lbs of strawberries and 100 Madagascar vanilla beans), an American black ale called Nightmare on Penn St., and Super Cereal pale ale, made with flaky oats for a creamy mouthfeel -- and suggested to pair with a vinaigrette salad. Speaking of food, they offer that salad (raw kale w/ beets w/ goat cheese) and other bites from peach chili garlic wings to chorizo pizzas and fried pork chop sandwiches.
Marietta
Open Thursday-Saturday on Delk Rd, this alcoholic soda factory is turning your inner child terrible one candy-flavored ABV percentage point at a time. It's the brainchild of a homebrewer who opened Blind Murphy's craft beer/growler shop, which had to close in order for the brewery to be legally clear (sacrifices!). There are 20 taps at the brewery, in flavors like Jamaican Ginger, lemon-sweet Sun Tea, spiced Cinnamon Shine winter brew, and Toasted Marshmallow, which tastes like graham cracker and chocolate. It's also brewing a brand of craft beer called Ironmonger, and have steely named styles like Blood on the Cobblestones double IPA, Forged porter, and Cutlass stout, and a brand-new India brown ale released just in time for Halloween.
Roswell
Dedicated to gastronomical Belgian beers -- and apparently the godly nature of the humble goat -- AOTHG is a small-scale craft brewery that wants to make sure you pair the beers with food (although it's BYO-food for now). The beer's not only special because it's meant to be paired with great food, or because the space looks much like a monastery inside, but it's founded by an awesome female brewer named Kathy Davis, who says she spent seven years developing the brews and watching tons of goat videos on her way to winning several local brewing competitions and taking the leap. Bring your own food to the tasting hall and try her elderflower Goats in the Garden saison (7.2% ABV) with pork or pasta dishes, The Goat's Obsession dark double IPA with crème brûlée, funky cheeses, or spicy grilled meats, or just drink and drink the malty Goats of the First Order session beer.
Kennesaw
Started by a UGA grad and his buddy from Georgia Southern, with a Kennesaw State alumni serving as brewmaster (but likely just drinking a lot of beer for inspiration like most KSU students), Dry County has moistened the ground of the city where you legally must have a gun in your house (no, really), and has a 6.4% ABV IPA, a blackberry Berliner Weisse, an under-6% oatmeal stout, a 4.9% blonde session ale, and more. All of which you can try at their family-/pet-friendly brewery Thursday-Saturday and then take up to 64oz of brew home with you. In addition to $12 tours, you can hang around picnic tables or bring blankets and camping chairs and play giant Jenga! or cornhole.
Kennesaw
Probably the most scrappy and promising of the new crews in terms of breadth of selection and availability is Southern Sky. It has a tasting bar inside its 7,000sqft, seven-barrel brewery and is run by a super-small crew -- brewmaster Jon Near (a GA Tech grad), a head brewer, and a marketing/communications person. Somehow Southern Sky is all over the north-to-northwest area of town, from shops like Ale Yeah! and Total Wine, to restaurants like Atkins Park and Mellow Mushroom, putting out 21 barrels per week. It's got mainstay beers like 1UP New England IPA, a variety of Berliner Weisse sours in the Son of Icarus series (tart cherry, blood orange, peach, etc.), specialty seasonals like the 11.5% ABV Belgian dark special Alepocalypse, and other drafts that include Mountainman Jesus English barleywine​ and Mustachio Pistachio cream ale. Also, the names are good and weird, so give them points for creativity and drink enough to let them know you're impaired from being honest!
Sign up here for our daily Atlanta email and be the first to get all the food/drink/fun the ATL has to offer.