Patio season is major in Atlanta. And not just because our recent football season was a bit underwhelming. When the weather breaks, so does the seal on your allergy medicine, followed by any resistance to eating and drinking outdoors. Here are those ATL porches, patios, and decks where soaking up the sunshine is elevated with next-level food and drink.
Recommended Video
Thrillist's Best (and the Rest): What You Actually Need to Know About Natural Wine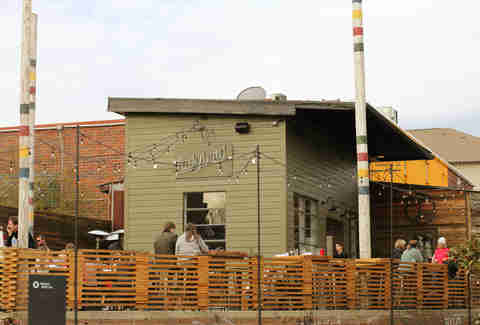 Old Fourth Ward
BeltLine-adjacent, and full of porky goodness, this gourmet campfire cookout has a patio accessible by car, bike, or just random walk-up. Grab one of its bourbon, peach, and celery Lady Gamblers and a seat on its hand-lathed wooden rail.
Little Five Points
This LFP landmark has (literally) risen from the ashes in a most spectacular fashion. All signs of the fire of nearly two years ago have finally been erased, and inside the Jameson chandelier and tremendous open-air indoor patio are welcome sights, however the new rooftop patio is truly the new crown jewel of our most eclectic neighborhood.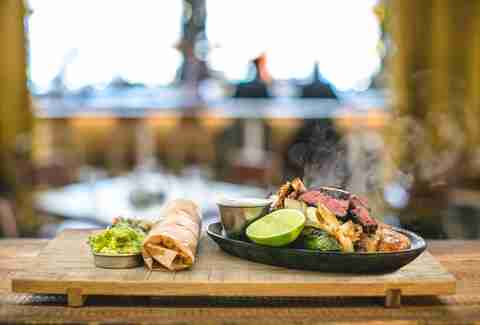 Old Fourth Ward
This new Tex-Mexery on Krog St has burst on to the scene with some serious brunch offerings, and is poised, thanks to its patio and a badass margarita lineup, to be a day-drinking destination for years to come. Or at least this summer.
Buckhead
One of Buckhead's greatest new cocktail bars has a great transforming power: with warm weather, the giant windows looking out onto Buckhead's naughty streets open up to let the breezes blow on to your pimento cheese fondue, duck confit, and custom gin cocktail.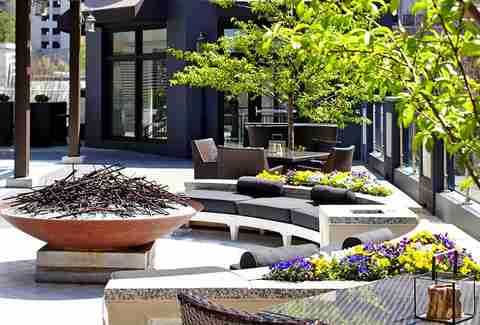 Midtown
The guys who brought you some solid new brunch "sandwiches" have just opened one of the A's best rooftop views. Taking a cue from German Biergartens, you're able to grab smaller stuff from the Community Smith menu, there're and more than 15 craft beers on draught, but only from March to November, 'cause we do have (short) winters here.
Midtown
The math is pretty simple: (Spirits like the bourbon-cayenne Madam Esther + food, like its daily dollar happy hour oysters) X (an excellent view of West Peachtree) = your best Midtown outdoor drinking and slurping destination.
Old 4th Ward
The bright, sprawling, bike lover-welcoming patio at C+V arrived last autumn but is officially a thing now that spring's here. It hosts "Patio Pop-Ups" on certain Saturday afternoons, where local artists like FRKO (you'll remember him as Action Bronson's preferred illustration from the ATL episode of F*ck, That's Delicious) sell exclusive crafts, apparel, and more. Inside, which is crazy cool but not exactly why you're here, you'll find a vending machine with spare parts for your busted fixie if you need. Decatur's own Radio Roasters coffee, sandwiches (from breakfast croissants to roast beef and turkey), and tea are all available.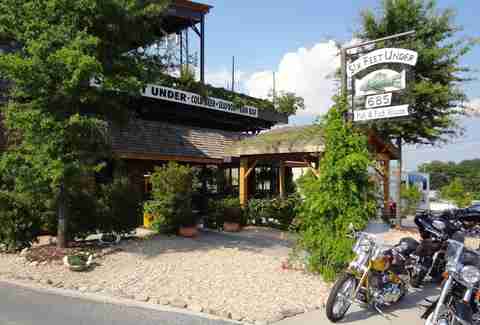 West Midtown
Both locations of this easy-going tavern offer amazing views, but the Westside spot is our favorite. The still-developing neighborhood has welcomed a host of frou-frou restaurants and bars and beautified some of the crusty old brick buildings that sat unoccupied for decades.

There's something great about wearing whatever the hell you had on that day when you arrive, and not paying ridiculous money for a glass of whiskey. Still, when it comes to the expansive view you get of West Midtown, Midtown, and -- depending on your eyesight -- Downtown and beyond, you can't feel much more alive than this.
Kirkwood
The upper deck at R+D has a calming effect, thanks to the fact that after you turn right onto Arizona from Dekalb Ave, there's pretty much nothing around to make your eyes angry, unless you hate nature. The craft cocktails are on par with some of the city's best (we like the Dean Martin with apple brandy, Cointreau, amaro, and Tiki bitters), plus you'll find respectable local beers on draft like Creature Comforts Bibo or Second Self Maverick and Gose sour. And if you're lucky enough to get a seat for weekend brunch, you'll get one of the best biscuits in town to go with that view. If you'd rather sit on the bottom patio, you'll get the added benefit of watching a youth soccer game and reminding yourself of what too many cocktails and biscuits do to your legs after 21.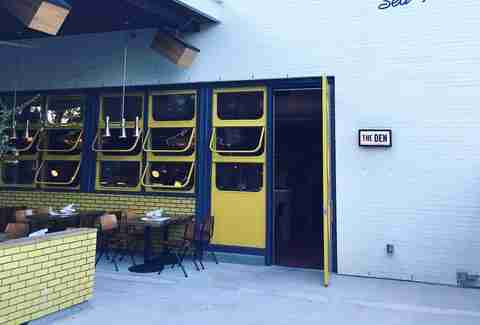 Inman Park
Ford Fry has proven that he can pull a restaurant out of his nose like a booger, but it'll be as tasteful in terms of menu and design as a fragrant rose in your tuxedo... if you could eat a rose. Anyway, BeetleCat is the everyman answer to The Optimist, but with coveted real estate at the corner of Highland and Elizabeth, which connects Inman Park, Old 4th Ward, and the edge of Little Five Points. While you're killing a cold platter of raw oysters or the stupid-delicious Korean chicken sandwich, you can also look out at random people aimlessly walking along the strip, as you aimlessly drink a sloe gin fizz or whatever the staff recommends.
Sign up here for our daily Atlanta email and be the first to get all the food/drink/fun the ATL has to offer.