If there's one thing people in Atlanta really love it's... well, these 29 things... and drinking outdoors. That's why we've created this hood-by-hood guide to the ATL's best outdoor drinking spots, so you can enjoy some Summertime swilling without driving across town and dealing with the one thing people in Atlanta really hate: traffic. Oh, and PARKatlanta.
Hood: Buckhead
Patio: Buckhead Saloon (address and info)
This great expanse gives you a combination of action on the weekends (and during Braves games), and laid-back chilling during the week. Whether you're looking to make a new "friend", or just catch up with old ones, it's the perfect solution.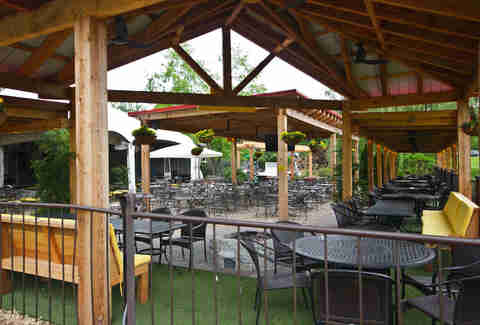 Hood: Midtown
Patio: Park Tavern (address and info)
Always a sure thing when you're at Piedmont, there are a few specials to keep in mind. Their "when it rains we pour" one-dollar draft special is always a good reason to plan your drinking around the weather forecast, and Unplugged in the Park on Sunday nights is the best date night/weekend wind-down that Atlanta has ever seen.
Hood: Downtown
Patio: STATS (address and info)
It is no coincidence that the best patio for sports fans is located within shouting distance of Philips and the Dome, but you might be surprised to know they've got some of the city's most expertly crafted bar food, and pour-your-own draft systems, which make this place something the Braves usually aren't: a winner.
Hood: East Atlanta
Patio: Midway (address and info)
By far East Atlanta's biggest, Midway is an escape from the insanely loud indie music that every other venue in the hood is blasting. Great food, an extremely large beer and booze list, and some of the chillest people you'll ever meet make this the preferred EAV spot.
Hood: Decatur
Patio: No. 246 (address and info)
The tremendous Italian fare at 246 might overshadow their impressive backyard, if it weren't for the ample seating (with plenty of shade for the heat), and the ping/beer pong table for casual alcohol-fueled gaming. Or, if you're serious about your pongery, regular tournaments will let you test your paddle mettle.
Hood: Sandy Springs
Patio: The Righteous Room (address and info)
The strip mall-based spot's patio may look small from the outside, but it extends into the greenhouse bar, which is so big they've got a tree growing though the middle of the bar and room for you to post up and score some seriously good takes on classic bar eats.
Hood: Westside
Patio: Six Feet Under (address and info)
Their second location faces no real competition West of the connector, but don't worry, they're still slinging great cocktails, seafood, and, if you're into that sort of thing, seafood cocktails.
Hood: Morningside
Patio: Grindhouse Killer Burgers (address and info)
Come for the tremendous burgers (they draw everyone from Alton Brown to T.I.), and stay for the unexpectedly great liquor and fine-looking staff. Stick around even longer for one of their boozy shakes.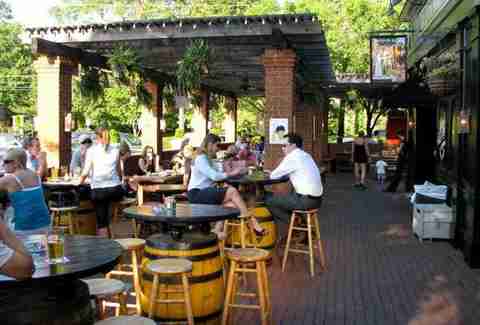 Hood: The Virginia Highlands
Patio: Hand In Hand (address and info)
This brick Highlands institution is always packed with good-looking people boozing it up at a value price. Pro tip: hit 'em up on Sundays for dollar tacos and dollar PBRs. 
Hood: Grant Park
Patio: Tin Lizzy's (address and info)
There are great choices along the Oakland Cemetery rooftop row, but Tin Lizzy's flagship will always be at the top of list thanks to tequila, tacos, and a lot more tequila.
This list -- and all the rest -- look even sexier in our iPhone app. Get it now!