If there's one thing winter in Atlanta teaches us, it isn't... um, how to drive in an inch and a half of snow. No, if we've learned anything it's the importance of having pretty excellent outdoor drinking/eating spots pretty much everywhere in Atlanta, which is why we've scoured the city for sweet new patio-equipped places and found the 12 best ones just for you...
Old Fourth Ward
BeltLine-adjacent, and full of porky goodness, this gourmet campfire cookout has a patio accessible by car, bike, or just random walk-up. Grab one of its bourbon, peach, and celery Lady Gamblers and a seat on its hand-lathed wooden rail.
Little Five Points
This LFP landmark has (literally) risen from the ashes in a most spectacular fashion. All signs of the fire of nearly two years ago have finally been erased, and inside the Jameson chandelier and tremendous open-air indoor patio are welcome sights, however the new rooftop patio is truly the new crown jewel of our most eclectic neighborhood.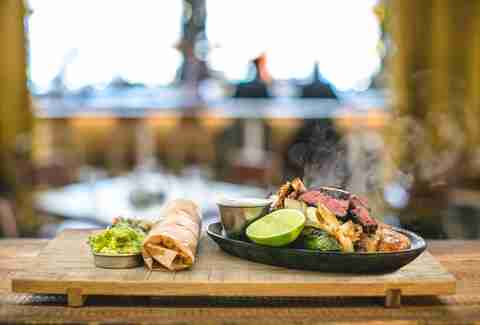 Old Fourth Ward
This new Tex-Mexery on Krog St has burst on to the scene with some serious brunch offerings, and is poised, thanks to its patio and a badass margarita lineup, to be a day-drinking destination for years to come. Or at least this summer.
Midtown
The former Villains space rebounded quickly with a breakfast-all-day diner concept that has an awesome open-air setup with an indoor-outdoor bar. So, you can enjoy on its avocado toast, shrimp and grits, and a few of the "breakfast cocktails" easily with a nice view of Peachtree.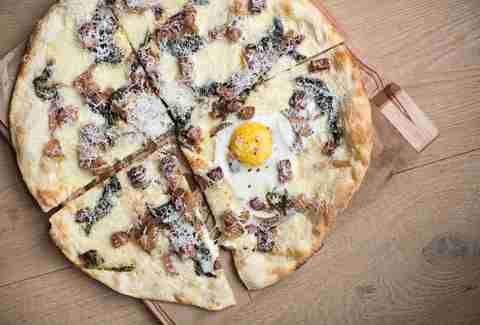 Alpharetta
Another stellar addition to the Avalon build-out, Colletta is giving you that outdoor Italian experience, just a few thousand miles away from the Mediterranean. Its pork and egg pizza, pancetta pizza, and indaco sausage pizza are all outdoor favorites. Given that lineup, it sounds like it may deserve a listing with the rest of our metro's porkiness.
Buckhead
One of Buckhead's greatest new cocktail bars has a great transforming power: with warm weather, the giant windows looking out onto Buckhead's naughty streets open up to let the breezes blow on to your pimento cheese fondue, duck confit, and custom gin cocktail.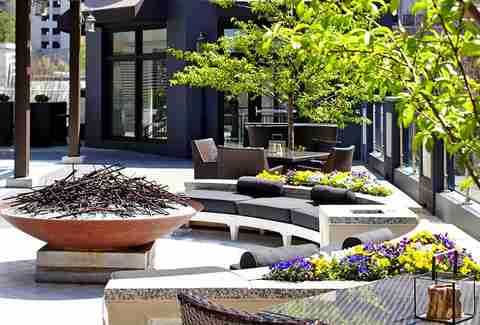 Midtown
The guys who brought you some solid new brunch "sandwiches" have just opened one of the A's best rooftop views. Taking a cue from German Biergartens, you're able to grab smaller stuff from the Community Smith menu, there're and more than 15 craft beers on draught, but only from March to November, 'cause we do have (short) winters here.
Buckhead
It's not a proper wine bar without a solid outdoor seating option. Swilling reds and whites definitely go with its lunch and dinner menu, but a nice dry Chard makes a proud partner to its brunch salmon bagel as well.
Grant Park
Named after the city's favorite meat-based liquid, this new Grant Park spot, with high ceilings and an arbor-inspired interior, has an outdoor area that is on Boulevard... but the good side of Boulevard. The patio is covered, so you can keep cool when the next 90 days of 90+ degree weather hit us.
Midtown
The math is pretty simple: (Spirits like the bourbon-cayenne Madam Esther + food, like its daily dollar happy hour oysters) X (an excellent view of West Peachtree) = your best Midtown outdoor drinking and slurping destination.
Buckhead
The bourbon-bacon jam and cheddar Modern Burger is the perfect symbol of what Johnny Esposito Jr. has created in our most hallowed bar district, a modern, but still completely comfortable watering hole, where you can toss back a Buckhead Sunset, made with Ron White's own Number Juan tequila as true homage to one of our local legendary drinkers.

Decatur
Two Decatur mamacitas knew that you couldn't have a decent ATL Mexican place without the ability to sip margaritas under el sol, so double your pleasure with dos tacos in one hand, and dos tequilas in the other.
Sign up here for our daily Atlanta email and be the first to get all the food/drink/fun the ATL has to offer.