Last time we talked about ATL's best sports bars, we were still waiting on Mercedes-Benz Stadium to open and had no idea what we were gonna get from SunTrust Park and The Battery… you know, besides a veritable hellscape of traffic. Well, we now have both venues and their surrounding spots here, not to mention a revamped home for the Hawks (peace out Philips Arena! Shoutout State Farm!), and so many more options for having good drinks and food to go with… uhhh… actually not such a great year in Atlanta sports.
Anyway, isn't that what the drinks are for? Stop pretending we didn't all see this coming, and get out to these fantastic sports bars regardless of who you're rooting for… even if it IS Atlanta.
Recommended Video
Ghost Kitchen: How This NYC Restaurant Is Responding to Coronavirus
Downtown
A rooftop sports bar whose sheer numbers of fans don't lie
The cost of game-watching inside the flashy, big-numbers-displaying building near State Farm Arena and Mercedes-Benz Stadium ain't cheap, but neither is Downtown real estate or the TableTender® that's let you pour your own brew. Recent upgrades to the system includes high-res, Wi-Fi-enabled iPads for food-ordering, watching web videos of "just about anything", and pulling up apps like Bleacher Report and Uber.
Poncey Highland
The Ponce sports bar not even gentrification could kill
One of the most energetic and economical choices, Dugans feels like a motorcycle club and a sports bar got together and had a love child. Open since 1982, the wings are legendary, the crowd is crunk, and the drinks are made for shit-talking a rival fan and/or helping you get over a loss. And do remember, this is ATL. We lose often, but we eat and drink like winners daily!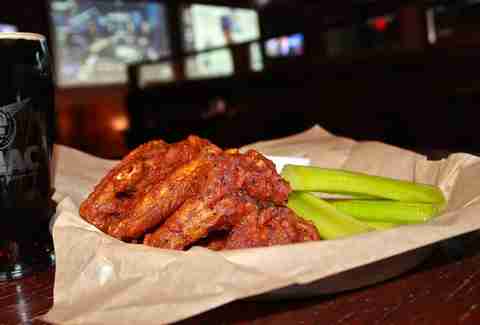 Various Locations
A beloved ATL franchise that got its name -- and swag -- back
Thankfully "T.Mac" realized Tracy McGrady was never coming, so the ATL-born franchise changed its name back to Taco Mac, and as a result the swag and mojo have returned. They've still got one of the most diverse and solid draft beer lists in town, and every location is spacious and surrounded by screens so that you never miss a kickoff, tipoff or flick-off from somebody rooting for opposing teams/losers.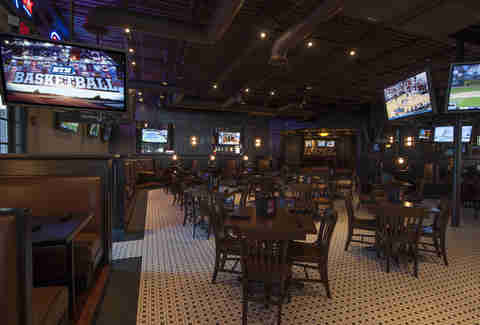 Various locations
Your more upscale destination for game watching
HG is the kind of place where you don't even have to like sports but want to be seen as someone that does, yet you want cleaner restrooms and finer floor tiling. But still good wings and the kind of beer your less-successful high school or UGA classmate considers fancy but can still afford. It's the smart sports hang, where you watch people compete for entertainment but don't have to lose your cool if you don't want. There's not a lot of decor -- it's more the classy kind of setup, where you could take parents, grandparents, girlfriends, and possibly illegitimate kids, all wearing different team jerseys. It's a franchise, sure, but it's reliable and has enough commonality to remind you that sports, or at least a decent sports bar, really can bring people together.
The Battery
A ridiculously big complex for sports… or whatever you're into really
It's got three bars in its 25,000-square-foot, triple-floored space, plus virtual reality and arcade games, bowling, pool, and pingpong -- and every kind of meal you might need, from breakfast to buckets of fried chicken. And if you thought this was the season for The Braves, it's got everything to keep you distracted from your feelings, particularly on the beverage side, with classic cocktails (Boulevardiers, etc.), a ton of local drafts from Scofflaw, Creature Comforts, and the other usual suspects, plus rum, tequila, and bourbon-based punch bowls for $10.
Virginia-Highland
A smoky, funky, drink-filled sports party house
The unapologetically grimey Deez comes alive whenever a soccer, football, baseball ,or even really intense video game is playing live on its screens. Locals love it for accepting (and returning) unsavory attitude at the bar, literal outsiders love the Highland Ave-facing patio, and the place is particularly welcoming to Oregon and Auburn fans.
Buckhead
The reincarnation of a legendary watering hole
Named after a guy who put a tavern/grocery on the corner of Piedmont and East Paces Ferry, Irby's pays respect to a pioneer of pre-Buckhead Buckhead ("Irbyville") and is a go-to sports hangout if you're into history and homage. You'll see milestone memorabilia of Atlanta sports moments, including a 1996 Olympics poster, newspaper clippings, and large black and white prints of Braves games rather than a light show of TV screens, but it's enough coverage to keep you from rubbernecking as long as you're not on the patio. Hey, with this season of ATL sports, maybe that's the right place to be.
Marietta
An expansive space for fun games, billiards, and cheap beer
If you have to be in East Cobb when the game is on (and nobody's saying you do, even if you live there), hit this local megaplex for plenty of billiards and dartboard action while game-watching via a gang of HD screens. The food is respectable enough (it's also affordable as hell -- the $16.99 surf & turf is the highest-priced menu item), the pitchers are nice and cheap, and the fans are appropriately loud, like cologne worn by residents of East Cobb.
East Atlanta Village
Where soccer, suds, and stuffings are always on
There's no wrong sport to watch at Midway, but it's particularly nice for both types of football, American and otherwise, thanks to proper use of a quaint space and TVs on either side of wherever you sit. But even if soccer's not your thing, try to ignore all the flags above your head and show up during their constant events; there are all types of ridiculously fun participatory competitions you can join, including bocce, cornhole on Wednesdays, and the occasional stick pony derby race.
East Point
Where to find the SWATS' best and most fun sports crowd
What was once J.R. Crickets is now… um… basically still J.R. Crickets without the name. Which is actually a good thing, since the wings haven't changed (still very good), and the crowd seems not to have even noticed the name change. Go for the wall-to-wall widescreen projectors, crazy-cheap drink pitchers that make you wonder if it's even beer or just really good alcohol-infused sparkling water (which is kinda what cheap beer is anyway), and delicious tailgate-style eats. Also, if you want a crunk Falcons crowd, this is your spot. Especially when they start winning again. RIGHT?! 
 
Little Five Points
The reigning king of ATL's soccer bars
A lovably grungy attitude and funky accoutrements make you feel more welcome than almost any other place where you can watch dudes running around in different colored clothes. And there's no better place in Atlanta to watch people kick around a soccer ball for hours whilst still contemplating if you actually like soccer or are just trying to be more "European."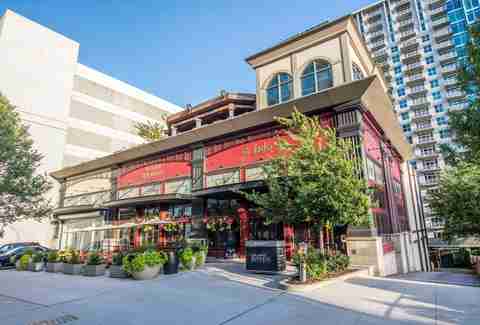 Buckhead
That rowdy, raucous, fairly priced game place your friends have told you about
When the EPL plays, Fado opens early. When you're getting off work and need bar snacks, they've got fish tacos and more for $6 an order. On Fridays they have $2.50 beer specials and $5.50 cocktails. Obviously soccer rules (like it does in Atlanta right now anyway), so it's best to get in there sooner, but for those few months off they still keep a running calendar of sports events, and if you've never watched a game or match in the 20 years the Dublin-inspired franchise has been in Atlanta, believe that it gets Beyonce-level apeshit.  
Alpharetta
A sports bar gone gastro
Football -- and every other sport -- doesn't need to be fancy (aside from equestrianism), but the food can be the exception that makes you appreciate a restaurant's good sportsmanship. B&B takes this route -- obviously, it's in Alpharetta -- but does it in an approachable manner that applies freshly baked bread to sandwiches like The Landlady, which is a pork belly banh mi, with ginger-chili mayo, or The Underwood, which employs Big-Green-Egg-smoked house pastrami. There're plenty more available, but you're here to watch competitions, so the clean design of the white painted brick walls neatly lined with screens makes it easy to focus. Oh, and brew? There's plenty (18 drafts; 30+ bottles), and it's always being updated, so that Wicked Weed, Monday Night, or Creature Comforts sipper you love might be replaced with something even more local and delicious soon.
Buckhead
Atlanta's most fancy sports bar, hands-down
Both locations are known for offering a ritzier take on the sports bar atmosphere: Humidors packed with stogies, private rooms, high-quality booze and bites, and a classy, stained wood interior with plush seating. All that, plus plump plates of your favorite tailgate fare make for a grown man's game-day paradise, without the ticket price.
 
Peachtree Battle
A tucked-away spot for Peachtree Battle's sports junkies
Forty HDTVs, 20 local beers (including five Monday Nights, four Terrapins, three from Orpheus), a game room with pool and Pac-Man, and a spread-out patio in case you want outside air, make this tucked-away Peachtree sports spot a proud continuation of what was once Cheyenne Grill.
Sign up here for our daily Atlanta email and be the first to get all the food/drink/fun the ATL has to offer.