All the Atlanta Beers You Need to Drink This Spring
Spring beer drinking is significantly different from winter, summer, and fall beer drinking. Sure, you can still drink all the stouts, porters, and barley wines your liver and brain can handle. But it's also a time when the Southern sun and high ATL temps tell your tongue and body to consume boozy refreshments that reflect the season. Plus, when you see your mirrored reflection from all those porters, barley wines, and stouts, you'll agree that lighter is probably for the best. Worry about your weight later; start drinking these new (or still-great) spring beers now.
Three Taverns Sour Asylum #5
Sour, 4.5% ABV
Decatur
Also known as "Pometheus," but leaving out the "r" because it's matured using fresh pomegranate (and because that Alien prequel was weaker than sugar water), this sour, brewed with pilsner and wheat malts, is super-new and will be draft-only around town. It's somewhat tart and a little sweet, and it's lacto-fermented. That means bacteria turn the starches and sugars into lactic acid, not sour milk beer, which is good.
Orpheus Brewing The Rites 
IPA, 6.7% ABV
Midtown
A hazier India Pale Ale than you might be used to seeing, this is Orpheus' third year-round release since opening a few years ago. It seems to be at least somewhat influenced by Creature Comforts' Tropicália IPA, with lemongrass and citrus notes that'll work well with the close-to-summer weather we're already seeing at the beginning of spring in ATL. The story behind the name has something to do with "Orphic rites" and taking control of your destiny, which you'll obviously feel more comfortable doing after drinking an above-average-ABV beer.
Wild Heaven White Blackbird
Belgian-style Saison, 6% ABV 
Decatur
This Belgian-style Saison is brewed with generous amounts of earthy, yeasty, and spicy, thanks to the pink peppercorns used during the brew process. This is sort of a beery interracial relationship. The fact that it's a saison (a fruity pale ale) makes it Belgian. The fermentation, which uses chardonnay-marinated Korean pears, make it Asian and French. And the dry and woody finish evens out the sweetness, much like beer-influenced pickup lines you use around spring-fashioned ladies.
 
Monday Night Brewing Slap Fight
West Coast IPA, 5.8% ABV
Westside
This brand-new IPA from Monday Night Brewing is the first beer it has ever canned. It's said to have a lot of hops with weird names beer nerds will respect ("Comet", "Equinox", "Mosaic" and "Bravo"... Jesus, beer nerds are nerdy), and has slight flavors of grapefruit and papaya. The brewery also says you should expect a "strong herbal nose," so maybe, instead of a dog, the Atlanta police department will put one of these in your face if you look like a weedhead.
Courtesy of Eventide Brewing
Eventide Brewing Citrus Grove
Hefeweizen, 5.7% ABV
Grant Park
It's cloudy, like the sky has been much of this season so far. It's sweet, but balanced, with a slight bitterness, just like you after getting rejected at the bar by some hottie that got you to buy them a beer while their lover was in the bathroom. It's zesty, like your underarms before you cool down with spring beer (another reason why you're getting rejected these days), thanks to real lemongrass and Sorachi Ace hops. 
Courtesy of SweetWater Brewing Co.
SweetWater Hash Session
American IPA, 4.20% ABV
Brookwood Hills
You'll taste and smell SweetWater's hop hash in this flowery IPA. The low ABV means you can pretty much drink it all day and not worry too much about the consequences. It's light on malt and strong on the nose, which has grapefruit and watermelon notes.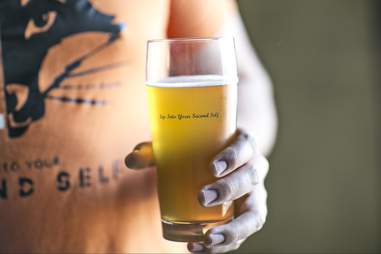 Courtesy of Second Self Beer Co.
Second Self Citrus IPA
IPA, 6.2% ABV
Westside
The lemon, orange, and grapefruit peel used during brewing procedures make for a citrus punch flavor. The brewery says it's only going to be on draft until 2017, but in the meantime, it suggests food pairings such as mussels, artichokes, gruyere, pan-roasted trout (specific!), and "baseball." That's appropriate, since many Atlantans expect the Braves to eat it every season.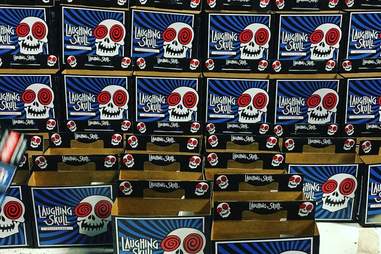 Courtesy of Red Brick Brewing
Red Brick Brewing Laughing Skull Lager
Red ale, 5.7% ABV
Westside
Now in bottles and available all year, Red Brick's light-bodied lager is a basic beer -- tasty, clean, crisp, and dry -- and wants you to be the same by drinking plenty when you're pulling a cooler through the park. It's named after the beloved comedy lounge, and recommended for when you're eating cheeseburgers and hot dogs. It's ATL-merica in your mouth. Don't think; just drink.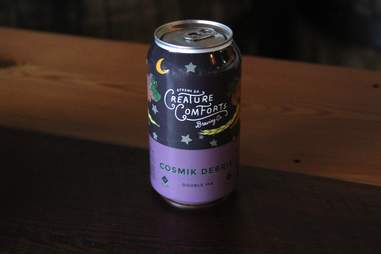 Courtesy of Creature Comforts
Creature Comforts Cosmik Debris
Double IPA, 8% ABV
Athens
A new seasonal release that was only on draft but is now being canned and shipped, Cosmik is crazy hoppy, using 5.5lbs of hops in every barrel brewed. It's supposed to be really fresh, thanks to the March release and usage of hops sourced a month earlier. Your palate will also enjoy the tropical flavor profile of starfruit and orange marmalade, while your sniffer will dig the melon, citrus zest, and pine. 
 
Red Hare SPF 50/50
India Pale Radler, 4.2% ABV
Marietta
Radlers are kind of like shandies, except the name helps you feel confident that your toenails won't grow out sideways and pre-painted in teal or fuchsia. This one is a mix of Red Hare's Gangway IPA and a house-brewed grapefruit soda. It's being called the world's first India Pale Radler, or an "IPR." You'll call it rad. 
Courtesy of Terrapin Beer Company
Terrapin Sound Czech
Pilsner, 5.2% ABV
Athens
Previously unveiled as a retired seasonal, Sound Czech is now Terrapin's newest year-round release as of this month. The hops are Sapphire (citrus, tangerine), Czech Saaz (spicy, herbal), and German Magnum. The joke here is that German Magnums are clean, mild, and bitter. Maybe a little size envy from being pint-sized?
Sign up here for our daily Atlanta email and be the first to get all the food/drink/fun the ATL has to offer.
Yes, Mike Jordan accepts beer tasting invitations and free beer in the mail. He's at @michaelbjordan on Twitter, and usually tweets while drinking local beer, whatever the season.