There's no doubt about it: Atlanta is a coffee lover's city. Recent years have brought an abundance of coffee shops and local roasters making it easier for us to get through our mornings… and afternoons. Coffee shops weren't immune to pandemic struggles, but in this post-vaccine world many of them are thriving, and there are even newcomers to get excited about. The hardest part for us caffeine fiends is choosing which coffee shop to go to. It all depends on the vibe you want. Whether you're looking to get some work done, meet up with friends, or try an out of this world coffee drink, there's a coffee shop for every mood.
Smyrna
Headed to a game or concert at the Battery? You might want to fuel up at nearby Rev Coffee first. It was one a repair shop so it's funky with slightly industrial charm. They roast their own coffee and change the lineup frequently (though you can't go wrong with a cup of the Consensus blend) and offer seasonal lattes. The coolest part about coming here, though, is the ever-changing local art. If you've been meaning to add to your collection, this is a good starting point.
Reynoldstown
If you love cold brew coffee, then you'll love Dairies Coffeehouse and its 14 taps of cold brew. There's truly a cold brew for everyone, but standouts include the nitro oat milk latte, nitro cold brew, and the Captain on Tap, a decadent drink made with cereal milk. The coffee menu is actually pretty extensive beyond the cold brews on tap, but their cold brews are so smooth and refreshing we're not sure why you'd order anything else.
Buckhead
Compared to other parts of town, Buckhead is a bit of a coffee desert. If you do find yourself in need of a pick-me-up while in the area, though, head to Brash at the Atlanta History Center. You don't need to pay admission to get to the coffee shop, which happens to be filled with plenty of seating and natural light. If the hunger pangs kick in, you can grab a bite from Souper Jenny which happens to share the same space.
Armour Yards
East Pole isn't the easiest spot to get to, it's tucked back in that part of town that's not quite Buckhead and not quite Midtown. But the mission is worth it, because East Pole roasts their coffee right on premises (you can even see them do it) and there is plenty of space to post-up and work for a bit. The modern space practically sparkles on a sunny day making it all the more inviting. The crowd can be pretty quiet on weekdays, which is great if you're hoping to concentrate while drinking that pour-over.
Alpharetta City Center
Found in downtown Alpharetta, the bright coffee shop feels like it was meant to be Instagrammed. From the millennial pink tables outside to the retro vibes inside, the space is modern and inviting. The coffee, roasted in a facility nearby, rivals some of its in-town counterparts. If you're feeling fancy, try the seasonal latte crafted with house-made syrup.
Summerhill
Little Tart may be located in Summerhill, a neighborhood just south of Downtown, but it has strong French vibes. The coffee, made with Counter Culture, is good, but you'd be remiss to visit and not try one of the pastries (even Anthony Bourdain ate one on Layover). If you want something heartier, the quiche and egg and cheese sandwich is always available for breakfast, and on the weekends, you can order cheddar waffles and French toast (good luck trying to decide).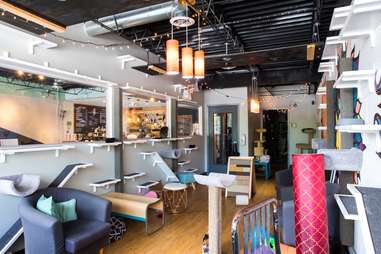 Grant Park and Marietta
If you've ever wanted to pet a cat while drinking a cup of coffee, good news: You can at Java Cats Cafe. Guests can spend up to an hour in the cat lounge with about 15 - 20 cats in it. While you're in there you can have a cup of coffee, but, let's be honest, you're there for the cats. The best part: all of the cats are adoptable through PAWS Atlanta.
Ponce City Market
Ponce City Market can be a little overwhelming, but Dancing Goats is right there to give you all the fuel you need to take it on. They serve Batdorf & Bronson coffee which is an Atlanta mainstay roastery. You can't go wrong with a cup of drip or something fancier, like a Chilly Goat latte. The coffee shop's interior isn't as design-y as others in the area, but that's okay because you can take your drink to go (besides PCM, you're steps away from the BeltLine and Historic Fourth Ward Park). If you do want to hang out, the covered deck is a comfortable spot regardless of the weather.
Old Fourth Ward
They take their coffee seriously at Chrome Yellow, and it shows when you chat with the baristas about the beans they're currently brewing (they rotate among Stumptown, Methodical, and other roasteries). Their drinks, like the vanilla bourbon latte, are known for being some of the best executed in town. The indoor seating is limited right now, but the crisp, minimalist space is still a beautiful spot meant to be enjoyed.
Midtown
Set inside Momonoki (meaning peach tree in Japanese), Momo Cafe features pastries with a Japanese twist. The sunny spot has excellent coffee, the drip is satisfying as are the more creative takes like the black sesame latte, but really, you have to get a pastry. Creative options vary, but have included matcha chocolate chip cookies, black sesame escargot, and kumquat hojicha (a green tea variety) cheesecake. There's also soft-serve if you need something cool.
Historic Marietta
Located about a half mile from Marietta Square, Sessions Stand is like a speakeasy coffee shop. Set among charming historic homes, Sessions Stand is dreamy with its brass tables, string lights, and blue and white accents. You may even be tempted to buy one of the colorful bouquets arranged by Dianthus & Co. Just know, there is only outdoor seating so you may not want to come on a rainy day. Order at one of the windows and grab a table. The pastries are baked at the stand by co-owner Katie Pfister, a pastry chef for the stand's sister restaurants, The Butcher The Baker and WR Social House.
Stone Mountain
Co-owner Daniel Brown and his team dream up concoctions beyond traditional coffee beverages. There's a reason why coffee isn't in their name — they do make coffee drinks, of course, but they also brew other ingredients, such as tea and barley. The drink menu changes frequently, and there's always a story to be told (the summer menu, for example, was inspired by Paul the Apostle). One recent drink, the Keeping Kosher, combined oolong tea and pickle brine. Keep an eye out for the opening of their Castleberry Hill location soon.
Johns Creek
Sure, Alchemist is located in a suburban strip mall and looks typical from the outside. When you step inside, though, it's pretty trippy. There's a coffee bar with geodes, black brick, and a galaxy theme. This makes for a trippy but cozy vibe, and the coffee is good, too. Alchemist's specialty is Dutch coffee, which they explain is a 20 - 24 hour slow-drip cold brew method using a tower-like device. This results in a smooth, chocolatey coffee that's easy to drink. There are also snacks on hand like shaved ice and wraps.
Virginia-Highland
What happens when a former bartender opens a coffee shop? Coffee drinks that are reminiscent of cocktails. Think syrups, bitters, and garnishes. Located inside Kinship in Virginia-Highland, so you can grab some meat from the butcher while you wait for your drink to be made.
Toco Hills and Old Fourth Ward
Spiller Park has a fun retro vibe, and they make a mean cortado, but don't overlook the weekend bagels. Spiller Park's owner, Dale Donchey, started a bagel pop-up dubbed Dear Friend, Bagels that operates out of Spiller Park on the weekends. Offerings include bagel sandwiches (the Wendell, with labneh and strawberry jam, was a hit over the summer) as well as individual bagels and tubs of cream cheese. To keep up with the week's offerings, your best bet is to follow them on Instagram.
Multiple locations
Alon's isn't just a coffee shop. It has an excellent coffee program (using Batdorf & Bronson), but it's also a one-stop shop for treats like sandwiches, salads, pastries, and confections. Dunwoody and Alon's newest location in Buckhead have ample seating making them ideal for leisurely stopovers.
Best for a Pop-Tart treat: Perc
East Lake and Virginia-Highland
Savannah-based roaster Perc opened two locations in Atlanta during the pandemic. East Lake came first, with its sunny dining room adorned with hanging plants (and plenty of outdoor seating) followed by Virginia-Highland with a more intimate setup. The coffee is great at both locations, though, especially their creative cold brews. Most importantly, they sell their own version of the Pop-Tart that'll give you '90s nostalgia (but taste way better).
Lia Picard is an Atlanta-based journalist writing about food, travel, and a variety of other topics. Her work appears in
The New York Times, The Washington Post, Wine Enthusiast
, and
CNN Travel.