Where to go when bars close in the ATL
December 21st is the longest night of the year (that's the Winter solstice to all you non-Pagans), but it's also going to be the Best Night of Your Life, a Thrillist-created holiday that you'll spend enjoying the best nightlife the city has to offer, thanks to our awesome recommendations, which obviously include Atlanta's best late-night eats.
Check out the picks below, and make sure to map out the perfect evening with our itinerary builder.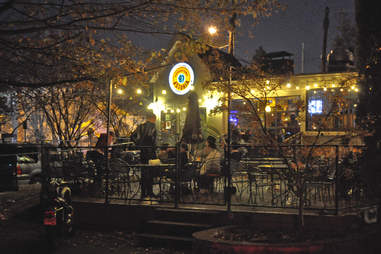 Austin Holt
97 Estoria
Cabbagetown
A long time ago, people from outside of Cabbagetown said there was no reason to go into Cabbagetown, but then some people turned a former grocery store for cotton mill workers into a restaurant and "hang out for adults", and people from outside of Cabbagetown said... um, pretty much the same thing, but they missed out on glorious eats like Redneck Jucy Lucys (burgers stuffed w/ chilies and pimento cheese), and braised beef brisket burritos.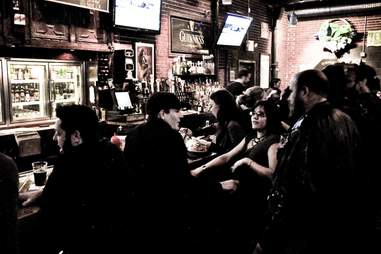 Austin Holt
Midway Pub
East Atlanta Village
You can be all the way up in Johns Creek, and if someone says, 'Hey, let's go to Midway,' you'll probably go, because the MP has a seriously badass beer list and some sweet vintage game cabinets… and, because you just want to get the hell out of Johns Creek.
Star Community Bar
Little 5 Points
This wacky L5P boozer/music spot prides itself on slinging tallboys and an eclectic live line-up that, on the Best Night of Your Life, includes Kenny Howes and the Wow!, Ghost Riders Car Club, and Dusty Booze & the Baby Haters... despite also benefiting toys for tots.

Smith's Olde Bar
Midtown
Located where Midtown meets the Highlands, Smith's is rare venue-slash-bar that actually features acts people want to see, and food people actually want to eat, like half-pound of Black Angus beef burgers, and Dan's Famous Hot Dogs, which, presumably, you already know about.
Austin Holt
The EARL
East Atlanta Village
This sort-of-seedy (in a good way!) boozer/alt music venue goes 'til 3a, and serves awesomely greasy pub-style eats like the 8oz 100% Black Angus Beef EARL burger w/ wasabi mayo, which is apparently "renowned for it's cowalicious goodness", and presumably really Moo-ves at this time of night.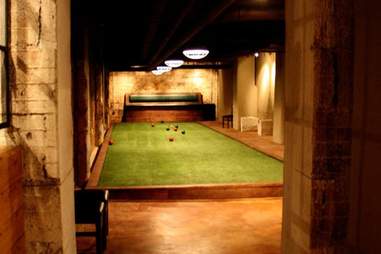 Ormsby's
Westside
Where else in Atlanta can you swill delicious spirits while playing bocce ball? OK, lots of places. But where else can you do it in the basement of an expansive bi-level tavern serving craft beers and cocktails in an old industrial building? Exactly. 
Austin Holt
Lost Dog Tavern
Buckhead
The Buckhead Triangle is teeming with too many great dives to list here, but The Lost Dog gets bonus points for being just frat-tastic enough to attract some of the A's cuter coeds, and good-ol' boy enough that, if you're lucky, all those bros will start a fight with someone else...
The Waffle House
Everywhere
Oh, Awful Waffle. Whether it's 3a on Sunday, or 9a… on Sunday… your hash browns contain magical restorative powers that can stymie even the most nefarious of hangovers. We'll take the people watching on Texas Toast, please.