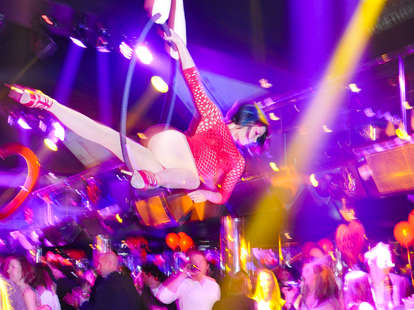 Austin Holt
Austin Holt
When the suns sets on December 21st (probably sometime right after lunch), it'll officially be the longest night of the year... and the Best Night of Your Life. Why? Because you'll be spending it enjoying the best nightlife the city has to offer, thanks to our awesome recommendations, which naturally include the city's best clubs.
Check out the picks below, and make sure to map out the perfect evening with our itinerary builder.
Vanquish
Midtown
We kinda had to put this one on the list. The sophisticated older brother of next door's Reign, it's where the celebrities hang out, and where you probably already go if you drive an Aston Martin... Vantage, since everyone knows the gear box on the Vanquish sucks.
Noni's
Edgewood
It's the Clark Kent/Superman of dives: awesome Italian deli by day, and hopping Southside courtyard party by night, with an incredibly long line of people waiting for tallboys of PBR and some of the city's sweetest DJs... but mostly tallboys.
Koo Koo Room
Midtown
This cozy oft-overlooked nighttime lair beneath Flip Flops, with walls made to look like they're framing brick windows, orange & red velvet couches, and a neon-lit, polished wood bar serving cocktails which employ such poisons as Ciroc Red Berry and Karma tequila -- invokes the spirit of Boy George, and security will motion for you to come, and go.
Whiskey Park
Midtown
Tucked inside the ultramodern W Atlanta Midtown (it's like a show on SyFy, but with a bigger budget), WP's a glammed-out drinks spot with three rooms (the Crystal Lounge, Gallery Bar, and The Vault), plus a sweet outdoor terrace, and is a go-to for people who believe, as Chingy once alluded, that the best nights begin with a hotel party.

Tongue & Groove
Lindberg City Center
This updated 8600sqft version of the oroginal T&G is right next to a MARTA station, boasts a beautiful almost golden-hued wood-heavy interior, and cryogenic blasters just above your table that will freeze your entire group until Sly Stallone foolishly reanimates you, and you unleash hell while getting lots of tickets for cursing spray a white plume of supercooled CO2 that immediately drops the temp 10-20 degrees.
Andrews Entertainment District
Buckhead
There're restaurants (a sushi spot, pizzeria, etc.), bars (a speakeasy, a moonshine-ry, and more), as well as a comedy spot, but the go-to at this collegiate party compound is Andrews Upstairs, a music space with an eclectic line-up of live acts, and a packed courtyard that's basically a meat market that's adjacent to the bar... um, downstairs.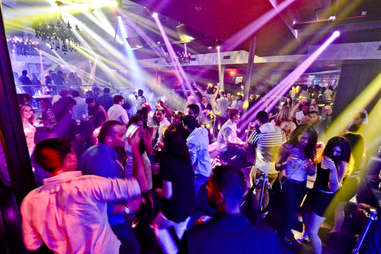 Prive
Downtown
Posted up in the old Primal space (which they gave a multi-million dollar facelift), this "Mega club" boasts a rooftop terrace, and three different "environments", all of which are making you feel a little warm thanks to the ongoing emission of fossil fuels in to the atmosphere the cute waitress bringing you bottle service.
CosmoLava
Midtown
Before you and your crew go to CosmoLava, you need to establish a place where you can all meet up in the event that you get separated among all the ultra-loungy nooks and crannies tucked inside this converted house. Or just, like, have a cellphone.