Thrillist's Patio Power Rank: The ATL's 7 best outdoor drinking spots
With Atlanta's average daily temperature ranging somewhere between "Man, it's hot as Hell outside" and "I'd almost rather live in… ugh, Wyoming", finding a cool place to cool down... and then drink till your face falls off... feels almost like heaven. That's why we're counting down the seven sweetest, most sprawling, and otherwise awesome ATL rooftops, patios, and outdoor bars, and other places for you to call home this Summer. Unless you were being serious about moving to Cheyenne, or wherever.
7. Tijuana Garage
351 Moreland Ave; Little Five Points; 404.475.8888
The Little Five Point Tex-Mex resto's outdoor bar serves up cheap tacos, and premium margs by the pitcher, plus it feels like stepping into an Antonio Banderas flick, except it's actually good!
6. Hand in Hand
752 N Highland Ave NE; Virginia Highland; 404.872.1001
The VaHi watering hole has daily specials ranging from $2 burgers on Tuesdays, to $1 PBR drafts on Sunday, which could make relaxing on the N Highland pub's patio an everyday thing... if you can avoid the lines that form when this 200-person deck hits capacity.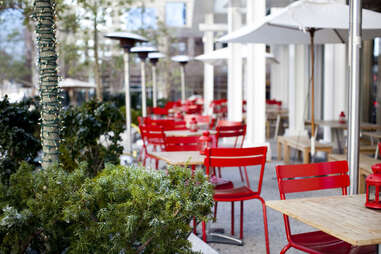 5. TAP
1180 Peachtree St NE; Midtown; 404.347.2220
If large crowds aren't your thing, Midtown's gastro pub TAP provides a bit more personal attention on its smaller patio space overlooking the bustling Peachtree St, and they offer a huge range of the hoppy stuff, including local faves like Wild Heaven Ode to Mercy, and Monday Night Brewing's Fu Manbrew.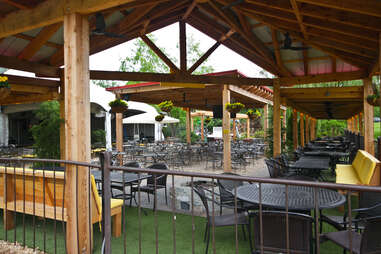 4. Park Tavern
500 10th St NE; Midtown; 404.249.0001
This Piedmont Park-adjacent boozer is the quintessential patio bar because of its stunning views of the Midtown skyline, deals like half-priced sushi from 10p-midnight. Surprisingly, PT's at its best when it rains, because whenever its pours, they start pouring $1 drafts.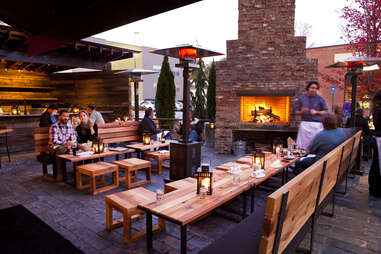 3. Barcelona Wine Bar
240 N Highland Ave; Inman Park; 404.589.1010
The patio wrapped around this Inman Park vino shop keeps things fancy with rich wood picnic-style tables and a cozy brick fireplace, but you don't care about that 'cause you're busy getting Messi on one of their 300 Spanish and French wines and taking down plates of tapas.
2. Tin Lizzy's Cantina
415 Memorial Dr SE; Grant Park; 404.554.8220
Overlooking a beautiful, but slightly creepy, 100yr-old cemetery, this rooftop patio in Grant Park is the perfect place to consume cheap tacos, queso, and copious amounts of liquor, some of which you could pour out for the dead homies in the graveyard, but you probably won't once you try their Fall Off The House margaritas.
1. Six Feet Under
685 11th St; Westside; 404.810.0040
Awesome views of Midtown; pitchers of their vodka/ gin/ rum/ triple sec/ black raspberry liqueur-heavy Tombstone Tea; and coastal fare ranging from crab cake po'boys to oysters Rockefeller... with all that, this is one roof deck you've got to visit before you end like its name.