What's Up With All This Rosé in The A?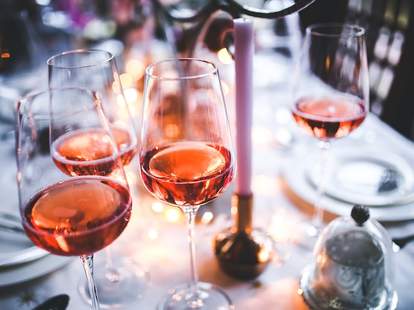 Ah, rosé. The preferred warm-weather libation of everyone from the most Basic™ girl you know to big-time rappers alike. But there are some unanswered questions about this mysterious pink nectar -- especially in Atlanta. To wit: why is everyone going crazy for it, why is it so trendy, and, most importantly, where can one snag a bottle of the best?
You likely recognize rosé as the pink-hued wine your sorority-rushing cousin/sister/Facebook friend is sipping on Instagram with the hashtag #roseallday. It's a drink that has come to be equated with summer and luxury -- much like a private, multi-floor yacht with a jacuzzi and an old, leathery, tanned man in a Speedo wearing a gold chain. With its feminine hue, sweet taste, and smooth drinkability, rosé quickly gained a rep as a "girly" drink. But times have changed. Even the archetypal cliche of beer-guzzling, BBQ-eating, whiskey-swigging men can -- and do -- appreciate this refreshing wine.
"I see all kinds of people drinking rosé," says Steven Grubbs, knowledgeable wine director of Empire State South and Five & Ten. "I don't think it follows lines of gender or 'basic-ness.' Pretty much all the really smart sommelier types I know (male and female) drink a lot of rosé, too."
So, what exactly is it? "A rosé is a wine that uses limited contact with red grape skins to slightly tint the juice," Grubbs explains. "Nearly all wine grapes, whether red or white, have fairly clear juice, so if you want to make a red, you'll let the skins soak for a while, darkening the juice. If you want to make a rosé, the contact will be more brief -- often a few hours, but sometimes as quick as simply being mingled in the crusher."
Though people across the globe have been drinking different forms of rosé for centuries, the trend picked up in the United States in just the past few decades -- rising in popularity in the '80s, with record numbers of sales (and trouble keeping the varietal on shelves) being reported last year. Recently, Forbes even claimed it was conquering the world.
"Rosé is sort of the ultimate immediate-gratification wine," Grubbs adds. "Not many people want (or are able) to cellar $300 bottles of Bordeaux or Burgundy for 20 years before it's really ready, and I think more and more folks are drinking wine for refreshment rather than for richness and opulence. So a super-fresh, delicious-upon-opening bottle of rosé is kind of an easy sell, especially when they are almost always relatively affordable."
I think more and more folks are drinking wine for refreshment rather than for richness and opulence.
For Atlanta, 2015 marked the year that rosé intrepidly began to reveal itself at wine shops and on restaurant menus around the city. That same year, The Atlanta Journal-Constitution declared the wine had finally risen through the ranks to be deemed "cool," after enduring years of a reputation for being too girly or sweet. 
And as of this summer, it's damn near impossible to hit up a local liquor store without seeing stacks of these blush bottles. Rosé's white-hot popularity in Atlanta mirrors a national infatuation. In terms of countries that consume the most gallons, America is No. 2, and has been for a few years. As a city with bona fide international sensibilities (thanks, gargantuan international airport!), it makes sense that we'd fall in line with the zeitgeist.
For those in pursuit of a quality bottle of the pink, Grubbs suggests Perrine's Wine Shop on the Westside for an impeccable selection and the occasional tasting event, along with restaurants that boast, in his words, "a fairly nerdy wine program," like Staplehouse or Bread & Butterfly. Over at Empire State South, he's been pouring three different rosés by the glass throughout the warmer months, and he doesn't see that changing anytime soon. "There are just so many fun ones to explore these days," Grubbs says, "and people aren't afraid to get after them."
So now, as you're likely about to Google "where to find the best rosé in Atlanta," stop! Because we're about to tell you.
<em>Old Fourth Ward</em><br />
Canned rosé is stocked at Ladybird Grove &amp; Mess Hall on the BeltLine, and is best enjoyed in its rustic indoors environs, on the patio, or out on the expansive outdoor space.
<em>Glenwood Park</em><br />
The brilliant minds behind 3 Parks Wine Shop offer growler options that include rosé, plus a seasonal rosé-specific wine club during May, June, July, and August where, for $80 a month, you'll receive six assorted bottles of wine hailing from regions all around the world.
<em>Old Fourth Ward</em><br />
Over at Ponce City Market, Minero has a signature sangria that's a mixture of rosé, citrus, and cava -- a perfect complement to its charcoaled chicken tacos.
<em>Inman Park</em><br />
Head to this Spanish-inspired tapas spot to split a bottle (and half-off bottles on Monday). It's also served by the glass.
<em>Old Fourth Ward</em><br />
Venue-restaurant hybrid Venkman's has rosé on tap, and it pairs quite well with the patio space and barbecue mussels, should you be into that.
<em>Inman Park</em><br />
Frozen rosé (aka frosé) can be found at Krog Street Market's French brasserie The Luminary (also likely at a summer dinner party thrown by your incredibly savvy and sophisticated friend).
<em>Buckhead</em><br />
This Lenox Square candy shop found such success with its signature "Rosé All Day" gummy bears that it not only sold out within two hours of launching, but there's a waiting list that's already crept into the thousands. Thousands, people. This shit is getting real.
Now -- if you wouldn't mind -- please pour me another glass, it's hot as hell out here.
Sign up here for our daily Atlanta email and be the first to get all the food/drink/fun the ATL has to offer.
Caroline Cox is a writer, editor, and content marketing specialist in Atlanta, Georgia with a special place in her heart for a good alcohol-themed pun. Follow her on Twitter and Instagram at @carolinecox.