Of all the industries hit hardest by the social distancing measures in place to combat COVID-19, bars have taken some of the biggest blows. Even if they had plans of staying open, mandatory orders from local and state governments have forced bars to close in order to fight the spread of the virus. Luckily, Mayor Keisha Lance Bottoms signed an executive order on March 20, 2020 to allow bars and restaurants to serve takeout alcohol for a 60-day period.

"The service industry as a whole has been heavily impacted," says Chad Ralston, the chief acorn officer and one of six owners at ASW Distillery. Throughout the pandemic, the distillery has been selling spirits via its ASW Exchange location, which typically allows open containers across many areas of its campus. However, it's now able to serve their popular bourbon slushies to-go, so patrons can enjoy one elsewhere, like while strolling along the BeltLine. "It's been a life saver."
Brian Lewis, the owner of Bocado, also heavily supports the mayor's declaration, calling it a great moment for the city of Atlanta. "Our wine is single-vineyard and on-premise only, so you can't buy it from a wine store," he says. "This gives us a new opportunity we've never had in the past, and it will be interesting to see if they expand it."
While developments continue to form in response to COVID-19, one thing is clear -- the city's temporary licenses have allowed businesses to sell libations to-go. This is your chance to support your local bars, breweries, and distilleries in these tough times, so enhance your quarantine shenanigans with beer, wine, spirits, and other alcoholic beverages from these Atlanta establishments.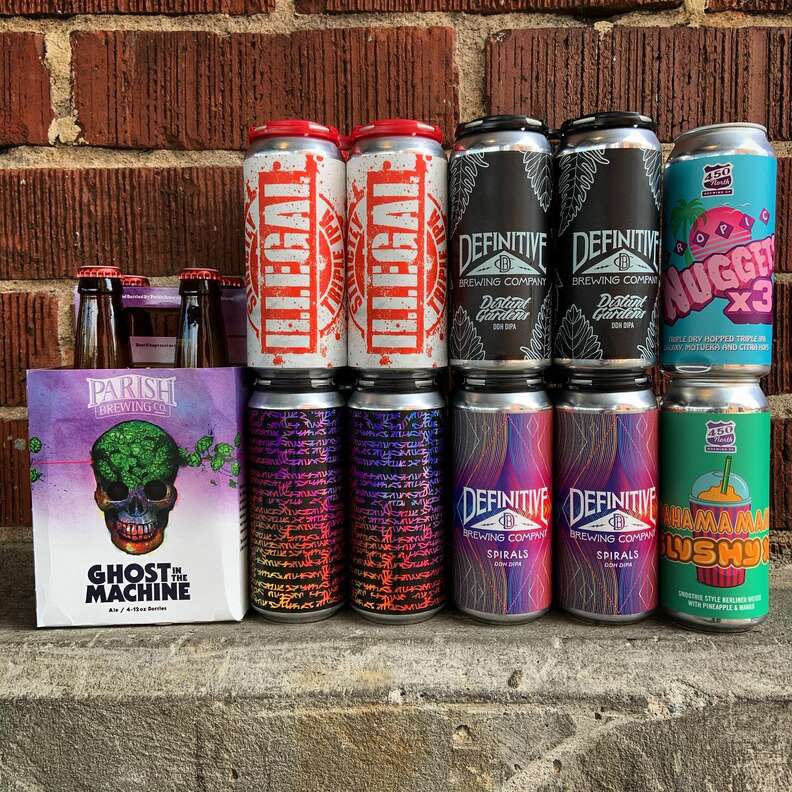 Take a drive over to Hop City and leave with all of your beer and wine essentials. Both Atlanta locations are offering curbside ordering and pickup, and you can also call ahead via call-in or email. From noon to 8pm (and 7pm on Sundays), you can stock up on local ale without even stepping out of your car.
What to drink: Creature Comfort's Stay G-O-L-D, an IPA in collaboration with Run the Jewels
While distilleries like Old Fourth Distillery have transitioned to full-blown service mode by creating homemade hand sanitizer for health professionals, the ASW Distillery is serving Atliens by keeping their gift shops open for customers to grab to-go bottles and bourbon slushies. As they say in their website's message to the public, "weird times call for whiskey."
What to drink: Cask Strength Maris Otter, a new single malt craft whiskey
In addition to selling portioned meats and Rumi's signature bread and marinades, the new offshoot of Rumi's Kitchen, now aptly titled Rumi's Pantry, has renowned wines available, as well. Although their selection is considerably small, it boasts quality wines from Italy, Portugal, France, Chile, and Spain -- all priced between $22 and $34 and available for delivery or curbside pickup.
What to drink: Macon Uchizy, a French chardonnay fermented in Burgundy
This Ponce City Market restaurant has adapted to COVID-19 by converting to a digital marketplace with curbside pickup, open 12-8pm from Tuesday to Saturday. Brezza Cucina is offering hot and ready-made meals, and for your alcohol fix, you can also order wine, beer, and cocktail kits to-go.
What to drink: Battle of the Bastards mixes rum, apple brandy, cinnamon, and lime
While you search for booze around the city, don't forget about hard ciders. The fruit-based alternative to beer is worth trying while you quarantine, and UrbanTree has a diverse selection, from rosé to traditional Spanish-style ciders. Delivery is available within 10 miles of the cidery.
What to drink: Habanero Haze, a ginger-infused cider with hints of habanero zest
Although gathering in Sweetwater's taproom is currently off limits, you can still enjoy the local brewery's various beers to-go. From 12-7pm Wednesdays through Sundays, call Sweetwater to place a drink and/or food order, and then head over to the brewery for curbside pickup.
What to drink: 420 Strain Mango Kush, a wheat ale with hints of mango and hemp.
Pick up your phone and order those mixed drinks you've been craving since your favorite bar shut down. The Kimball House is running a take-home bar from 4-8pm Wednesdays through Sundays, with signature drinks for you or a party of 4. Be aware that only credit card payments are accepted and come prepared to wear gloves while you wait at the bar for your cocktail.
What to drink: French 75, a classic cognac-based drink with lemon and carbonated muscadet
Those looking for more wine options can resort to Bocado, which is currently taking orders via their website and call-ins. Their wines span from Oregon Pinot Noirs to Italian nebbiolo, and to make your curbside excursion even better, wine bottles and beer (single can and 6-packs) are 25% off.
What to drink: An oaky Izadi Reserva Tempranillo with tobacco notes
Although grabbing beer is a necessity in times like these, do try to purchase as much as you're going to need while you're out. The best way to do that is to buy a growler from Eventide Brewing and fill it up with your favorite draft. The Grant Park brewery has IPAs, hefeweizen, porters, nitros, and much more on tap, so swing by curbside to fill up.
What to drink: The crisp and hazy Citrus Grove Hefeweizen
Sign up here for our daily Atlanta email and be the first to get all the food/drink/fun the ATL has to offer.
Joshua Robinson is an Atlanta-based contributor for Thrillist who's pretty sure that everyone (21+ of course) could use some liquid courage right about now.