It seems like every weekend, a new bar or restaurant is opening in Atlanta -- especially in or around Ponce City Market. Because of this, we decided to locate the best drink specials in 11 ATL 'hoods. (Even Buckhead, where there are much better deals than a $10 Old Fashioned.)
Recommended Video
Big Boi From OutKast Introduces Cliff to Atlanta's Food Scene
Downtown
Alma Cocina
Address and Info
Every day, from 4-6pm, hit Alma Cocina for $5 pinot grigio, red wine, Bud Light, and $5 tequila and vodka cocktail specials. To help keep things tasty (and sop up that booze), there's $5 chips and salsa, as well as killer tostada and taco specials. And really, there aren't many things that are better than cheap beer and tacos.
Virginia-Highland
The Original El Taco
Address and Info
Tacos and tequila are El Taco's... well... bread and butter, so deals on both come as no surprise (specifically, $5 margaritas on Thursday nights). It is also serving up $2 Tecates and, get this, a build-your-own-nachos night. Which is the best night ever (also Thursdays). As for atmosphere, its bright, colorful interior, dotted with Mexican tchotchkes, is queso cheesy, but in the best way possible.
Morningside/Lenox Park
Varuni Napoli
Address and Info
Varuni Napoli might not immediately spring to mind when you're craving drink specials, but that's likely because you're not aware that on Tuesdays and Thursdays from 5-7pm you can get appetizers like an Italian meat and cheese plate for nearly half price (alongside rotating drink specials). Oh yeah, and every Wednesday, you can get a bottle of Montepulciano or pinot grigio for half off with the purchase of any two pizzas.
East Atlanta
The Midway Pub
Address and Info
If you haven't tried the pimiento cheese fritters at Midway after 5pm on a Friday, you might want to take a few calming breaths before digging in. They're thick and crisp on the outside, with a gooey, creamy interior. What really puts them over the top is the side of jalapeño bacon jam, which is so delicious, you'll need to triple- (or even quadruple-) dip each and every bite. Wash it all down with flights of 4oz beer pours ranging from $5 to $8.
Buckhead
10 Degrees South
Address and Info
Every Monday (night) at 10 Degrees South, forget about the cocktails and go straight for the wine. Although there's a ton of vino to choose from, the South African wine selection is impressively extensive and where it's at. Enjoy pairing your drink with Sosaties: slabs of tender, skewered beef filets swimming in a sea of apricot curry.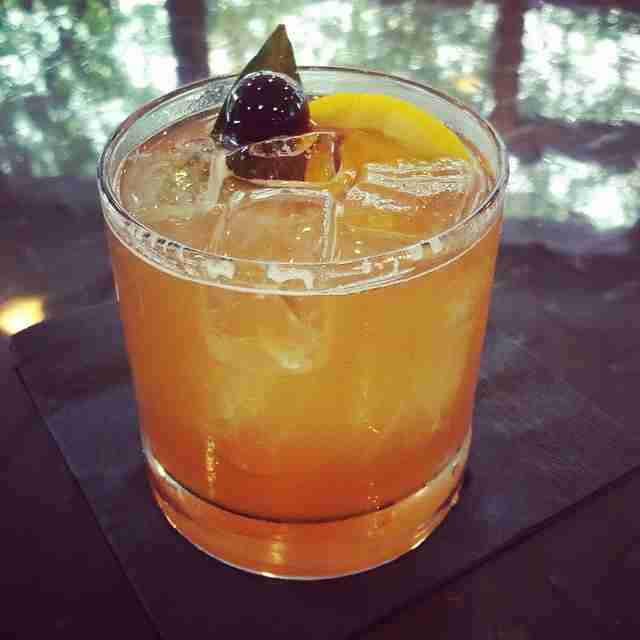 Kirkwood
Ration & Dram
Address and Info
Drink specials don't necessarily need to be all about the alcohol. Sometimes the food component can be the real draw. On Monday nights, Ration & Dram offers "buck a shuck" oysters, meaning you can fill up on delicious oysters for not a lot of dollars, and wash 'em down with rotating weekly specials like $25 bottles of rosé, mezcal deals, and more.
Westside
BOCADO
Address and Info
Every Tuesday night, you have the chance to get your hands on one of the city's best burgers, with fries and a beer, for just $13. The beer specials rotate every few weeks, but the beloved double stack burger and crispy, perfectly seasoned fries (thankfully) never change.
Midtown
Einstein's
Address and Info
Expansive, yet cozy, with a large, old oak tree growing out of it, Einstein's patio is one of the best in the city. Add in some solid Southern-inspired fare, like the fantastic fried green tomatoes, gooey mac and cheese, and a turkey burger that will make you question your allegiance to beef, and you have every reason to check it out -- especially when you can enjoy half-priced bottles of wine on Mondays and Tuesdays.
Decatur
The Pinewood
Address and Info
This sleek Decatur hotspot pours some of the best cocktails in the city, and has great deals to boot. On Wednesday nights, you can throw back any whiskey cocktail for just $5. Or, if you prefer wine, the bottles are half-price on Thursdays. Hungry? From 3-5pm, you can chow down on its legendary Pinewood burger for only $5.
Grant Park
Republic Social House
Address and Info
There's an exception to every rule, and this is ours. Although there are no real drink specials at Republic Social House, it does offer a "Pint Night" every Tuesday and Thursday, where you'll get a pint glass to take home after ordering one to drink out of first. Hey, it's way better than a trip to IKEA.
Sign up here for our daily Atlanta email and be the first to get all the food/drink/fun the ATL has to offer.
Brook Bolen likes a great drink special, regardless of where she can find it. Follow her @brookbolen for tipsy tweets.