As we move through the work week, sometimes it feels like the days get longer and those midday breaks become more important. Then, when it's time to finally clock out, your energy is too zapped to enjoy the simple pleasures that the city of ATL has to offer. Although that commute home may be additionally taxing, there are plenty of reasons to prolong the evening. That 9 - 5 may bring home the bacon, but it's the time AFTER you throw up the deuces that serves as the best reset for the next day. So, if you're feeling adventurous on the way home, here are some of Atlanta's best happy hour specials at Atlanta's best bars, whether you're craving an impeccable cocktail or just a hard-earned beer.
College Park
Nouveau Bar & Grill
When: Tuesday through Friday from 3 - 7 pm
Steak? Seafood? Cajun cuisine? Whatever you're looking for, Nouveau Bar & Grill has it all. With two locations—College Park and Jonesboro—this black-owned establishment has one of the best happy hour drink specials in the city. Equipped with both inside and outside seating, the $5 starters and $5 shots of Ciroc are things of beauty after a day at the office. Be sure to try the Stick Fried Ribs and Dyriah's Jerk Wings..
Buckhead
The Iberian Pig
When: Monday through Thursday from 5 - 7 pm, and Friday from 4 - 7 pm
Originally located in Decatur Square, you can also check out the Jamón Happy Hour in their cool Buckhead spot as well. For $12, you can pick three of their delicious quesos, and the $24 choice of three cured meats will have you wanting to stay well into the evening. To top it off, the Iberian Pig also offers $5 glasses of Sangria and wine.

Decatur
Kimball House
When: Tuesday through Friday from 5-7pm
Their raw bar includes some amazing oysters from across the coast with a happy hour that cuts the prices in half. You'll spend about $1.50 per shell, and you can taste their popular oyster assortment including the Isle Dauphine, Fisher's Island, the Sand Dune and of course, Aphrodite. There's also a $12 shrimp cocktail that even the late, great Bubba Gump would envy. Pair you seafood with a house cocktail or a selection from their lauded beer list.
Midtown
Establishment
When: Monday through Friday from 4 - 6 pm
Establishment's "After Work Specials" has become the stuff of legend in recent years. For $6, you can try their specialty Sliders or the Beer Cheese & Bacon Loaded Fries, and for $10 apiece, indulge in a drink menu which includes a Manhattan, Gold Rush, Horse's Neck, and Mint Julep—all made with Maker's 46 Bourbon.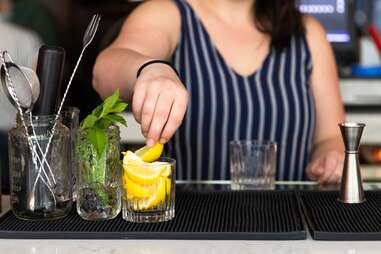 Inman Park
Hampton + Hudson
When: Monday through Friday from 4 - 7 pm
Inman Park's Hampton + Hudson is your quintessential American bar and restaurant—and it's all-purpose. Here you can hang out with your significant other, wind down with co-workers, or have a blast with friends. Each Monday, their kitchen releases a new Billyburger paired with a craft beer for only $10, and during their happy hour, feast on their charred Octopus, Curry Deviled Eggs, the Nachos Libre, and more for only half the price.
Virginia Highland
Truva Turkish Kitchen
When: Monday through Friday from 3 - 5 pm
Truva's vibrant ambiance and modern Mediterranean décor makes this Turkish restaurant the place to be during that commute home after work. The menu of hot and cold meze ranges from $8 to $14, with options like artichoke bottoms, falafel, shakshuka, and roasted cauliflower. You also get half-priced signature cocktails and $3 draft beers.