There aren't a lot of patios that suck when you have decent food, drinks, and Atlanta summer weather. You, however, aren't here for a list of sucky patios; you need a quick guide to the ones that deserve to take all of the money you could spend at Kroger for a month's worth of grillable meat for a single afternoon or evening. We've got 26 of what we think are the best options right below! And yes, right below that, in the comments, you can leave helpful suggestions (or the always-welcome angry snark) telling us anything we should have included but didn't.
West Midtown
You have to walk an unnecessary block to avoid the valet fee, and the food and drinks are pretty expensive (particularly for Mexican food -- ¿QueTF?!). That doesn't mean that this spot, which doubles as a furniture store because that makes the most sense, isn't worth it, since the food and drinks are good, and it's exquisitely styled with big, cozy patio seating, flower pots, random accents, and vivid colors. It also helps that due to where it sits in Castleberry Hill, you're so enclosed that you actually feel like you've escaped America.
Luckie Marietta (Downtown)
You need a certain kind of appetite to eat all those German pretzels, sausages, bone-in meat entrees, and kraut. On the other hand, you need only be human to grab a big-ass stein and go in on the Luckie Marietta District rooftop, where you'll guzzle countless ounces of dunkel, weissbier, hefeweizen, märzen, and more, next to that fine-ass mural of the blonde beer maid.
 
Old 4th Ward
Good pizza is even... um, good-er when your chewing away at its crust in Jack's gritty, tin gate-wrapped back. It's a no-frills way to get decked on the cheap, thanks to low prices on drinks and generously large slices (although be sure to budget 30 minutes or so if you want the bacon/tomato/jalapeño, their well-worth-the-wait "hangover" slice).
West Midtown
The Westside post has a view of Midtown that you can't front on. They also have a completely regular atmosphere where you can relax and curse about things you probably shouldn't, out loud. Don't go here for health food or to be seriously impressed by what's plated or poured. Go here for something everybody can agree on -- a filling meal and buzzy drinks -- and a very nice view.
 
Grant Park
It gets really, really packed on top of this Grant Park spot, and there's already a limited amount of seating. All the more reason to have your ass in a seat before the crowd arrives. Note: they have great wings and fries!
 
West Midtown
Getting house-brewed beers and freshly tapped seasonal casks is best when you're perched high above the Westside triangle at Howell Mill and Marietta. If nothing else, it's a great place to literally look down upon street-level hipsters.
Little 5 Points
New Orleans is about six hours away, meaning it's much easier to geaux to Little 5's gated, garden-esque getaway for bowls of gumbo, plates of jambalaya, and other Creole/Cajun plates of goodness. Don't miss shareably gallon-sized Bayou Bowl cocktails like the tequila-based Swamp Gas. Also, assuming you'll eat too much gumbo, don't assume that the scent of your own swamp gas won't be detected by folks sitting nearby just because you're outside.
 
Virginia-Highland
Diesel's patio crowd is not as misunderstood as it seems. Sure, it may seem that they don't like outsiders, but how could that be true when so many of these seemingly angry but actually cuddly, casually dressed badasses are eating and drinking outside?! This is al fresco with an attitude.
Buckhead
Both locations have great outdoor seating, but it's the Buckhead version that finally turned a building near the congested area of Peachtree and Piedmont, with lots of failed predecessor restaurant/bar startups, into a true scene. It's also got HH Gulf oysters on the cheap ($6 for 12), and secretly a super-strong house margarita.
 
Little 5 Points
Everybody was kinda iffy when the signs went up a few years ago saying a new pizza place was coming to L5P. Then it opened with monster-sized pizza slices, a really good draft beer selection, and one of the best views in the city. Go elsewhere for fanciness; this is great for homies or for moments of personal reflection... with beer and pizza.
 
Midtown
The brilliantly bright white and red hues on TAP's front deck are hard to miss, and hopefully your mouth is too so you can down a 96oz "giraffe" full of one of dozens of different drafts. The locals are particularly well represented, with real crafts like Red Hare, Monday Night, Jekyl, Orpheus, and Pontoon available for sipping as you offer sad-faced sympathies to all the commuters on Peachtree and 14th who are cursing at each other instead of drinking.
 
Buckhead
Tucked down between the mall and Buford Highway in a Lenox Road dip, V&T's outdoor situation is simple (spruced up by string lights and large Veuve Clicquot umbrellas over your head), but part of the appeal is just being in a hidden beer and wine oasis during happy hour (that's also when they feature great oyster deals, FYI) while everyone else is stuck on that two-lane street heading to traffic hell.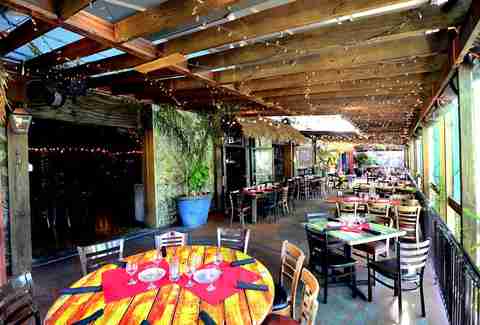 Midtown
Since the BeltLine became real, it's extended the cool factor of this long-standing Latin dining, drinking, and dancing den on Amsterdam. The patio looks right out onto the Piedmont trail, which means you can dance (and eat) salsa as all the pedestrians who are too boring to lose weight the way nature intended -- by shaking and sweating the calories off that ass -- walk past.
 
West Midtown
The picnic table seating and keg-ish plants along the concrete corridor lead to a dual-sided bar window, where you can stay out and enjoy the breeze and experimental brews, or peer inside to consider tacking your tacky-ass tie to the wall for kicks.
 
Sandy Springs
Let's say you're stuck on the North side of 285, which if you live or work around there, you are, daily. Instead of heading West of Roswell Road, or East of 400, you might as well exit and spend the hour you'd be stuck in traffic drinking, while propped up on TS' lamp-lit canopied deck on leather couches against living-plant walls.
SoBu
South Buckhead definitely got a boost when this Indigo Girls-backed restaurant moved in from Decatur; unlike actual people who do the same thing, it lost none of its soul. You can tell on Wednesdays by the enduring fried chicken special, the addition of genius kitchen gangster Zeb Stevenson, and a shrub-/string light-outlined, Peachtree-facing patio with weather-worn wood tables under big square umbrellas.
 
East Atlanta
This seven-year-old, string-lit sports bar patio is an East Atlanta Village favorite. Here's why: great smoked wings on Sundays, snacks like the pork belly PB&J, and a late-night menu that's available until 2am Mon-Sat.
 
Inman Park
With lots of wood accoutrements, a tall, block-stacked brick fireplace, and over 300 vinos (plus great house cocktails and a mean sangria), this Inman Park spot could easily brag that there's just no better option for outside wine-drinking. But if you hear the building actually talk it means you're on your last glass.
 
Downtown
W Downtown's aqua-centric sip station is reservation-only unless you find yourself invited to an event it's hosting; the wise move is to troll event sites and get yourself on the list. Reasons include the all-weather-ready covered top, the skyline-level view of downtown, and the zero-edge pool, which ironically, as long as you're invited, welcomes U2.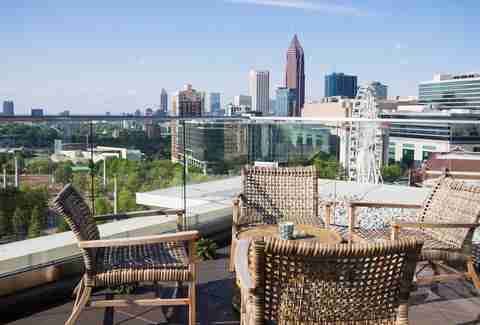 Midtown
We've told you about this place many times, but it's not like it's getting less scenic and awesome. It's more like you just might need to be reminded because you drink here a lot. Keep drinking here: the skyline view is hard to beat unless you own a Midtown penthouse.
 
Midtown
It's nice to enjoy a meal on the edge of Piedmont Park. But it's nicer to have a great meal from a place whose menu, which features sushi but also includes Mediterranean, Mexican, American, and more, is as culturally confused as ATL, which also makes it awesome.
 
Midtown
They called it Rooftop 866 for a while, but now it's where the meaty meal-makers of Community Smith turn out small plates and craft beer for guests who like fresh air with their buzz. Remember that it closes in November and won't reopen until March, which gives you about five months to get out there.
West Midtown
A round of putt-putt near picnic tables puts you in a much better mood; it's scientific fact. Even if it wasn't, the strong cocktails, boozy punch mixes, and wide selection of wheat beers, lagers, and ales are proven to promote positivity. Hence the name.
 
Midtown
Hugh Acheson knew his already-awesome cuisine would be better with bocce. He probably also knew that it'd be hot in the summer, so, for those watching from the low-slung lawn chairs flanking the sanded court, his bar team whips up perfect cool-down drinks like the Haru w/ coconut-washed cachaça, blanc vermouth, and cucumber, and the Naive Melody, which has gin, absinthe, eucalyptus, vanilla, and lime, that will probably have you saying "'This Must Be the Place' where I fell asleep outside and got sunburned," if you have more than a couple.
 
Home Park
With its rusted arch entry, alleyway-placed two-top tables under bright yellow umbrellas, and a nautical blue-and-white color palette on its canopy-/umbrella-covered couches, Amalfi is Little Italia's international escape within the Westside.
Vinings
It's hard to see Canoe ever falling from the top of an outdoor eating/drinking list. This isn't a patio; it's more like a full-on riverside dining destination on the Chattahoochee, adorned with all types of garden action, stroll-ready walkways and paths, and natural waterfront beauty. Seriously, this place is so damn pretty you might just eat the soil and drink from the river. On second thought, have a bottle of Louis Roederer Brut Rosé Champagne, and definitely don't drink the water.
Sign up here for our daily Atlanta email and be the first to get all the food/drink/fun the ATL has to offer.