People tend to agree on some of Atlanta's most popular bars, but what they don't always know is that they've been burning brain cells at these bars so consistently that they may have forgotten about some of the city's best holes of watering. Here's a quick refresher on a few places that deserve to be bumped up on your list.
Castleberry Hill
While others visiting Castleberry are busy showing off their Apple watches at one of the Peters St bars, Bottle Rocket serves "comfort cocktails", features sushi and burgers on its menu, hosts Walking Dead viewing parties, and has endeared itself to actual neighborhood residents, passers-through, and even AUC alumni who know owner Josh by name.
Conley
Recently rediscovered as "the last honky tonk," this truck stop bar is the essence of a low-brow, hold-nothing-back, super-weird, class-be-damned, community-loved dive. There's great karaoke on Tuesdays, patrons who've been wetting their whistles here for decades and would love to talk (if you'll buy them a round), and live music hoedowns that're pretty wild, but still safer than anything you could find on Backpage.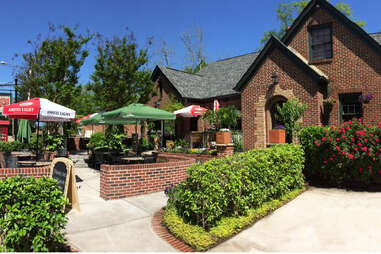 College Park
There's a good chance you've never even seen this tucked-away public house if you haven't looked for it (or driven extremely slowly around the Virginia Ave section of south Atlanta). That's because it looks like a real house and blends in with the neighborhood. The key giveaway to know you've arrived is the red box on the corner that serves as a neighborhood book exchange. Once inside, you can do the fish & chips or shepherd's pie, and be sure to check out the solid beer selection including Boddington's, Full Sail pale ale, Three Taverns White Hops, Monday Night Brewing's Drafty Kilt, and Chimay.
Decatur
A certain travel advisory website ranked this place in the mid-'70s among Decatur's 300+ restaurants. Anybody that's tried the fare -- such as the chicken and waffle sliders -- knows that's a bit too low. But to be fair, the true thinking man, or woman, comes here for an impressive craft beer lineup (limited editions you're not likely to find in most area bars, local and otherwise), and boisterous team trivia on Tuesdays, to balance what cells the intelligent mind loses on the other stuff.
Dunwoody
There's no way you'll know there's a secret cigar bar in the back of Varasano's with vinyl records, old Playboy magazines, and antique gangster memorabilia when you first approach this Perimeter Mall pizzeria. You'll just see an Astroturfed outdoor deck, a nightclub-level-sexy service staff, owner Jeff's craft pies headed down an assembly line into an oven, and TVs everywhere. Get through the secret bar's entry along the back wall and wonder to yourself why nobody told you about this earlier.
Downtown
This place seriously comes in handy when you're committed to being in Centennial Park for a few hours on non-event days. Also when there are concerts at the Tabernacle, or when you found early parking for Philips Arena, or really any other reason you're lurking around the convention district. You're within a few blocks of a lot of bright lights/big city attractions, so you could easily overlook this two-story loft. Don't. Inside they have great beer that's always in season, Pappy Van Winkle (and all your other diverse liquid friends), specials like a triple shot of booze for the price of a double, and a prize-dispensing bar game called Wheel of Fun, which helps lift you back up if you came all the way downtown expecting to say the same about the Ferris wheel.
Old 4th Ward
The vibe at Bantam is one of familiarity, even though it's only three years old. It feels like everybody sitting down at the bar has either been (or belonged) here their whole lives. And that isn't as sad as it sounds. With so much BeltLine-oriented change happening nearby, this 10-tapped establishment was intelligent in the way it transformed a neighborhood eyesore into an instant institution with one of the best brunch programs in the city that went practically unnoticed.
Buckhead
It may not have that "Beverly Hills of the South" glow a lot of other scene bars in the area have, but since ATL is not Los Angeles -- and that's a dumb thing to call a city anyway -- Kramer's crowd doesn't really stress it. People come for the drinks, sure, but also annual events like the upcoming low country boil in March, and the everyday variety of both live and deejayed music (from classic rock to Motown and in-between). You should join them for that.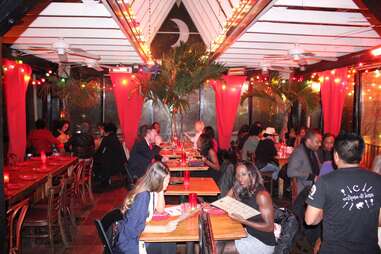 Buckhead (& other locations)
It's like people forget how good of a time they have at EDL. Maybe that's because of all the EDM they listen to these days, instead of the amazing, sweat-your-ass-away Latin music that gets played right here next to Piedmont Park. And don't even get me started on the joy that comes from eating their tapas or pouring their margaritas into your gullet. Shine some light on your eclipsed memory and get over here for some salsa lessons.
Sign up here for our daily Atlanta email and be the first to get all the food/drink/fun the ATL has to offer.
Even Mike Jordan has not been sufficiently tipsy at some of these Atlanta bars in quite some time, so don't feel too bad. Hit him on Twitter at @michaelbjordan and maybe y'all can get nostalgically throwed together, for ATL's sake.