These are the 10 best beertails in Atlanta
Beer tales usually combine things like, "Hey man, remember that time we got a 12-pack of Natty Ice..." and, "Yes, officer, I'll put my pants on, right away." But beertails, as the name suggests, combine two far better things: beer and booze. The result is a smooth, badass brand of beverages that are perfect for a Summer afternoon in the sun, for when you just found out that public indecency charge got dropped, or anytime, really, so hurry up and try one of the 10 best beertails in the ATL: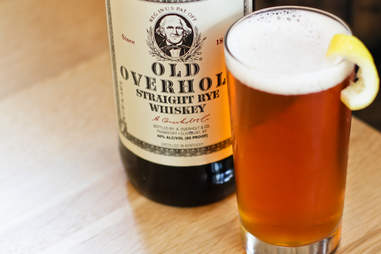 RYEders of the Storm, White Oak Kitchen & Cocktails
You can rye-d out any storm with enough Old Overholt Rye, Apple Jack, Amontillado, and Max Lager's Hopsplosion Insane Pale Ale... or just by staying indoors.
The Waffle, West Midtown Corner Tavern
If you're looking to get toasted, you could do worse than a blend of Maker's Mark, SoCo, maple syrup, and Newcastle Brown Ale that's garnished with a freaking Eggo!
Moonshiner, Brunswick's
Hit this Marietta joint to bowl a few frames, and get bowled over by a combination of Midnight Moon Cranberry Moonshine, apricot brandy, fresh-squeezed lemon juice, and simple syrup topped with Blue Moon Belgian Wheat.
The Hall Pass, Cypress Street Pint & Plate
Oddly inspired by the start of the school year, this sweet tea vodka, lime juice, and RJ Rocker Son-topped 'tail makes the grade and tastes like peach sweet tea.
The Big Easy, ONE Midtown Kitchen
ONE's Big Easy 'tail actually does take it easy on the hard stuff; it's just 360 Lemon vodka mixed w/ watermelon juice, fresh basil & Strawberry Harvest suds from N'awlins-based Abita.
Southern 75, Proof & Provision
This Southern take on the classic French 75 replaces the gin with bourbon, and the champagne with Finch's Cut Throat IPA but keeps the Demerara syrup & lemon.
The Handy Man, P'cheen
This sucker combines raspberry Ratafia, vodka & lemon with Monday Night's Fu Man Brew, AND it'll totally fix your leaky faucet.
Black and Brown, King + Duke
This concoction combines Blackwell rum, Watership Brown Ale, lime, and velvet falernum... like that's even a real thing!
Goin' Back to Cali, Seven Lamps
You know what ladies love? A cool cocktail made w/ house-infused jalapeno tequila, grapefruit shrub, fresh lime, and SweetWater IPA, so order 'em a round already, James.
Slow Ryeder, TAP
Besides being a classic Beastie Boys track, Slow & Low is also the type of whiskey used to make a citrusy muddled oranges-/ mint-/ lemongrass-infused lemonade-/ Peroni-based 'tail that perfectly demonstrates why when you can't choose between beer and booze... don't.