A speakeasy, tasting room, and late-night bottle shop on Bader Field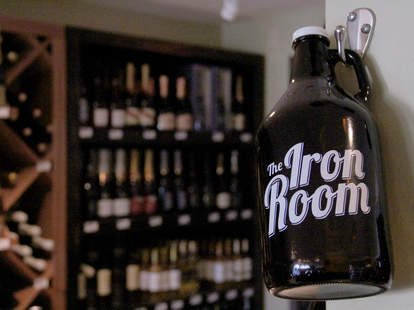 Just like your favorite Monopoly piece, AC's first modern-day speakeasy's in the last place you'd ever look for it: tucked between your couch cushions at the abandoned airfield end of N Albany Ave. Thankfully, you and your prized pewter racecar won't end up in jail for landing at Atlantic City Bottle Company's back-door Iron Room for midnight craft 'tails, smoked meats, ultra-rare whiskey shots, and all-night growler & package sales.
There're two ways to catch a draft walking through AC Bottle Co's front door: ask where the speakeasy is, or pick up a growler. Both are hidden in the back. If beer's all you're after, choose between rotating fills like Beach Haus Pilsner, Goose Island Honker's Ale, and Stone Arrogant Bastard, starting at $12.
Keep following the wall of brown to the unmarked back door, (then down the hall and through the other unmarked back door), and you can sample the state's largest selection of whiskeys, bourbons, Scotches, and moonshines in tastings priced between $6-$400. And, yes, that's a $1000 ice cube carver on the floor.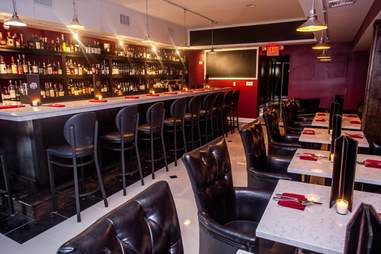 Welcome to the Iron Room. Named for the abandoned Monopoly piece, the Pittsburgh-native chef's picked one up to sear brioche'd bacon cheeseburgers the old steelworker way. He's also picked up a stove...
... though you wouldn't always know it from digging into this cornichon-and-Dijon beef tartare sided with house-made ketchup.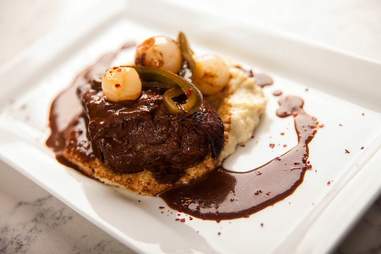 Like your booze with some bite? Cut into this chocolate- and coffee stout-braised pork belly sandwiched between hominy grits, pickled onions, and chiles.
Want to gamble on a bottle from the front room? They'll uncork it for you tableside. Just remember that the only thing that trumps an Ace of Spades is a Black Card.