AC's original casino opens the boardwalk's first year-round beach bar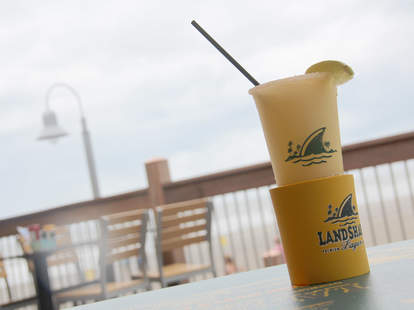 What's more chill than a lager-blended frozen tequila Shark Tank towering out from this equally crushable beer koozie? Imbibing one oceanside on the deck of Landshark Bar & Grill, Atlantic City's first ever year-round beach boozery, now open as part of Resorts Casino's parrot-headed facelift that's bringing a boardwalk buffet of Jimmy Buffett-themed drinking, gaming, and paradisical cheeseburger establishments to the Garden State's original casino.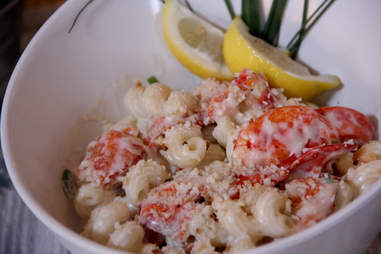 Jimmy Buffett not only owns his cheesiness -- he sells it, too. The bar menu oozes with melty goodness like Parmesan broiled oysters, blueberry ketchup-ed fried Wisconsin cheese curd, and this planter-sized bowl of fresh lobster meat swimming in creamy cavatappi mac.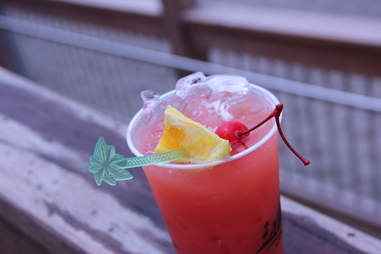 This vodka-tequila-rum-gin-and-juice Incommunicado also describes you after forgetting where you left your phone.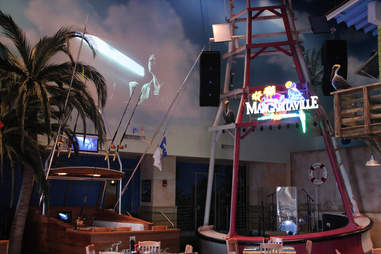 Checking into a beach bar not your thing? Cross the boardwalk and score a booth inside the Margaritaville bar and let the world know, "I'M ON A BOAT." At least until Foursquare makes a badge for that buoy.
Also: let your server know you want fries with that. Cheeseburgers in Paradise come six ways, including this Black & Bleu bacon burger, which probably comes from a Gangster's Paradise.
There's a reason Margaritaville is known for scenes like this.
Scenes like this. More than two dozen boozy concoctions come served in a 22oz blender pitcher from the Gran Gala-floating Uptown Margarita to the jerk-seasoned habanero-lime tequila Hot Hot Hot.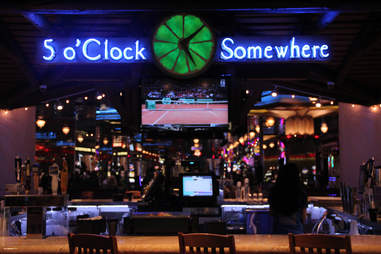 Have more time? Hit up the casino's Five o'Clock Somewhere bar.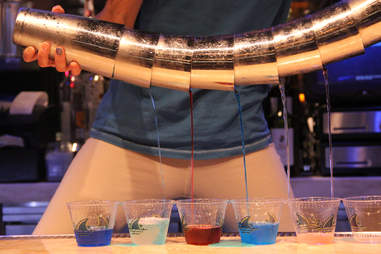 Just make sure eight of your best friends know where Somewhere is, in order to score this nine-shaker Red White & Blue shooter that's like a scene out of cameltoeCocktail.