This is what $45,000 bottle service looks like
Atlantic City's hottest club is... Haven. Located down an escalator hidden behind a curtain opposite the world's largest gold nugget and a wall of liquid chocolate, this place has everything: double-jointed leopard women, pole-dancing clowns, outdoor blackjack on a fire-pitted veranda, a girl who thinks she's Ke$ha, and -- you know that thing when you spend $45,000 on a 15-liter bottle of champagne and a parade of Anonymous mask-wearing busboys suddenly appear through a fog of nitrogen and confetti all twirling flags and carrying lingerie-clad hostesses on their shoulders while everyone in the club does a shot of Purple Rain?It's their take on bottle service, so click that bottle and find out how you can give your weekend an update.
... you need a table. If you want a better look at Australian rock star and resident DJ Havana Brown, score a banquette up front and rise above the fist-pumps.
There're even tables behind the DJ booth if you're more interested in dexterity...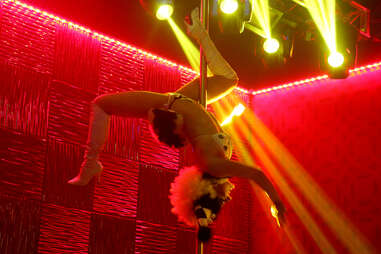 No matter where you sit, every table comes with a 22ft "fitness pole" sure to give your eyes a workout.
Also getting a good workout: your bartender. Every bottle here's top shelf, from the Three of Olives to Ace of Spades.
If you don't play around when it comes to libations, opt for the $45,000 Game Over package, which high scores you this 15-liter Nebuchadnezzar of Ace of Spades champagne (dude, that's like five Jereboams!) plus two magnums of Grey Goose, a bottle of Patron Gran Platinum, plus 700 gratis grape vodka-and-Chambord shots for everyone on the floor.
It's all delivered by more hot girls than we can fit in one picture.
One of them will even mix your drinks all night. And those guys behind her? That's your security team there to make sure...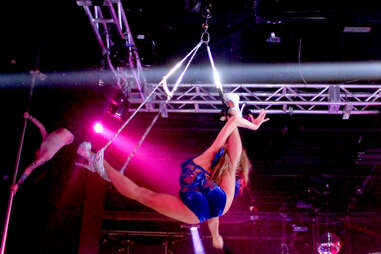 Basically everyone's going to bend over backward for you.
And don't be surprised if one of your 700 new best friends tries to wrap you around her little finger.
Looking for a table with a lower minimum? Shuffle off the dance floor and onto the club's veranda: the only outdoor gaming in Atlantic City and a total pick-up scene.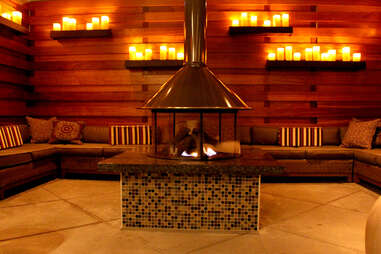 It's totally cool to light up out here too.
Before you call it a night, strike a pose on the step-and-repeat like this girl who thinks she's Ke$ha. (Because she is.)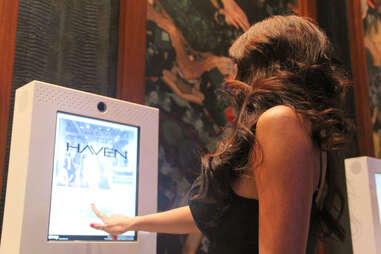 Or take a selfie with one of the webcams lining the club's walls, and instantly tweet out pics...
... as the party escalates.
But before you can get one of these...