A good beer is like a good bucket list: it's made up of wonderful things, it can add immense enjoyment to your life, and it doesn't work well in analogies. And because Austin's esteemed breweries (which, not to brag or anything, scored more awards at The Great American Beer Festival this year than any other Texas city) are putting out such spectacular suds, we decided to put together this bucket list of the 20 greatest local brews:
Recommended Video
Thrillist Sips: Boro Brew
Pilsner, 5.25% ABV
While all of the beers that ABGB brews to complement its fantastic pizzas are pretty delicious, it's the Rocket 100 (2015 GABF gold medal winner) that's the standout here. Their interpretation of a turn-of-the-20th century German lager is satisfyingly crisp and clean with a light hop finish. 
 
Oatmeal stout, 8% ABV
Something about drinking a beer from Independence makes you feel nostalgic about old Austin, and Convict Hill is no exception. A smooth and creamy year-round oatmeal stout, it has rich notes of chocolate, and a light enough body that it can be enjoyed no matter how hot it gets.
IPA, 6.5% ABV
This is a well-balanced IPA that has a lovely malt and hop profile; the hops catch your nose like a bouquet of pine and citrus for a gorgeously floral experience. It also happens to go well with practically any dish... but when it comes from a brewpub that's also a smokehouse, why not get the full experience and pair it with a pile of their similarly delicious smoked meats?
 
Russian imperial coffee oatmeal stout, 8% ABV
This brewery puts out a lot of excellent beers, but its winter seasonal Sputnik is the one you absolutely need to try. It's an 8% ABV Russian imperial coffee oatmeal stout that's basically breakfast in a glass, brewed with Austin-based Cuvee Coffee and oats for a creamy, bold, and yet balanced flavor.
Double IPA, 10% ABV
Like we said, Beerworks put out a lot of amazing brews. Heavy Machinery is a seasonal IPA that's released in six different styles (Half, Belgian, Wet Hop, Black, Double, and English), and they're all delicious. The spring-released Double IPA, for example, delivers a bursting hop profile thanks to the Magnum, Warrior, Simcoe, and Citra varietals. Each barrel is packed with 6lb of hops, and it comes through with a nose of hop resin, but a semisweet malty flavor. 
 
Porter, 6.6% ABV
This co-op owned brewpub makes good food, and even better beer. Its Recalcitrant Dockhand just scored a gold at the 2015 GABF and rightly so -- the robust porter is light on the mouth, but full of flavor with notes of coffee and dark chocolate. It is not overly sweet, has a very clean finish, and hits the tongue nicely at anytime of the year.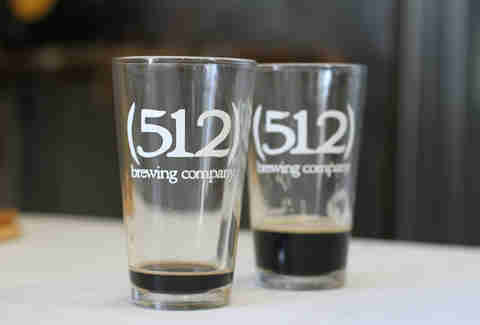 Stout, 6% ABV
This smooth and creamy stout may start off with a heady sweetness that hits the back of the throat, but it's swiftly followed by a kick from the 20lb of guajillo chiles they add to each batch. You can find it on tap across Austin between January and March, and it's an excellent way to start the year/clear out your sinuses.
 
American wild ale, 8.5% ABV
This beast is a bottle-conditioned, wild-fermented number that ages for over 10 months in new oak barrels. For those who are looking for a brew with some funk, Wild Bear has it, dishing out tart cherry flavors with an oaky finish. Plus: it just won a gold medal at this year's Great American Beer Festival.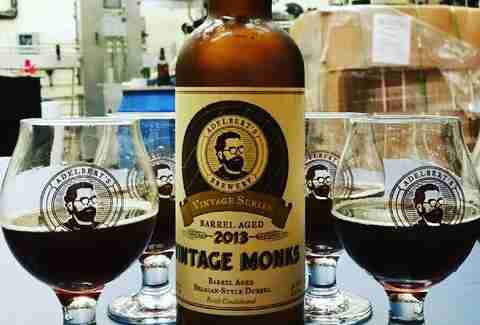 Belgian dubbel ale, 9.1% ABV
Part of the special Vintage Series of beers from Adelbert's (exploring the aging of different beers in different barrels), this beauty is a Belgian dubbel ale that's been housed in wine barrels for over two years for a very complex flavor profile of fruit and funk with an oaky finish. Oh, and it's also a 2015 GABF gold medal winner.
 
American stout, 7% ABV
If you love peanut butter, you'll love Sweep the Leg. This American stout is rich and velvety, with a sumptuous peanut butter profile that leaves pleasant remnants of roasted notes on the pallet. It's semisweet, but well balanced, and we'd love to see it spend some time aging in a bourbon barrel...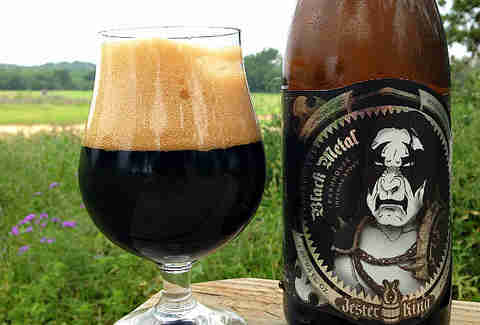 Imperial stout, 9.1% ABV
Jester King is probably one of the best known breweries in Austin, and it makes a lot of excellent bottle-fillers, but it was the Black Metal Imperial Stout that won us over before it went all farmhouse. And while the current Black Metal isn't quite the same, it is still nonetheless a beer that you need to try. It's understandably dark and potent, with complex flavors of chocolate, coffee, and a satisfying little funk of dark, tart fruits. Peculiar, tough to describe, and straight-up captivating. 
 
IPA, 9.5% ABV
Brahmale is what Kamala Brewing likes to call a "postcolonial IPA." It's a very distinct drink that won the brewery a lot of attention. It's made with local Good Flow Honey, grapefruit peels, and lemongrass that all combine to create a stunning full-bodied ale that has notes of toffee, brown sugar, and citrus. It's as unique a beer as you'll even have and, quite frankly, needs to be experienced.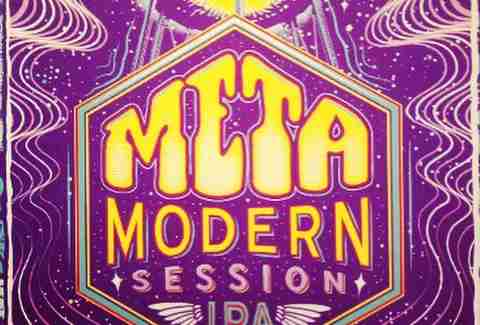 IPA, 4.5 ABV%
While many are going for huge IPAs with big ABVs and IBUs, Oasis Texas Brewing is changing the game. Its Metamodern Session IPA gives you that full IPA flavor profile with a low, sessionable 4.5% ABV and a mere 45 IBUs. It goes down smooth, won't weigh you down, and can happily occupy your palate for an entire afternoon.
 
Pale ale, 5.93% ABV
Hops & Grain is another brewery that makes a long list of respectable beers, and while its Green House series is an amazing exploration of hop varieties, its A Pale Mosaic keeps things simple... and sometimes simple is all you need. This sucker is a neatly balanced beer that really shows what a pale ale should be: full of flavor, yet easily drinkable. Its pleasingly bitter profile is rounded off with a sweet citrus nose from the Mosaic, Simcoe, and Nugget hops.
Imperial dry Irish stout, 10.7% ABV
This winter brew is heavily sought after every time its release is announced. The Jaguar Shark is a big bourbon barrel-aged imperial dry Irish stout that will take a bite out of you and warm you up during the cold weather. Do whatever you can to get your hands on a bottle.
 
Pale ale, 4.7% ABV
While this may come as a shock to some, Hop Overboard is a truly great beer. Seriously! It may not be a big, fancy brew that gets a lot of attention, but it is an extremely sessionable pale ale that you can drink anytime. It's not overly bitter, so it can be appreciated by craft newbies, but is still full-flavored enough that even a hardened enthusiast can respect it. It is crisp and clean with a malty profile and a light, hoppy finish. Give it a try -- we mean it.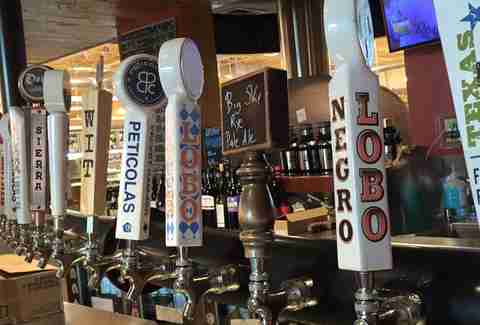 Munich dunkel lager, 5.6% ABV
This classic German-style dark ale is a great representation of the German culture of the hill country. It's a light-bodied lager that boasts lavish notes of chocolate and coffee with a clean malty finish, and it handily picked up a gold medal at the GABF this year.
Scotch ale, 9.3% ABV
This 2015 GABF bronze medal winner is an outstanding take on a Scottish wee heavy. It pours a deep, hazy brown with a beautiful head, and has an enticing bouquet of toffee and malts. At first sip you are greeted with a forward malty profile that is sweet, without being overpowering, and gives off notes of caramel and butterscotch. This is a big beer, so you get a light boozy finish, but don't underestimate it, because it will catch up to you in the end.
 
Winter ale, 10% ABV
With the holiday season quickly approaching, this is a good time to pick up Holiday from Rogness Brewing. It pours a warm, deep, mahogany color and gives off an evocative aroma of cinnamon, allspice, and roasted malts. The inspiration for this ale was actually oatmeal raisin cookies, and it packs all their satisfying flavors (minus the oat maltiness), making it a wonderful dessert beer.
Imperial black lager, 8.2% ABV
Your mouth will tell you stout, but the label will tell you this beauty is an imperial black lager (known as a schwarzbier). The secret behind its unique taste lies in its aging process; Garrison Brothers Texas straight bourbon whiskey barrels are reused by Dulce Vida organic tequila for its signature añejo, before finally being used to age Señor Viejo. The brew pours rich and black with a smooth, creamy body, while the lavish flavors include deep, bass notes of vanilla, coffee, and oak with just a hint of spice from the tequila remnants. It will definitely make you think twice about lagers.
Sign up here for our daily Austin email and be the first to get all the food/drink/fun in town.
Mike Cortez is an Austin beer writer -- follow him, Tweet at him, or just toast him at @texasbeerguide.