From the only dude who ever bought a ghost town and named it Bikini, TX (seriously), Bikinis is celebrating "halfway to National Bikinis Day" with an all-day party featuring 50 cent wells and wings, $1 Miller drafts, and half price calendars featuring girls in long, tasteful frocks!… bikinis, right?
Recommended Video
Roasted Red Pepper Deviled Eggs: Perfect for Parties, Grandma-Approved
Previous Venue
Next Venue
Venue Description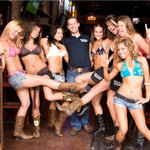 1. Bikinis Sports Bar & Grill
214 E 6th St, Austin, TX 78701
Go ahead, pretend you're there for the chicken fajita tacos, pulled pork sandwich, or the super-hot thermonuclear wings all you want, but we're on to you. And there's no shame in enjoying the, er, sights at Bikinis. Come for the view, and stay for more of the view while you chow down on some pretty great burgers and watch sports.This is what America is all about -- it's in the Constitution (don't bother looking this up).