Christmas Day when you're a kid is a magical fantasy in which a plastic toy that costs $9.99 can fulfill your every wish and desire. Christmas as an adult is different, and you may find yourself needing a reprieve when your sister-in-law pops in Frozen for the 900th time. Tell your family you're going to see a movie, and hit one of these Austin hideaways instead.
South Austin
Honestly, all we want for Christmas is a cold beer in a strip mall dive bar. Kitchen's closed, but the bar opens at 8am, as it's open every day of the year.

South Austin
The Southside sister to Casino Downtown is spacious and oozes Rockabilly-cool. Get there starting at 7pm.

South Austin
How appropriate. How very appropriate indeed. Closed on Christmas Eve, but it's open 1pm-midnight on Christmas Day.

South Austin
This hidden gem keeps regular hours regardless of the day, so it'll be open 3pm-2am. Come see why this is a local favorite with its friendly service, a huge patio, and cheap drinks.

South Austin
Boomerz regulars DJ TREY & DJ RYNELL kick off the party starting at 5pm.

South Austin
Come enjoy the lights the staff of Moontower have put up on the most appropriate day. Anytime after 4pm, that is.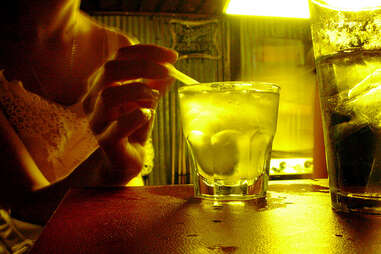 North Austin
Nothing says Christmas quite like a Jell-O shot served in a syringe. Also: FREE POPCORN. It's open at 6pm.
North Austin
This super-dark joint with a badass jukebox opens at 8pm.
North Austin
You can hit this North Loop neighborhood bar with a solid craft beer selection starting nice and early at 3pm.
East Austin
They have televisions showing every game imaginable, as well as great food and drinks to satisfy any taste, starting at 3pm.
East Campus
Your favorite local's favorite dive bar opens up at 7pm and kicks off its Annual Christmas Karaoke Spectacular! at 9pm.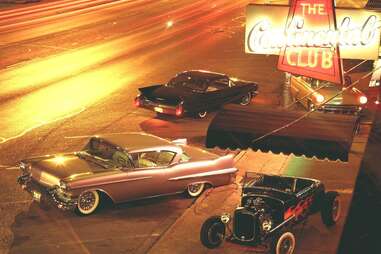 South Congress
Austin legend Dale Watson & His Lone Stars sing their hearts out at The Continental Club's Annual Christmas Show & Dance! Doors open at 9pm and Dale hits the stage at 10pm.

East Austin
Drinks Lounge rounds out the "East Cesar Chavez" strip, all of which will be open Christmas Day. It's known for a spacious interior, comfy chairs, and strong drinks, all available starting at 8pm.

East Austin
Owned by the same great duo as Drinks, The Brixton will also open at 8pm to fill your Christmas Day East 6th St alcohol needs, complete with jukebox tunes.

East Austin
The Liberty has free live music featuring Chicken George & Chorizo Funk starting at 9pm. Get there at 7pm to drink.

Downtown
What better place to drown your sorrows and get embarrassing than Dirty 6th? What better place on Dirty 6th than Maggie Mae's? Happy hour starts at 7pm.

East Austin
Hotel Vegas provides a convenient Christmas Day karaoke option for those on the east side, kicking off at 9pm with its "Karaoke Underground."
Downtown
Enjoy this decidedly unaltered temple to "old Austin", starting at 3pm or later.
Downtown
Your love-it-or-hate-it Downtown hangout opens at 9pm.
Downtown
It's open from 10am (!) to 10pm, and you'll find great bar food, as well as a fireplace and blankets on the patio.
East Austin
Part of Austin's hottest new bar destination, East Cesar Chavez, Craftsman opens its always-welcoming doors at 7pm to serve up all your favorite holiday drinks -- Prosecco on draft, "Holiday 75's" (holiday tea-infused gin, lemon juice, Prosecco), hot toddies, and Whipped Irishmen (Jameson, Whipped Baileys Irish Cream, dark roast coffee, and cinnamon simple syrup).
East Austin
Stay Gold joins neighbor Craftsman's cheer, opening its doors at 8pm and adding live music at 10pm, creating the perfect one-two punch to round out your Christmas Day activities. Its winter-themed cocktails (try the Headless Horseman with pumpkin syrup) are also among the best in town.

Sign up here for our daily Austin email and be the first to get all the food/drink/fun in town.

Brent Underwood is the founder of HK Austin, a co-living and co-working space in the heart of Austin.