Getting dressed up for the holidays isn't just for people; Austin's finest drinking establishments are also getting in on the fun. For the next month, many a bar will be lit (literally) in a Griswoldian display of twinkly lights, miles of tinsel, dangly ornaments, and cleverly named cocktails. You can't help but feel warm inside whilst ordering a Sugar Rum Fairy or a Gin-gle juice. Make a list and check it twice -- then order up something boozy on ice.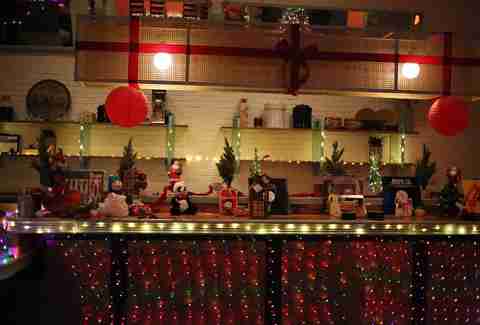 She's Not Here
Through December 29
Forget the ham; Chinese food at Christmas sounds pretty perfect to us. She's Not Here embraces this time-honored tradition by going all out with Christmas decorations at the bar and bringing in "dope chinese" from East 11th favorite Old Thousand. Eat from the entire Old Thousand menu through the end of the month, and enjoy a drink at their Insta-worthy Naughty List bar. Nothing says Christmas like a Hot Cocoa-Nut or a Yule Shoot Your Chai Out, paired with some Mala fried chicken.
Reservations: Recommended
The Cavalier
December 19 - December 28
Cavalier's cocktail menu that will take you on a long and welcome trip through your childhood. Try the Hot Buttered Battle Cat with the power of Greyskull; make Leo, Don, Raf, and Mike proud when you crush a frozen Bebop or Rocksteady; or go in on cocktails inspired by Fraggle Rock, Jem & The Holograms, and more. There will be NES games on the big screen, coloring book pages, and POGs, along with some adult-friendly kid treats -- but most importantly, POGs. 
Reservations: No
Kitty Cohen's
December 18 - December 30
Kitty Cohen's decided it was high time to have a Hanukkah pop-up, and we're all for it; a promised "blue and silver explosion" will take over the bar until the end of the Jewish holiday. Expect creative cocktails like the Latke Punch and the Manischewitz Spritzer, and the regular menu will be available as well. Even better, it's for a good cause: a portion of the proceeds from the pop-up will benefit Shalom Austin.
Reservations: No
Upside Bar
Through December 29
Forget decking the halls with Hallmark and watch some truly terrible holiday movies instead. Upside promises an explosion of lights, presents, ornaments, and specialty drinks like the Sugar Rum Fairy, the White Christmas Milk Punch, and yes, even a "Santa (White) Claw."  Every Thursday, the folks from Vulcan Video are subjecting/treating patrons to horrible holiday flicks like Night of the Comet: a New Wave sci-fi cult classic with valley girls, sinister zombie cops, and an apocalypse. Thankfully, it's also happy hour all night long.
Reservations: No
Donn's Depot
Through December 29
Donn's basically feels like Christmas all year round; this year, however, they have really outdone themselves. You'll find tons of tinsel, lights, and specialty music events all month long, like a bazaar with Santa Claus on December 8th, a dance party on the 22nd, and more. Keep an eye on the special events page on the Donn's Facebook for the full Christmas menu. 
Reservations: No
Gibson Street Bar
Through December 29
Well-known for leaning into the holidays, Gibson goes over the top again this year as Gibson Wonderland. Massive red and gold ornaments hang from the ceiling among swathes of garland, giant red christmas trees line the porch, and an enormous wreath heralds the season alongside candy canes and nutcrackers. There'll be signature winter cocktails with adorable names like Gam Gam's Holiday Jam and the Rum Pum Pum, as well as the usual weekly deals (steak night on Wednesday!) to get you through the hot mess of holidays.
Reservations: No
Geraldine's
December 17 - December 21
Everything's bigger in Texas, and that includes Christmas. Geraldine's brings us TexMas: a limited duration holiday pop-up with a snow machine, appearances by a southern Santa, and poolside igloos, obviously. Igloos come equipped with record players, board games, and TexMas decor. Recline in your own igloo lounge with a Ho Ho Horchata or a Santa's Got Yolks in hand whilst stacking your own s'mores. The installation kicks off on the 17th with photo ops and music from DJ Bird Peterson, continues with a holiday market, and then culminates in the return of Motown Christmas with the one and only Tje Austin.
Reservations: Recommended
W Secret Bar
December 12 - December 25
We've always been a little creeped out by the "he sees you when you're sleeping" thing, but we'll roll with it for seasonal cocktails and spiked hot chocolate. The W Austin wants to know if you're on Santa's side or firmly in the Krampus camp. Sit and take sweet snaps with Santa or catch Krampus creepin' around and have some cleverly named cocktails and snacks from the menu in the secret bar. It might be decorated as Santa's workshop, but there are some questionable Krampus antics about.
Reservations: No
Lala's Little Nugget
Year-round
Legends abound as to why Lala's is perpetually Christmas-themed, but they're punching it up a notch this year with signature cocktails like the Reindeer Water, Santa's Irish Coffee, and the Naughty Little Nugget. Let other places do happy hours; Lala's prefers to call it Jolly Hour, and it runs Monday-Thursday from 4-7pm with $2 domestic bottled beer, $3 tall boys, and $3 well drinks. They're also hosting a Christmas Stocking event to donate to blind children in Texas.
Reservations: No
The Eleanor
Through December 29
With over 100 participating bars around the world, we like to think of everyone who finds their way to a Miracle Bar as a kindred holiday spirit in search of friendship and some fabulous drinks. Sit in Santa's chair or belly up on a bench in the ski lodge room while sipping a snowball Old Fashioned, a Rudolph toddy, or straight-up shooting the Drunk and Alone. Look at the calendar for themed nights (like Christmas karaoke) and reserve a "dasher pass" ahead of time.
Reservations: Yes
Nickel City
Through December 29
We're no stranger to a sunny and 75 degree Christmas, so we might as well drink like it's summer. This year Nickel City gets bedecked with Christmas-meets-Luau decor, so you won't feel out of place sporting the Tommy Bahama button up that's been lurking in the back of your closet. Tiki drinks like the Blue Christmas, the Kana Kaloka Swizzle, and a "communal hot tub" concoction are sure to transport to you ocean climes… or at least your next hangover.
Reservations: Yes
Revelry East, Revelry On The Boulevard
Through December 31
Christmas! Puppies! A party bus! Both locations of Revelry are getting in on the hot Christmas action; head east for more kitsch, and go north for something more classy. There will be appropriately themed cocktails, of course, as well as an Instagram wall. Bring your pup dressed to impress during the Doggy Ugly Sweater party on December 7th. On December 20th, Revelry's hosting a "Santa Run" bus where your ticket gets you a spot on a party bus stopping at both Revelrys (and Corner Bar) with complimentary champagne.
Reservations: No
DuMont's Down Low
Through December 31
DuMont's already feels like a sexy speakeasy, but throw in some Christmas decorations and it takes on a downright homey air. This historic spot is festooned with twinkly lights, red bows, and ropes of garland amid the low slung couches and whiskey barrels, and the holiday menu features stiff cocktails and winter warmers like the Gettin' Blitzen, the Red Ryeder Cider, and the Jiminy Christmas.
Reservations: No
Sign up here for our daily Austin email and be the first to get all the food/drink/fun in town.