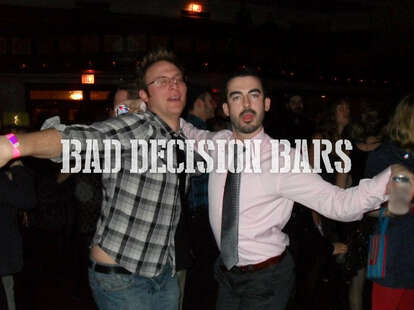 The Bad Decision Bar: where "just a drink or two" can lead to "just 14 texts to your ex-girlfriend, one missing shoe, and no remaining dignity". While living in Austin is a phenomenal decision, residing here also means you're likely to make a few questionable ones as well. And there's a good chance these places will be involved.
Sixth Street
Standing out as a den of dubious choices on Dirty 6th is no easy feat, and Trophy Club takes the, well, the trophy. The cocktails come in pitchers. The tube tops frequently come up on the losing end of battles with the mechanical bull. The bathrooms fall somewhere between "day three music fest Porta Potty" and "poop demon from Dogma". The memories, if formed, last a lifetime.
Sixth Street
With dirt cheap canned brews and a dark, ominous vibe that feels like it's straight out of the opening scene of Blade (is blood gonna pour from the ceiling?), Barcelona isn't likely to remind you of that semester abroad in Spain. However, it IS dark enough to remind you that people you make out with in basements don't always look the same above ground.

Downtown
There're stiff drinks, and then there're the drinks at Side Bar. For real, look up "Sidebar Pour" on Urban Dictionary. Start with a whiskey on the rocks. Finish with 37 Gatorades the next morning.
Sixth Street
Hark, what light from yonder window breaks? It's a bunch of frat dudes, and $2 domestics are the sun. Also the sun: $5 cocktail pitchers. If they fail to woo themselves any comely undergrads they may make up for it with some recreational face punching, not unlike the hot-tempered fiery Tybalt.

Allandale
The beer is cheap. The old timers aren't even noticing the hipsters admiring their steadfastly dated clothing. The combination of Christmas decorations and '50s jukebox tunes somehow hypnotizes you into forgetting how many drinks you've had. Boxing Day is gonna be rough.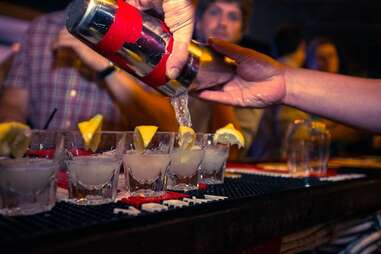 Market District
What would happen if adults were allowed recess? This potent combination of arcade games, giant Jenga, and cheap pickle shots (and also much sexier games of freeze tag). The $1 mimosas on Sundays have wrecked plenty of Austin Mondays.

Del Valle
There are strip clubs, and then there are strip clubs where you can say to yourself "this is where James Van Der Beek watched Miss Davis strip in Varsity Blues". Table dances are cheap, and there's no cover before 8p, so... oh man who are we kidding? You know you're going to end up here at 2a and leave penniless.
North Loop
You came here just to shoot some pool and enjoy some beers, but then... wait, how long have you been here? Where are the windows? When did your beers start becoming "shots and beers". Why are the walls on the men's bathroom as thin as the denim jackets the patrons are wearing? Why are you still self-conscious about people hearing you pee? Why did you wake up next to an empty box of Mrs. Johnson's donuts? Because, Barfly's.

Downtown
If it's 2a and you're looking for someone to smash faces with to '80s dance hits, you're going to Barbarella. If you find yourself needing to use the bathroom there, be glad you probably won't recall the inside of it, because it's 2a and you went to Barbarella.
Sign up here for our daily Austin email and be the first to get all the food/drink/fun in town.