Tiki Week is coming. This is where you need to be.
Austin The fine people of the Austin chapter of the USBG (United States Bartender's Guild) have put together a week of events and cocktails (kicking off June 23rd) to celebrate all things tiki! A little Elvis, a little surf rock, enjoying a flaming bowl of booze with a date... there's something for everyone. Check out the full schedule of events and drinks here if you like, but we did the hard work for you and gave you the top picks below.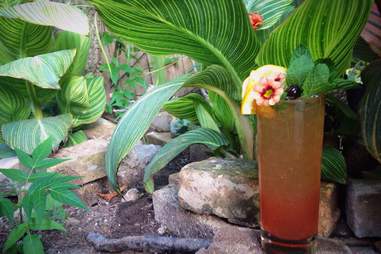 Lisa Tridle
East Side Show Room
East Sixth
Starting on Tuesday, June 24th, ESSR will be featuring a cocktail that is aptly named The Indigenous Revenge, and it features Pusser's rum, Amaro Montenegro, Cocchi Americano Rosa, cinnamon, lime, and tiki bitters. The Italian spirits in the cocktail provide a contemporary twist on traditional tiki flavors.


Continue Reading
Claire McCormack
drink.well.
North Loop
drink.well. will be participating with a special menu all week and will host its 2nd Annual Texas Tiki Week tiki brunch from 12pm-4pm next Saturday and Sunday, June 28th and 29th. Chef Travis Bennett and bar masters Dennis Gobis and Jessica Sanders will deliver island-inspired fare (and beverages!) showcasing The House of Angostura rum & bitters.
Peche
Warehouse District
Come into Peche for their Texas Mai Tai, made with Treaty Oak Barrel Reserve rum, grapefruit juice, lime juice, peach-infused curaçao, and smoked pecan orgeat, creating a refreshing Lone Star-infused interpretation of the classic tiki drink. Lone Star as in Texas. They don't dump any inexpensive beer into it.
Contigo
East Austin
Contigo has a tiki cocktail menu for the week with delectable drinks such as the Dr. Funk (Rhum Agricole blanc, lemon, lime, Herbsaint, grenadine, omme syrup) or our favorite, The Pain Killer. This frozen concoction blends creamy coconut milk with pineapple, orange, and Pusser's rum.


Alamo Drafthouse Slaughter Lane
South Austin
On Thursday, June 26th at 7pm, the USBG and Alamo Drafthouse present Cocktails & Cinema, featuring the 1961 classic Blue Hawaii staring Elvis Presley. Expect tiki-inspired cocktail pairings from Alamo Drafthouse beverage director, Bill Norris. Tickets on sale now!
Bar Congress
Downtown
Along with a menu of reinterpreted classics, Bar Congress is also serving their Flaming Bowl of Cong's Navy Grog -- a punch bowl portion for two (or more if you're feeling generous!). It's made with Old Grogram rum blend, Cong's Tiki Masala Honey, ginger, citrus, and burned cinnamon.
Red 7
Red River District
Saturday, June 28th at 9pm, Leon Taylor and Bob Spalding of The Ventures -- one of the most iconic surf rock bands in history -- will present a special live performance, "V2: The Music of the Ventures". Opening acts include The Del-Vipers and King Pelican. Get your tickets here!