Every Single Bar on Dirty 6th, Ranked
There are four types of Dirty Sixth patron: 1. The college kid whose apartment is decorated with empty liquor bottles. 2. Cedar Park residents. 3. The tourist who ran out of things to do and consulted a 1998 city guide. 4. The small group of people who intentionally visit the few gems "Ol' Dirty" has to offer.
To help figure out where you belong, we conveniently ranked ALL the bars on Dirty Sixth, from best to worst -- including a few borderline cases that are Dirty Sixth in spirit. Where does your former or current favorite stand? Sound off in the comments, we can handle it.
Fancy cocktails in a speakeasy setting with a suite of anti-douchery house rules -- aka, heaven.
Super-friendly bartenders who know how to make any classic cocktail; you'll find the entrance behind the false bookshelf in the hostel!
New American restaurant with a separate bar area. Go for the great happy hour, martinis, and the famous gourmet burger.
Modern German-style beer garden with ping-pong, house-made sausage and bread, and a spectacular beer selection.
Old-school Austin bar with a horror/rockabilly vibe; there's always some weird cult film playing. Try the burger, green chile fries, or over-the-top bloody on weekends.
The spot for cold beer, killer burgers, friendly service, and ill-advised whiskey shots served by tattooed ladies.
Nice, clean space with a gorgeous patio. Stick to the menu or keep it simple, though -- your bartender's good, but not a classic cocktail encyclopedia.
Great local and craft beer selection here! Good spot to have burgers and Asian fries on a patio without a bunch of obnoxious boozers around.
Elevated American pub with craft cocktails, extensive draft beer and small batch whiskey selection, and food like mac & cheese balls and bison burgers.
This casual cocktail bar took over the super-depressing karaoke/poker place. As the name suggests, pay $2 to spin the wheel and win beers, cocktails, and shots.
This place has a dark, moody atmosphere, but don't let the huge chandeliers fool you -- keep your drinks simple.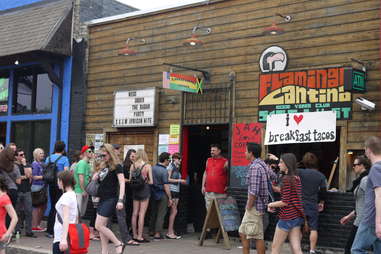 No frills, hole-in-the-wall music venue for local reggae, ska, world, and rock bands, with admittedly odd hours... as in, it typically opens at 9pm.
Here's what you do at Peckerheads: Walk up the stairs, go directly to the bar, order a vodka or whiskey shot with a pickleback, drink it, pay, and then leave.
Nice looking club with VIP coves, bottle service, scantily-clad dancers, and bass that bumps so hard you feel it in your pancreas.
Between the darts, pool, shuffleboard, Star Trek pinball, and that game where you try to punch a thing harder than your friends... it's easy to lose a few hours here.
A huge space with typical Sixth St drink options, this is the type of place you visit for the band you want to see, and not so much the bar.
Super-cheap well drinks, and TONS of fun shots with names like "Lindsey Lohan", "Gorilla Fart," and "3 Hos and a Reindeer." Can't go wrong with the pickleshot.
This place is small, with an older crowd, and often has live music. It's good by ol' Dirty standards.
Irish pub with an older, more chill crowd who are all likely drinking Guinness.
Shakespeare's is known for its cheap, huge drinks and college crowd. WHEREFORE ART THOU, TINY PITCHER OF BLACKOUT JUICE?
Classic Sixth St appeal with a great rooftop view, but otherwise a total snorefest.
Good burgers and beer, more relaxed than most bars on this strip. The bottomless mimosas are no more, though, because TABC hates us.
The bands that play here are NOT terrible -- it's the drinks that are terrible. Stick to beer or straight booze.
Expect lots of bad twerking at this basement dance den, with live DJs playing Top 40 through the night.
Piano bar with expensive cover, neverending sing-alongs, and white people straight-up losing their damn minds.
This place caters to anyone who wears black T-shirts with a logo that resembles dripping blood, folks whose preferred music genre ends with "-core," or the last few people on Earth who still like Godsmack.
A bar where the tequila and Fireball flow like water, with decent queso to boot.
Divey, with people constantly dancing to either live music or just the speaker system, this place has a much better vibe than other bars.
Typical college bar with low-end liquors, and bartenders you shouldn't request anything fancy from.
Vaguely science-themed bar (hence the name), with sugary shots and karaoke.
You'll find cheap beer and mixed drinks here, and it's entertaining to watch tipsy people get thrown off the mechanical bull.
This bar draws a chill, older crowd, with nary a douchebag to be found.
Divey shot bar where you'll spend most of your time asking questions like "What is a 'Sex with an Alligator?'" "What is a 'Fuck Yeah Baby?'" and praying nobody knows your name.
This long, narrow, open-air venue features live music, cheap drinks, and an older, touristy crowd.
Top floor is open air, and there are poles that get used by inebriated ladies in exactly the way you'd imagine.
Pretty clean for a Sixth St bar, albeit with overpriced drinks, and a decent 20-something crowd bumping to very loud hip hop.
One of the few 18-and-up dance clubs, this place gets understandably packed with kids -- although it does offer bottle service.
Quintessential Sixth St bar with live music and tourists gawking outside, a mixed crowd, balcony for good people watching.
Cut from the Sixth St mold, this place has live music from local bands, drink specials, and of course, giant Jenga.
A rustic-style bar with taxidermy and antler chandeliers, college students flock to this place on Thursdays -- you will see girls dancing on the bar.
This older dive has a friendly staff, smells musty and damp, stage in back with interesting acts.
Friendly bartenders, live music, your basic dive with beer signs and a rowdy late-night crowd.
Pool tables, cocktail menu with lots of flavored Bacardi cocktails, good spot for beers and watching a game.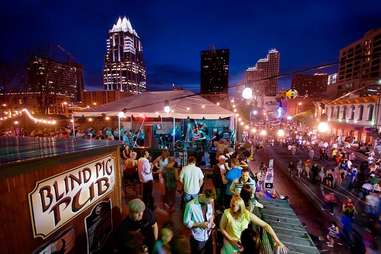 Two-story dive with a rooftop perfect for watching street shenanigans -- expect a fratty/touristy crowd, and bad cover bands.
Ultra-narrow bar with $2 beers, where you can pay money to watch a man spit fire (and probably saliva, too) into your flaming Dr. Pepper shot.
This bar may have been the hottest spot 10-15 years ago, but these days it's sticky, the drinks are not good, and you will be overcharged.
Exactly what you would expect from a bar with servers wearing bikinis and booty shorts: wings, Bud Light, and wall-to-wall dudes.
Giant Mason jar drinks for $9, a beer pong table, decent happy-hour specials, and scary Yelp reviews!
This always-empty place is stocked with bad well cocktails and dirty video games... just go to Buffalo Billiards.
Another 18-and-over joint, this multi-level dance club plays trap and hip-hop, with lots of older guys creeping on young girls. Scary.
Not the cleanest, but there's a hookah lounge here, and Hip-Hop Mondays seem to be popular-ish... so there's that.
Your shoes will stick to the filthy floor, and you'll feel bad for half of the girls tending bar -- the other half are super aggressive, and will try to cheat you out of money. It's not like the movie... at all.
Sign up here for our daily Austin email and be the first to get all the food/drink/fun in town.
Anastacia Uriegas is an Austin-based writer who is still working through her stockpile of original-formula Four Loko. Follow her at @anaurie.