You love to hate it—until it's 1 am, you're five whiskeys deep, and you're itching for a place to go. We're speaking, of course, of Dirty 6th Street, that stretch of eternally hopping bars and restaurants that makes up Austin's version of pleasure-heavy prominades like New Orleans' Bourbon Street and the Las Vegas Strip. And while Dirty 6th may not allow you to walk the streets with potent Hurricanes in hand or feature a full-scale Eiffel Tower, there are still plenty of shenanigans to be found within the crevices of this well-trodden expanse.
However, within such an atmosphere, there's bound to be plenty of duds as well—and that's where we come in. We've rounded up a list of ten of the best the Dirty has to offer, for those nights when you want to get lit, but still want to keep a small portion of your dignity intact.
Ask any local about the Dirty 6th, and they'll most likely sigh and aggressively convince you to head just about anywhere else in the city—except if you're asking about Jackalope. The loveable watering hole somehow escapes the usual distaste by being an undeniably fantastic dive bar. In fact, it's such a popular destination for all types of crews that they've even opened a second location in the East Riverside area—far from Dirty 6th's questionable late night pizza and stumbling coeds. Walking into the original, though, it's easy to see the appeal from the jump—TVs showing some movie last screened in the 1980s, an extensive list of cheeseburgers, portraits of pin-ups on the walls, and, most importantly, friendly bartenders slinging well shots by the dozen. There are two essential aspects of any Jackalope experience: Ordering one of their specialty sake bombs (which are made with cider) and, inevitably, posing for a picture with the bar's giant rabbit-antelope statue after one too many.
How to book: Stop by for first come, first served seating.
If you're in the market for fancy cocktails, a gorgeous setting, and zero college kids screaming in your ear, look no further than Midnight Cowboy. An intimate oasis amid Dirty 6th's unruly chaos, Midnight Cowboy stands out from the moment you ring the doorbell of the speakeasy-style escape. And their cocktails are just as unique. Drawing from a variety of themed menus that change annually, you can always count on something new and thought-provoking that not only tastes delicious but looks it, too, thanks to the bar's meticulous presentations and clever effects. For those who want something classic, the talented bartenders are always happy to oblige with flying colors—expect a take on an Old Fashioned sure to put your quarantine-fueled mixology skills to shame.
How to book: Reserve via DishCult.
Most of the food on Dirty 6th admittedly falls into the "trash you eat while trashed" category, but Parkside rises above the rubble with their excellently presented (and excellent tasting) menu. While the Butter-roasted Chicken and raw bar selections have garnered plenty of acclaim, the real jewel in the Parkside crown is their perfect, classic Bacon Cheeseburger. Give into the nostalgic flavors of a juicy patty, toasted bun, and all the fixings in this wood- and brick-lined space that is equally Americana. Enough about the food though—what would a spot on Dirty 6th be without some serious libations? Although they probably wouldn't be above shaking you up the same Mind Eraser shot that dominates so many of the area's bar tabs, Parkside's long and balanced wine list proudly gives folks the option to sip on something that doesn't involve Kahlua or 7UP for a change.
How to book: Order take-out via RevelUp, or get delivery via Caviar, and Uber Eats.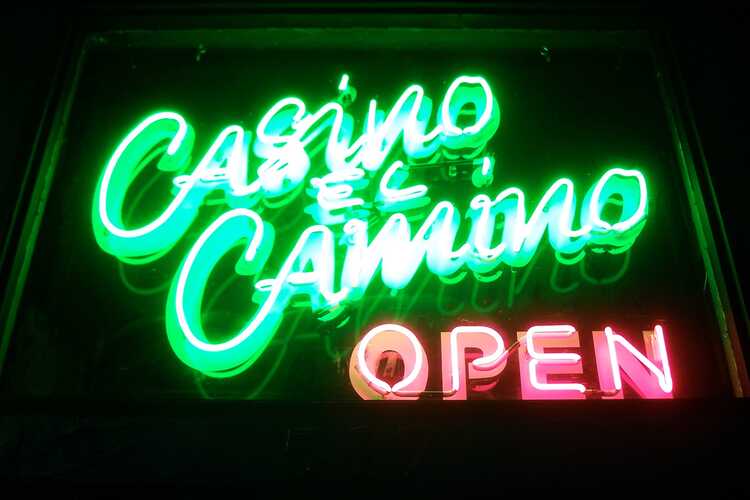 Casino El Camino

| Flickr/valakirka
Nothing that says old-school Austin more than a stellar down and dirty dive bar—and Casino El Camino is just that. With neon-lit archways behind the bar, horror movie decor, a stacked jukebox, and devoted regulars, this place is as authentic as it comes—ideal for anyone who scoffs at the idea of paying for a fancy drink when a cold Lone Star goes down just as smooth. The must-try drink at Casino El Camino is for sure the Bloody Mary, which features enough satiating garnishes (think: sliders, chicken nuggets, corn dogs, and whatever else happens to be floating around the kitchen that day) to make your hangover obsolete. If you still have room left in your stomach after that behemoth, their burgers, endorsed by none other than Flavortown Mayor Guy Fieri, are sure to induce a straight-up meat coma.
How to book: Stop by for first come, first served seating.
It wouldn't be a true Dirty 6th roundup if we didn't include at least one bar guaranteed to transport you back to your college days and, with $5 pitchers of tasty but questionable booze, Shakespeare's sits at the top of the list. This is a last call bar at its purest form, a go-to when you've lost count of the amount of beers you've had, the clock is tilting towards 2 am, and you just wanna dance, man. And, hey, no judgement here—everyone has those nights, and Shakespeare's is here to facilitate singing along to "Livin' on a Prayer" on a rooftop deck with your arms wrapped around the new besties you met in the bathroom five minutes ago. Shakespeare's also gets points for staying power—it's been an Austin staple for long enough that folks who graduated from UT 15 years ago still shake their heads with regret at the mention of its name. And, in a city that is constantly changing, saying you're supporting a cornerstone business is plenty justification for that second pitcher.
How to book: Stop by for first come, first served seating.
Two words: Cactus Juice. This mix, made with silver tequila, melon liqueur, blue Curaçao, and *shudder* Everclear, is not for the faint of heart (or liver)—but it is the pregame drink of choice for kicking off a night of absolute Dirty 6th debauchery. Seriously, though, if you down more than two, be prepared to kiss your balance goodbye. If you're looking for a more low-key night, however, Iron Cactus still qualifies as a choice launch pad. The mainstay cantina has consistently been voted one of the top 10 tequila bars in the country, featuring over 100 different agave spirits on their menu for your salt-and-lime shooting pleasure. And the hearty food menu, with its focus on classic Mexican grilled dishes, is handy to have on deck when that tequila starts to hit.
How to book: Stop by for first come, first served seating.
The Parish might market itself as "Sixth Street's Little Secret," but any local music fan worth their weight in merch already has this hotspot firmly affixed to their radar. Nightly shows run the gamut here, from hip hop and comedy acts to pop punk outfits, emo bands, and DJ nights, but no matter the genre, it's always a good time. And the acclaim extends far beyond Austin's city limits, with Billboard calling The Parish "arguably the best venue of its size in the country." Since the music here is (rightfully so) the focus, the bar is fairly run of the mill. But with strong pours and bartenders who can hear your order above the impressive PA system, what else do you need?
How to book: Purchase concert tickets online.
There's always something awe-inducing about a speakeasy, a very "now you see it, now you don't" kind of vibe that harkens back to the days of magic shows at elementary school parties—except with bourbon instead of birthday cake, of course. Firehouse Lounge, which also houses an hostel, exudes that covert charm from the moment you enter through a false bookcase door in the lobby. Unlike many neo-speakeasies, however, the drinks here aren't a whole lot of fluff served for $16 a pop. The bartenders at Firehouse know their stuff, and we dare you to think up a classic cocktail they can't make quicker than you can say "abracadabra." Plus, with near-nightly music spanning DJ sets to rock bands to jazz quartets, don't be surprised if you disappear for hours on end.
How to book: Stop by for first come, first served seating.
On the outside, Esther's Follies is a bright spot among a plethora of drab-looking outposts lining both sides of Dirty 6th. The turquoise building, strewn with decorative shapes, sea creatures, and a rainbow sign, beckons any individual seeking more than the average Austin bar crawl. And Esther's Follies is certainly more than just a bar—it's a haven for entertainment, famous for variety shows that have been drawing crowds for over 40 years. The lively bill showcases political satire, comedy sketches, magic acts, and everything-in-between—essentially a mix between SNL and old-timey vaudeville, with a distinctly Texas twist. There are few more enjoyable ways to spend a night out on the Dirty than starting with a show at Esther's Follies. And with a fully-stocked bar, you can do so while still keeping to your demanding drinking schedule.
How to book: Purchase concert tickets online.
Probably the only place on Dirty 6th you'd ever feel comfortable bringing your parents to, this historic hotel, built in 1886 by a cattle baron, could comfortably fall under the category of "classy." Marked by a grand staircase, brown leather seating, and walls littered with taxidermy, it feels truly Texan. The bar itself, which features wood-paneled walls and cowhide barstools, practically demands you order a snifter of scotch. Unlike other Dirty 6th bars, this is not the one to stumble into seven Kamikaze shots deep with one flip-flop on, but the place to throw on a fancy dress and sip elegant cocktails like the Prohibition-era Corpse Reviver #2. And, to boot, it has a reputation for being haunted, adding yet another element of intrigue.
How to book: Stop by for first come, first served seating.